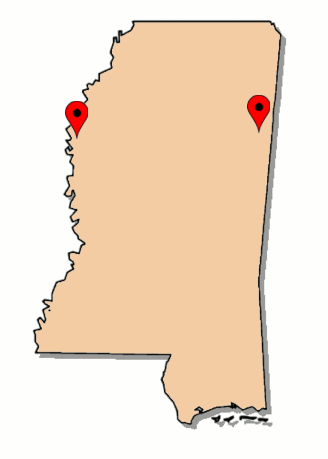 Connecting Columbus in the east with Greenville in the west with both passenger and freight service, the newly-formed Columbus & Greenville, now dubbed the "Delta Route," survived World World II on aging steam power. It entered the diesel era with a historic 1945 order for five Baldwin road switchers. These six-axle diesel-electrics would be Baldwin's first domestic diesel order, and the first of its road units to be put into commerical service anywhere in the world. With an expanding and eclectic mix of power, operating over an ever-deteriorating right-of-way, the scrappy Delta Route plowed on in indepedent existence until 1972, when the beleaguered company was purchased by the newly-formed Illinois Central Gulf system.
The ICG takeover of the shortline brought little benefit to the property, and much of its better equipment left the Delta for service elsewhere on the ICG system. Only two years later, conditions on the former C&G line had deteriorated to such a degree that local business interests came togehter -- for the second time in the road's history -- to purchase the line back, this time not from the Southern but from the ICG. The Class 1 agreed to sell, and in 1975 the Delta Route began operating again as a local concern, now known as CAGY. Two batches of subsequent locomotive purchases -- Geeps and CF7s -- together with federal loans for much-needed track work helped the new CAGY successfully operate through the late 1970s into the 1980s. At its peak length, the road controlled 230 miles of Mississippi trackage: 175 miles of mainline between its namesake communities; a 14-mile branch connecting Metcalf; a 50-mile branch connecting Cleveland with Hollandale -- remnants of a Yazoo & Mississippi Valley line.
In recent years, since 2000, decreased freight traffic and deteriorinting roadway on the eastern end of the line prompted the CAGY to cease through-freight operations between West Point and Greenwood, Mississppi. Interchange and switching continue in the Columbus area in the east, and new customers have been developed in the west between Greenwood and Greenville. In 2008, control of the remaining bifurcated Delta Route was purchased by the Genessee & Wyoming shortline group, which has incorporated the two segments of the shortline into its Southern Region. Currently, the G&W-owned C&G interchanges with the Norfolk Southern, Kansas City Southern, and BNSF (as well the Luxapalila Valley, another G&W property) in the Columbus area, and the Canadian National at Greenwood.