New responsive screen layout coming soon!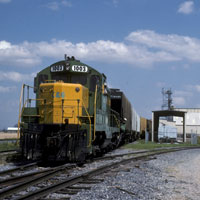 Columbus & Greenville Railway
Saillard Collection
John, Louis Saillard, Ralph / 1989
Anyone acquainted with the Columbus & Greenville Railway since 1974 is surely also acquainted with Louis Saillard -- author, photographer, and historian. With roots in southeast Louisiana, Louis has a long interest in the railroads and shortlines of the Deep South. In the last few decades, he has published numerous articles and photographs in a variety of railroad journals. In 1981 he published
Delta Route: A History of the Columbus & Greenville Railway
, which chronicled the story of the C&G from its pre Civil War roots to its rebirth and revitalization after ICG control. With the recent sale of the C&G to the Genesee & Wyoming shortline system, Louis' written history of the beloved Delta Route is more vital than ever -- a repository of memories of yet another Deep South shortline now relegated to retirement. A consummate railroad photographer, Louis' photographs not only capture interesting equipment in interesting places, they capture a moment. My dad and I are grateful to enjoy a warm railfan friendship with Louis that spans three decades; grateful, too, to have in our C&G collection the sampling of his photography offered here.
all photographs on this page by Louis R. Saillard / collection