New responsive screen layout coming soon!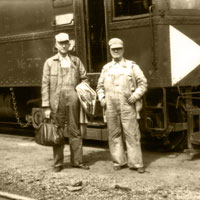 Columbus & Greenville Railway
Witbeck gallery
Nearly every night there's an engineer with a bandana around his neck who peers upward through his soot-rimmed spectacles. If the markers are lighted, his big leathery hand grips the whistle cord and gives Witbeck, in the idiom of the railroad man, the "high-ball" as he rolls southward toward New Orleans. This engineer, like many another railroad man, knows photographer Witbeck.
Ed Poe - New Orleans Times-Picayune - September 7, 1941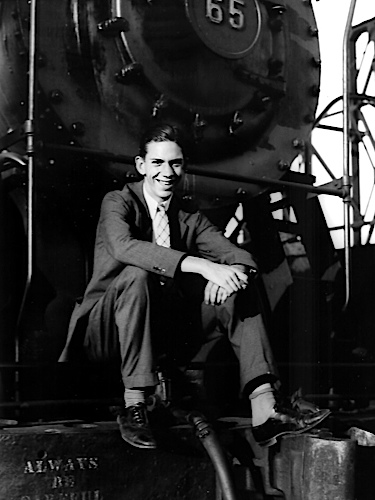 Campbell William Witbeck was born in the winter of 1916, in Shreveport, Louisiana -- a town served at that time by seven railroads, and no doubt a germ for what would become a lifelong interest in railroad photography. Raised by extended family in the northeast, Witbeck returned south in 1938 to Jackson, Mississippi, to work as a photographer for the depression-era Works Progress Administration. There he took a keen interest in the Illinois Central and the Gulf, Mobile & Ohio -- two Mississippi mainstays. Briefly returning to Washington D.C. after World War II to work for a photo studio and later another government concern, in 1948 he again returned to Mississippi -- this time, Brookhaven -- where he opened Witbeck Photo Service and began establishing himself as professional photographer and railroad image historian. By 1955, he had relocated 80 miles south on the Illinois Central mainline, opening Witbeck Studio in Hammond, Louisiana.
Over a span of 40 years, C. W. Witbeck framed up copious railroad photographs all over the American south, even travelling to Mexico and Central America. Although he only photographed the Columbus & Greenville once, his many rosters shots and scenes from the property form an important core collection for anyone interested in the look and feel of the Delta Route prior to World War II. Why only one visit to the C&G by the famed photographer ? Louis Saillard notes: "He only photographed the C&G substantially once in 1944. I always suspected that since the railroad bought the first diesels shortly thereafter, he never went back for that reason." Once was enough, however, and we are grateful to have several copies of Witbeck's images in our CAGY collection.
all images on this page are by C. W. Witbeck / Mar 1944 / collection
Delta Route scenes
Columbus, Ms
Columbus, Ms
Columbus, Ms
Columbus, Ms
Columbus, Ms
Eupora, Ms
Winona, Ms
Greenville, Ms
Delta Route men
Links / Sources
Louis Saillard - Bill Witbeck's Jackson - Gulf, Mobile & Ohio Historical Society News #94 - Spring 2000