New responsive screen layout coming soon!
New Orleans Great Northern Railroad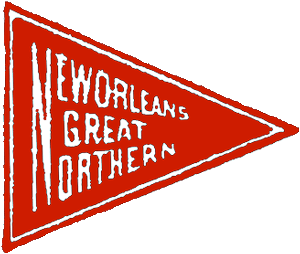 The New Orleans Great Northern Railroad was incorporated in Louisiana and Mississippi in 1905 by the owners of the Great Southern Lumber Company -- builders of one of the largest sawmills in the country at the new town of Bogalusa, Louisiana. The NOGN bought the East Louisiana Railway in June of the same year, and was completed from Slidell to Jackson, Mississippi by 1910. Westward branchlines included lines from Rio to Tylertown and Slidell to Covington and Folsom. The Gulf, Mobile & Northern acquired control of the NOGN in 1929, and officially leased the road in 1933.
See also our complete
New Orleans Great Northern
mainline collection
Motive Power
HawkinsRails thanks NOGN aficionado
Matt Hardey
for use of his photo collection
Climax 3-truck geared / builders photo / Hardey collection
Folsom, La / Hardey collection
New Orleans Great Northern #52
builder:

Baldwin Locomotive Works

arrangement:

4-6-0 Ten Wheeler

built:

Nov 1906, Baldwin #29582

fuel:

coal/water

notes:

19x26" cylinders, 60" drivers
to Gulf, Mobile & Northern #52
1 of 3 1906 Baldwins built new for NOGN
builders photo / Hardey collection
New Orleans Great Northern #56
builder:

Alco - Brooks

arrangement:

4-6-0 Ten Wheeler

built:

Feb 1907, Brooks #40862

fuel:

coal/water

notes:

19x26" cylinders, 61" drivers
1 of 9 1907-10 Brooks blt new for NOGN
Bogalusa, La / Jan 1927 / collection
New Orleans Great Northern #70
builder:

ALCO Richmond

arrangement:

4-6-0 Ten-wheeler

built:

Mar 1912, Alco #50776

fuel:

coal/water

notes:

20x26" cylinders, 61" drivers
15 Ten-wheelers on NOGN roster
1 of 3 built by Alco
collection
Gulf, Mobile & Ohio #72
builder:

Alco - Schenectady

arrangement:

4-6-0 Ten Wheeler

built:

Jan 1914, Alco #54484

fuel:

coal/water

notes:

20x26" cylinders, 61" drivers
blt New Orleans Great Northern #72
to Gulf, Mobile & Northern #72
to Gulf, Mobile & Ohio #72
only Schenectady product on NOGN roster
Hardey collection
Gulf, Mobile & Northern #92
builder:

Baldwin Locomotive Works

arrangement:

2-10-0 Decapod

built:

Feb 1918

fuel:

coal/water

notes:

25x28" cylinders, 52" drivers
ex United States of America #1150
to New Orleans Great Northern #92
to Gulf, Mobile & Northern #92
builder's photo / collection
New Orleans Great Northern #105
builder:

Baldwin Locomotive Works

arrangement:

4-4-0 American

built:

Jun 1906, Baldwin #28339

fuel:

coal/water

notes:

18x24" cylinders, 69" drivers
8 Baldwin Americans built for NOGN
builders photo / Hardey collection
New Orleans Great Northern #201
builder:

Alco - Richmond

arrangement:

4-8-2 Mountain

built:

May 1927, Richmond #67317

fuel:

coal/water

notes:

24x28" cylinders, 63" drivers
to Gulf, Mobile & Northern #401
to Gulf, Mobile & Ohio #501
to Georgia & Florida #602
1 of 3 1927 Richmond blt Mountains
1940s / collection
Gulf, Mobile & Ohio #500
builder:

ALCO Richmond

arrangement:

4-8-2 Mountain

built:

May 1927, Alco #67316

fuel:

coal/water

notes:

24x28" cylinders, 63" drivers
blt New Orleans Great Northern #200
1 of 3 Alco Mountains built for NOGN
to Gulf, Mobile & Ohio #500
to Georgia & Florida #601
Links / Sources
This page was updated on 2016-11-25