Gulf, Mobile & Ohio
The Route of the Rebel
In a period when many older and presumably stronger rail systems either were making slow progress or were losing ground financially, the GM&O was creating, out of bankrupt pieces of rail lines, a strong coordinated rail system, which, up through 1952 was successful financially. Another of the unusual features of its growth was that this program developed out of a company whose assets were excessively weak. The parent road was in such wretched shape in its early days that the major banking houses of the territory served by the road did not consider it a safe place even for operating capital. In spite of this, in spite of the greatest depression known to American railroads, in spite of the opposition of some of the strongest railroad systems in the country, a merger program took shape and progressed to the position in which we found the GM&O in 1952.
James A. Lemly, 1953
Created in 1940, the Gulf, Mobile & Ohio Railroad was brought into being by the merger of two existing lines that paralleled one another running south to north: the Gulf, Mobile & Northern and the bankrupt Mobile & Ohio. Both predecessor roads served the gulf ports of New Orleans and Mobile, and both laid rails northward to inland cities in Kentucky and Missouri. The M&O built as for north as Paducah, Ky; the GM&N farther to St. Louis, Mo. Brought together under the leadership of President "Ike" Tigrett of Jackson, Tn, the resulting GM&O system spanned 2000 miles and offered the parallel Illinois Central lines a gulf coast competitor. Less than a decade later, the young GM&O purchased the Alton Railroad in 1947, creating a 3000 mile north-south rail system serving America's middle states and offered a direct trunk line service between the great gateways of commerce and industry of this region. On August 10, 1972, the Gulf, Mobile and Ohio Railroad was merged into the Illinois Central Railroad, forming the 9600-mile north/south Illinois Central Gulf Railroad. In 1996 Illinois Central spun off some of its redundant trackage, including most of the former Gulf, Mobile and Ohio. Most of this trackage was acquired by other railroads. Remembered today as "the route of the Rebel" -- the southern streamlined train created by the GM&N -- the Gulf, Mobile & Ohio remains a favorite among railfans and historians alike.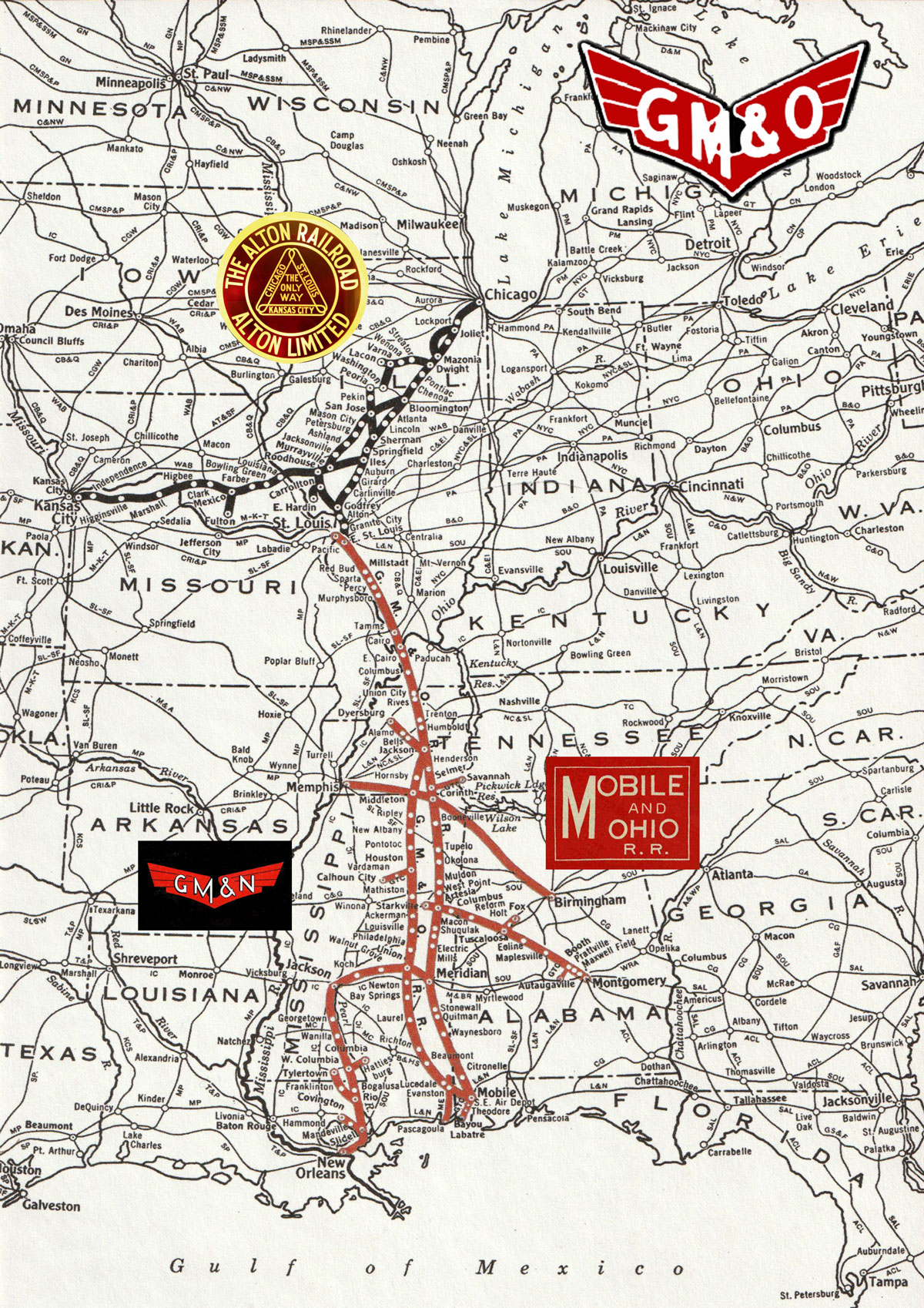 1948 system map
1962 timetable
See also our
Mobile & Ohio
and
Gulf Mobile & Northern
predecessor mainline collections
Bogalusa, La / Dec 1970 / JCH
Artesia, Ms / JCH
Huntsville, Al / 1975 / JCH
Mobile, Al / Mar 1961 / JCH
crossing Black Warrior River / Tuscaloosa, Al / collection
1946 switch list / collection
Meeting Mr. Bodie
Throughout the 1980s and 90s, dad and I enjoyed running O scale trains at numerous railroad shows with fellow modeler Gordon Payne and his excellent portable layout. We participated in many shows and meets around the Gulf coast, running trains and meeting fellow modelers and railfans. In the early 90s, we set up for a railroad show in Mobile, Alabama. Given the location, dad was sure the bring plenty of our O scale Gulf, Mobile & Ohio equipment to run. From childhood, the GM&O was one of his favorite roads. He was not going to miss the opportunity to run some Rebel Route power and rolling stock in the road's namesake town.
During the show, we met a kindly older gentlemen who took great interest in our GM&O equipment, especially the long string of maroon and gold passenger cars running around the portable mainline loop. Never at a loss for conversation, dad quickly discovered why his new acquaintance was so fond of the Rebel Route: he was B. V. Bodie, retired Executive Vice President of the GM&O and its last General Manager before the Illinois Central Gulf merger. Mr. Bodie was thrilled to see the old familiar Rebel paint schemes in 1:48 form.
And you would have thought my father had met King George VI.
Links / Sources