Southern Railway #4501 was built in 1911 by the Baldwin Locomotive Works of Philadelphia. The engine is a 2-8-2 locomotive of the Mikado type, inherited from Japan, and was the very first specimen of that wheel arrangement the railroad owned. For many years the Southern had relied heavily on the similar 2-8-0 Consolidation type, but 4501 and her class marked the transition to a heavier, more powerful hauler -- the one-axle trailing truck allowing for a much larger firebox. 4501 worked on many different divisions of the Southern Railway system from 1911 until her mainline retirement in 1948. Divisions included Tennessee, Virginia, Kentucky, and finally service in Indiana.
In 1948, the short Kentucky & Tennessee Railway -- a coal-hauling shortline on the border of its namesake states -- purchased the locomotive and renumbered it as their #12. She was the largest and most powerful locomotive the shortline ever owned, spending fifteen years working the mine runs with heavy cuts of hoppers.
When #12 was retired by the Kentucky & Tennessee in 1963, a Chattanooga railfan with a keen interest in steam, Paul H. Merriman, purchased the locomotive with $5,000 of his own money. He created The 4501 Corporation and with much help from railfans and retired steam masters he restored the engine for excursion use on the Southern Railway System. As such, the 4501 launched the Southern Railway's well known and long-running steam excursion program, which operated across the Southeast for several decades until it was dropped in 1994 by Southern's successor Norfolk Southern. She headed up numerous trips from a number of bases, including some double- and triple-headed action with the larger locomotives at the end of the excursion era.
#4501 is currently owned by the
Tennessee Valley Railroad Museum
in Chattanooga, Tennessee (which Merriman founded with Bob Soule), where she is stored for static display and possible rebuilding. The locomotive last ran in 1998, but remains on the National Historic Register of places and equipment.
Memories / Images
I always thought that #4501 had the correct proportions and the right look for a steam locomotive. The trailing truck was just in the right place, the stack was the right height over the smoke box, it had a visor over the headlight, and so on. Over the years, I've ridden at least 2000 miles behind 4501 in a number of different locations.
Huntsville, Al / Apr 1972 / JCH
Huntsville, Al / Apr 1972 / JCH
Huntsville, Al / Apr 1972 / JCH
Huntsville, Al / Apr 1972 / JCH
In the 1960s and 70s, a number of excursion trains were operated between Chattanooga, Tennessee and where I was living at the time, Huntsville, Alabama. I always went down to the Huntsville depot to see the train before it left. 4501 was almost always the power on the train, although on one occassion a back-to-back pair of E8s was used. But when 4501 was the locomotive, I always thought how well the 1859 Huntsville depot and the 1991 Baldwin locomotive looked together.
On the occassions when the trips originated in Huntsville, there would always be a collection of passenger cars brought in during the week prior for use on the excursion train. I remember one time finding an ex Central of Georgia passenger car painted in Illinois Central colors (likely for use on the Seminole). Another time, Colonel Sanders of Kentucky Fried Chicken fame was down at the depot greeting people before boarding the train.
Huntsville, Al / Apr 1972 / JCH
Huntsville, Al / Apr 1972 / JCH
May 1967 / JCH
May 1967 / JCH
Jul 1967 / JCH
Jul 1967 / JCH
Jul 1967 / JCH
Jul 1967 / JCH
In late 1960, an excursion was operated from Chattanooga, Tennessee to Gadsden, Alabama using 4501. Two of us from Huntsville took Southern Railway local train #36 to Chattanooga (at right) and once there we boarded the excursion at the station (now the Chattanooga Choo Choo hotel). We rode behind 4501 all day, to Gadsden and back.
When we returned to Chattanooga that evening, we could see from the excursion train that local #36 was ready to depart ... without us. We lamented to the excursion conductor that we would surely miss our train. When he understood what our problem was, he said, "I can take care of that for you." He radioed #36 and asked them to wait for two passengers for Huntsville. They did ... and we walked across the tracks, right into #36's single coach. Now that's real Southern service!
Chattanooga, Tn / May 1967 / JCH
Chattanooga, Tn / May 1967 / JCH
Fort Payne, Al / May 1967 / JCH
Fort Payne, Al / May 1967 / JCH
July 1967 / JCH
Nov 1968 / JCH
May 1967 / JCH
Haleyville, Al / Oct 1973 / JCH
One Saturday in 1973, there was a trip on the Southern from Sheffield down to Haleyville, Alabama (at right). We left Sheffield with the usual assortment of Southern Rwy fantrip equipment, including "Lookout Mountain" on the tail end. Two things I remember about this trip: people getting smoked on a bridge and a wreck alongside the track. As we went southbound through Russellville, Alabama we saw that 20 or 30 people had gathered on a wooden overpass to watch 4501 pass. There was a grade on the line leading up to the overpass, and just as 4501 went under the bridge the fireman must have shoveled on some more coal. A great cloud of black smoke came up and completely enveloped the overpass. Our next view was of all the people frantically trying to fan out all the smoke! On the return trip, there were numerous cars and trucks that drove along the side of the train on a highway. Included in the group was a fellow on a motorcycle. As cars are likely to do in bumper-to-bumper traffic, suddenly there was a quick stop in the line of people pacing the train. From my view on Lookout Mountain, I was looking right at the man on the motorcycle when he ran smack into the car ahead. As the front wheel of the bike hit the car's bumper, he flipped clean over the car and landed on its hood.
Jul 1967 / JCH
May 1967 / JCH
Jul 1967 / JCH
Jul 1967 / JCH
Jul 1967 / JCH
Jul 1967 / JCH
One Saturday Jack and I rode a round trip special that followed Southern passenger trains Nos. 11 and 12 -- the old Birmingham to Columbus (Mississippi) locals. We left the old terminal station in Birmingham and took the old Georgia Pacific main out past Gorgas. There we stopped at the depot for some passengers. In the best Southern tradition, the conductor stepped off the car and set his yellow stool on the ground to help the passengers aboard! He even had a dark blue suit and a conductor's visor cap. What style! From here west to Columbus, the line was curvy and hilly with a 25 mph speed limit. 4501 had a day's work ahead of her! We were on the old Lookout Mountain car at the rear and so we could enjoy the scenery and hear 4501 work the grades. What a trip! The line was wooded most of the way with few signs of civilization anywhere. Somewhere east of Columbus we stopped for water, which was delivered via a local fire truck. We arrived in Columbus about 2 pm, several hours late, but who cared? The train was turned on the Columbus & Greenville wye and 4501 was serviced at the C&G enginehouse. There were several hundred people in Columbus to watch all of this action. About 4 pm we whistled off for Birmingham, hours behind schedule. We finally arrived back at the station after midnight, about five hours late. For awhile en route it appeared the train crew would run out of legal time, but we made it back just before the limit. This trip was some rare mileage because the line is no longer in existence -- a year or so after the Southern merged with the Norfolk & Western, the Norfolk Southern abondoned it.
Birmingham, Al / Jul 1967 / JCH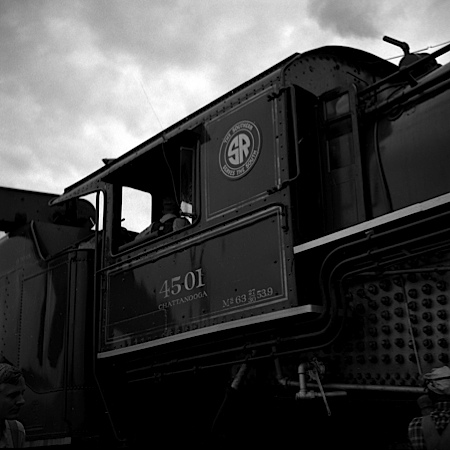 JCH
Leeds, Al / Jul 1967 / JCH
Huntsville, Al / Apr 1972 / JCH
Huntsville, Al / Apr 1972 / JCH
Huntsville, Al / Apr 1972 / JCH
An insignificant locomotive? Yes, and that is precisely why the 4501 is so imporantant to our generation and the next. For No. 4501 is the genuine article -- typical and representative of thousands of look-alike Mikes that labored so long, so hard, so unsung in the cause of railroading and, hence, America itself. She's plain vanilla -- no stoker, no feedwater heater, no doodads of any sort. Just as honest an engine as you could ask. She thrives on hard work, she pleases crowds of any size and age, she behaves as if half her age. It is fitting that in her old age she wears green and gold and commands the tireless attention of so many.
David P. Morgan, Locomotive 4501, 1968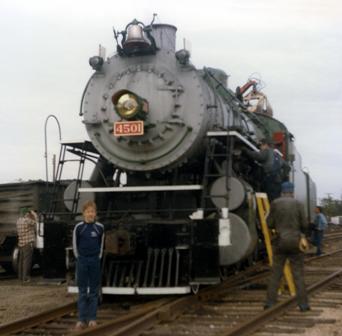 Slow and Steady Wins the Race
Usually our machines simply do what we build them to do.
But every now and then, they remind us how to live.
Throughout the early 80's, the New Orleans chapter of the NRHS coordinated with the Southern Railway to operate several steam excursions between New Orleans, Louisiana, and Hattiesburg, Mississippi -- a 225 mile roundtrip. Like many in the hobby, I owe my deep love of trains to my father, and during my younger years we greatly enjoyed our riding together on these wonderful day-long steam marathons. While railfans across the southeast during this era benefited from frequent contact with the steam program's more robust and modern samplings -- the ubiquitous J class #611 and A class #1218 -- southeast Louisiana fans were not afforded those opportunities. The old Southern Railway trestle across Lake Pontchatrain was an all-wooden structure with low weight limits. We were always told that the high tonnage of the two N&W giants prevented their entrance into the Big Easy. As such, for several years we were treated to the smaller specimens in the stable: Canada's Royal Hudson on lease, Savannah & Atlanta's Pacific #750, and of course the classic Baldwin Mikado #4501.
Every trip during these years presented a challenge to its planners. The popularity of the voyage outweighed these locomotive's more limited drawbar pull. I can remember arriving at New Orleans Union Passenger Terminal to find a train of coaches that seemed as long as 20 cars -- too much for light Pacifics and Mikados in a solo role. As such, diesel-electric assistants were always called in for backing. Sometimes this would be as ordinary as a GP38-2 (as in 1984 when #4501 was beset with bad coal), but on several occasions, two of the green "Heritage" FP7's played the necessary second fiddle to the celebrity steamer. The tickets my father would purchase for us secured two seats in one of the old coaches, but we were never found there. We preferred the tail end of the movement, always claiming a spot in Lookout Mountain, the steam program's beloved open observation car that racked up thousands of excursion miles over the decades. From its spacious platform, this young kid watched many a mile slip away along the Southern's pristine, all-welded main line traveling northeast from the Crescent City. Lookout Mountain turned out to be the locale for one of my most vivid childhood memories.
It was the 1985 trip, featuring the much-loved #4501. During the lunch break in Hattiesburg, the crews turned the Mike on a nearby wye for the southbound flight home. Meanwhile, my father and I managed to gulp down the greasy box lunches that came with our tickets -- a meal always too cold and too meager. Soon the classy FP7's took there place in front of Man O War (another well known excursion car, always at the head end on New Orleans trips). After brake tests, the 4501 once again took her rightful place on the lead. Dad and I hustled our way back to our favorite spot on the rear, and with our comrades in the hobby, waited for our collective departure.
Now this is what I remember: The heavy man next to me, weighed down with multiple cameras and smelling of box lunch chicken, happened to have a radio scanner clipped to his generous belt. Suddenly it crackled to life. My young ears tuned in with great interest. It seemed the head end crew was experiencing a moment of spontaneity. "How about we let 4501 get us underway?" asked the engineer. A pregnant silence followed. The boss of the FP7's broke in with what seemed like hesitant agreement. The conductor's voice came next. His, the final word. Apparently he had no opinion on the matter, except that it was time to get underway. "Highball 4501."
My mind was electric. No one had to explain any of this to me. I knew exactly what all this railroad chatter meant. The classy little Mikado we all loved was being handed a great challenge: 16 over worn heavyweights, all loaded to the gills with railfan fathers and sons like us, and a few patient wives. This was to be a superlative moment. Feeling as though I had just broken the Enigma code, I quickly tugged at my father's sleeve. I felt he just had to know this news before any one else. No sooner had I finished uploading the information when we heard a whistle. Two breathy blasts from afar signaled the start of the fight. As the slack ran out and the drawbar tightened, the whole train lurched. Everyone was immediately quiet. In the absence of Lookout Mountain chatter, what I already knew now became clear to others: No EMD prime movers could be heard getting underway! Only the deep, throaty chug of a Baldwin stack drifted back to our ears. Inches turned to feet, each one a victory. Feet became yards, and slowly the city of Hattiesburg began passing us by. But still no noise that resembled FP7s. The message was now clear to all concerned: We were starting on our way home, with no help yet from anything that ran on diesel oil. It did not take long for our forward motion to apogee, a velocity I imagined to be no more than 8-10 miles per hour. Paul Merriam's old machine had managed to get this heavy train underway, all by herself.
My budding railfan imagination was now in full cutoff, working hard. Understand: Southern's 4501 had held in my callow mind the status of true hero for some time. To be sure, I was raised a Presbyterian, therefore taught well the dangers of idolatry. But this little Baldwin was a true temptress. My many indiscretions were obvious: I had memorized David Morgan's book. I was the only kid in my middle school who knew who Walter Dove was. I could recite light Mikado statistics to anyone who asked. (Painfully, no one ever did.) Given this adoration, I understood well that this feat now taking place before me was perhaps more than her Baldwin designers ever imagined, at least at her age. Even from the tail end of the train, my mind's eye could see every aspect her effort: Eight 44" drivers "digging in", Walscherts gear at full cutoff, sand coming down like rain. I could picture her fireman shoveling hard; her engineer, poised, simply hoping for one good grip after another. I had to imagine all of these sights, but I could feel their results. For what seemed like many a slow mile, as the city of Hattiesburg gave way bit by bit to Mississippi piney woods, the little Mike did her thing, and did it well. Nothing fancy, mind you. No speed to thrill a dynameter chart. No J class ease. But we were on our way, by golly. Sixteen or more coaches and two idled EMDs inching down the line. And just like me, those covered wagons were merely passengers on this ride. Their reversers in neutral, while the steam kettle they replaced slowly and steadily took care of business.
The end of this promethean struggle for acceleration was soon signaled by another crackle on my neighbor's revelatory speaker. "Engineer 4501 to engineer 3497, how about some help now?" At least, that's what I remember he said. Two blats from a Nathan 5-chime were quickly followed by the unmistakable resonance of 567 prime movers finally getting dressed for work. Another lurch—this time a little stronger—and the clickety-clacks soon picked up in rhythm the way a jazz trio gets its thing together. We were taking on speed, quickly now, making our way back home to New Orleans with a little help from the Electro-Motive Division. Sheer steam determination had, I suppose by necessity, given way to diesel-electric ease.
- - - -
As a Presbyterian minister now, I find I mostly view this life as a gift of immense grace to be received and responded to, not so much a thing to be conquered through sheer will or dogged grit. But even a theologian can concede that every now and then gritty determination has its place among the virtues. And what's more, sometimes even our machines teach us the dignity of staying in the fight.
Can staybolts and seams be our heroes? Does a boiler with brakes posses a will? I'm not sure. Is my memory of these moments a bit puffy with time? The details, distended in hindsight? Perhaps. But in my childhood memory there remain a handful of charmed minutes when an outclassed little steamer bravely took on weighty odds … and persevered. "Slow and steady wins the race," said the tortoise to the hare.
Slow and steady indeed.
written for the Blue Ridge Chapter NRHS newsletter, 2005
Hattiesburg, Ms / Nov 1984 / RWH
Hattiesburg, Ms / Nov 1984 / RWH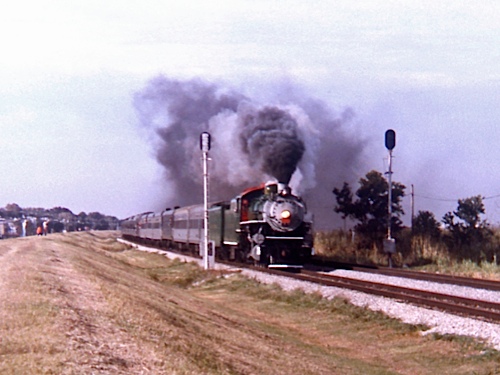 Pontchatrain lakefront / New Orleans, La / collection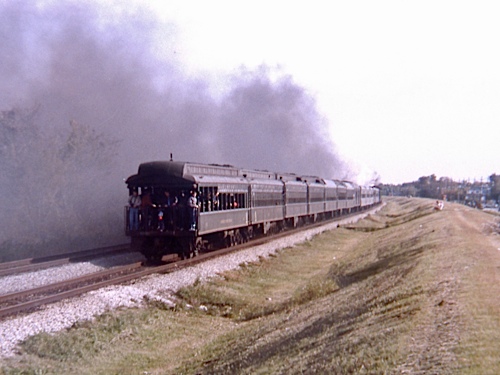 Pontchatrain lakefront / New Orleans, La / collection
New Orleans, La / JCH
New Orleans, La / JCH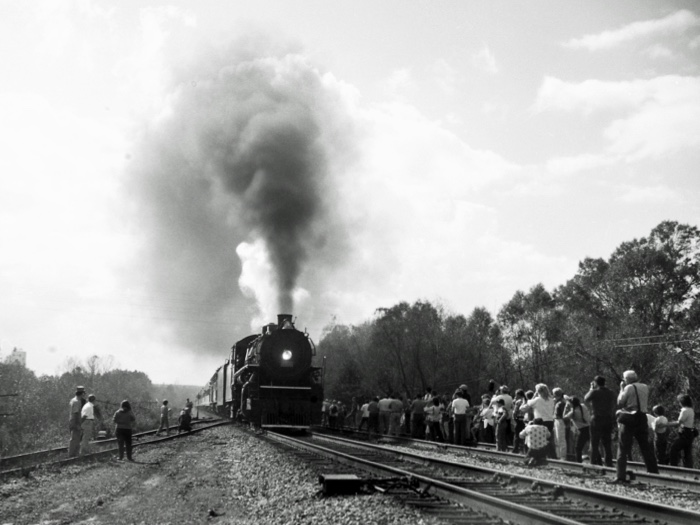 south of Hattiesburg, Ms / Nov 1985 / JCH
Bristol, Va / Oct 1993 / RWH
Bristol, Va / Oct 1993 / RWH
Oct 2993 / RWH
Bristol, Va / Oct 1993 / RWH
Bristol, Va / Oct 1993 / RWH
Bristol, Va / Oct 1993 / RWH
Oct 1993 / RWH
Bristol, Va / Oct 1993 / RWH
Bristol, Va / Oct 1993 / RWH
Bristol, Va / Oct 1993 / RWH
Bristol, Va / Oct 1993 / RWH
1994 / Jerry Penley
Bristol, Va / Oct 1993 / RWH
See also our complete
Norfolk & Western #611
steam collection
By the time I was in college, Southern #4501 was an old friend. So it was a treat to hear the news that she would be spending the night nearby during my sophomore year. I had just moved to Bristol, Tennessee, to attend a liberal arts college there. Although railfanning was not at the forefront of my mind in those college years, the word that #4501 and Norfolk & Western #611 would be tied down together overnight between weekend excursions was enough to get me out of the dorm and down to Bristol yard for an inspection. As I say, 4501 was like an old friend by that point, but I had only ever seen the big J in print or on a few VHS tapes from the early 1980s. Nothing prepares you for an up close encounter with her impressive stature and stylized lines of the J, and it was great to see them together on the side tracks for servicing. I remember that weekend well -- October of 1993 -- as I had only just met and begun dating my eventual college sweetheart, later bride. Her family was in town that weekend for other reasons, and I was delighted to discover that they all had a soft spot for trains. We all ventured down to the old N&W yard and inspected both locomotives, idle for the evening. The photos above shows my father-in-law to be inspecting Paul Merriam's project and my old friend.