New responsive screen layout coming soon!
Central of Georgia
The Central Rail Road and Canal Company was organized in 1833 by a group of Savannah businessmen who were concerned that Charleston's new railroad to Augusta would bring a loss of shipping business for their port. Construction of their new line began in late 1835. Meanwhile the company decided to go into the banking business to attract capital investment in the railroad. To better reflect its new interests it changed its name to Central Rail Road and Banking Company of Georgia.
Chartered in 1833, the original Central of Georgia Railway would over the years acquire over 25 other regional pikes before creating a rail network from Chattanooga to Savannah and from Montgomery through Columbus to Atlanta. The CofG would be controlled by both the Illinois Central and the Frisco before finally being acquired by the Southern Railway in 1963. The Southern changed the name to the Central of Georgia Railroad and merged the line with the Savannah & Atlanta and the Wrightsville & Tennille. The CofG exists today as a paper division of the modern Norfolk Southern.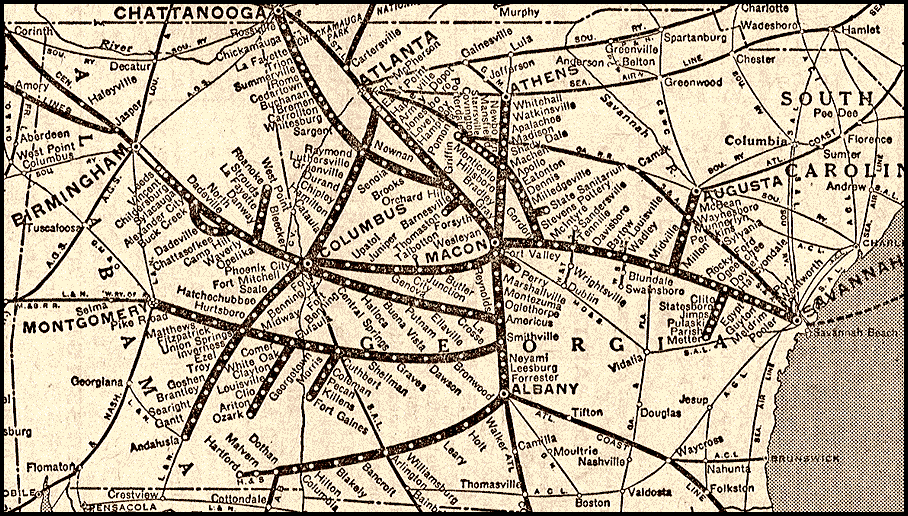 1955 system map
Motive Power
EMD SW1 (1941) / Huntsville, Al / Mar 1969 / JCH
Central of Georgia #2,3,7
builder:

Electro Motive Division

model:

SW1

type:

B-B yard switcher

built:

1939-53

series:

660 produced, 3 for CG

engine:

EMD 567A, 6 cyl. 600 hp

notes:

CG units later SR #1000,01,03
all units retired by 1977
EMD GP7 (1951) / Huntsville, Al / Mar 1971 / JCH
Central of Georgia #106-132
builder:

Electro Motive Divison

model:

GP7

type:

B-B road switcher

built:

1949-54

series:

2610 produced, 14 for CG

engine:

EMD 567B, 16 cyls. 1500 hp

notes:

CG units later SR #8216-8229
all units retired by 1981
Huntsville, Al / Mar 1971 / JCH
EMD GP18 (1960) / Columbus, Ga / Apr 1969 / collection
Central of Georgia #171-178
builder:

Electro Motive Divison

model:

GP18

type:

B-B road switcher

built:

1959-63

series:

350 produced, 8 for CG

engine:

EMD 567D1, 16 cyl. 1800 hp

notes:

_________
Alco S-2 (1944) / Atlanta, Ga / Apr 1969 / collection
Central of Georgia #329-335
builder:

American Locomotive Company

model:

S-2

type:

B-B yard switcher

built:

1940-50

series:

1376 produced, 11 for CG

engine:

Alco model 539, 6 cyl. 1000 hp

notes:

originally CG #21-35, renumbered 1966
all units retired by 1972
Alco S-2 (1946) / Atlanta, Ga / Apr 1969 / collection
Alco S-2 (1948) / Atlanta, Ga / Apr 1969 / collection
collection
Central of Georgia #201
builder:

Electro Motive Division

model:

SD7

type:

C-C special duty

built:

May 1953, EMD #18310

series:

188 produced 1952-52, 1 for CG

engine:

EMD 567B (16 cyl, 1500 hp)

notes:

renumbered #197
rebuilt to 1750 hp
GE ES44AC heritage unit / Roanoke, Va / Apr 2012 / Richard Shell
Roanoke, Va / Apr 2012 / Richard Shell
Rolling Stock
boxcar / Huntsville, Al / Feb 1972 / JCH
boxcar / Huntsville, Al / Oct 1971 / JCH
Type R 100 ton crane / Columbus, Ga / Sep 1964 / collection
Lagniappe
1958 freight ad
1958 passenger ad
1958 timetable
Huntsville, Al / Mar 1969 / JCH
Links / Sources