New responsive screen layout coming soon!
Tennessee Valley Railroad Museum
In 1969, the search for a permanent location for TVRM ended successfully when the Southern Railway System (now Norfolk Southern) gave TVRM a 4-acre tract in East Chattanooga located adjacent to the original circa 1856 Southern main line. This rail line had been abandoned upon completion of Citico Yard in 1954 (now renamed Debutts Yard) and an alternate double-tracked route around the base of Missionary Ridge which bypassed the single-track tunnel and its operational bottleneck.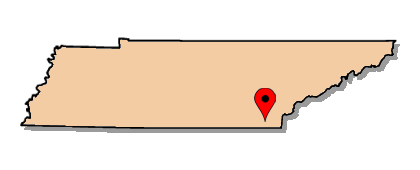 Chartered in 1961, the Tennessee Valley Railroad Museum (TVRM) was organized by Chattanooga area railfans as a means of preserving steam locomotive operation and donated railway equipment. The current site sits on former Southern Railway property, and features a three mile mainline that penetrates Chattanooga's Missionary Ridge through a 979-foot tunnel. Over the years, TVRM has been home to a number of well known steam locomotives -- including Southern Rwy #4501, #630, and #722. The museum features regularly scheduled passenger trains, often under steam power.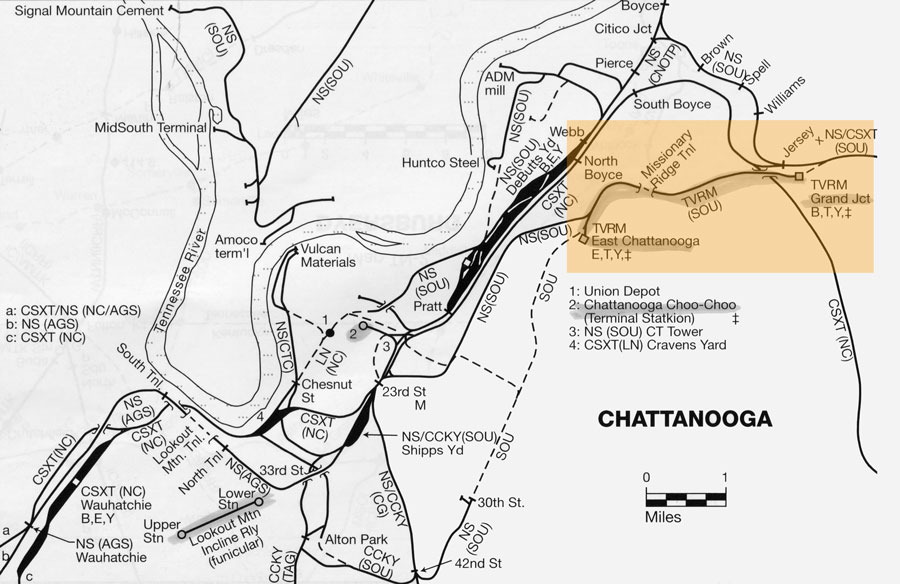 TVRM track diagram / collection
Motive Power
Chattanooga, Tn / JCH
Tennessee Valley Railway Museum #610
builder:

Baldwin Locomotive Works

arrangement:

2-8-0 Consolidation

built:

Mar 1952, Baldwin #75503

fuel:

coal/water

notes:

blt U.S. Army Transportation Corps #610
one of the last domestic Baldwin orders
Chattanooga, Tn / Aug 1986 / JCH
Southern Railway #630
builder:

ALCO - Richmond

arrangement:

2-8-0 Consolidation

built:

Feb 1904, ALCO #28446

fuel:

coal/water

notes:

blt at Southern Railway #630, Class Ks-1
sold to ET&WNC as #207 in 1952
sold again as Southern #630 in 1968
now at Tennessee Valley Railway Museum
Chattanooga, Tn / Aug 1986 / JCH
Chattanooga, Tn / Aug 1986 / JCH
Chattanooga, Tn / Aug 1986 / JCH
Chattanooga, Tn / Aug 1986 / JCH
0-4-0T / Chattanooga, Tn / Aug 1986 / JCH
Baldwin VO-1000 / Chattanooga, Tn / Aug 1986 / JCH
Tennessee Valley Railroad Museum #36
builder:

Baldwin Locomotive Works

model:

VO-1000

type:

B-B yard switcher

built:

Aug 1943, ALCO #67738

series:

548 produced 1939-46

engine:

Baldwin VO, 8 cyls. 1000 hp

notes:

blt as US War Department #7467
currently in NC&StL livery
Alco RSD-1 / Chattanooga, Tn / Aug 1986 / JCH
Tennessee Valley Railroad Mus #8669
builder:

American Locomotive Company

model:

RSD-1

type:

C-C road switcher

built:

_________

series:

144 produced 1942-45

engine:

ALCO 539, 6 cyls. 1000 hp

notes:

ALCO spec no. E-1645
modified cab for use overseas
ex US Army #8669
Alco RSD-1 / Chattanooga, Tn / Aug 1986 / JCH
Tennessee Valley Railroad Mus #8677
builder:

American Locomotive Company

model:

RSD-1

type:

C-C road switcher

built:

_________

series:

144 produced 1942-45

engine:

ALCO 539, 6 cyls. 1000 hp

notes:

ALCO spec no. E-1645
modified cab for use overseas
ex US Army #8677
Chattanooga, Tn / Aug 1986 / JCH
Alco RSD-1 / Chattanooga, Tn / Aug 1986 / JCH
Rolling Stock
Business car / Chattanooga, Tn / Aug 1986 / JCH
Lagniappe
Chattanooga, Tn / Aug 1986 / JCH
Chattanooga, Tn / Aug 1986 / JCH
Links / Sources