Spring 2016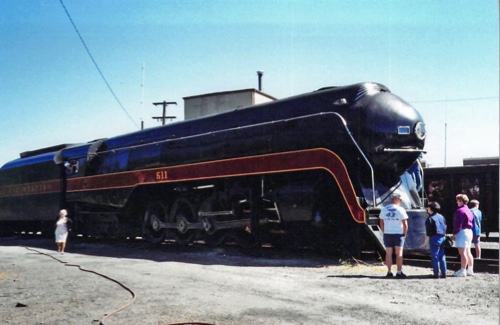 My first encounter with the Queen of Steam was in the fall of 1993. I had just moved to Bristol, Tennessee, to attend a liberal arts college there. Although railfanning was not at the forefront of my mind in those college years, news of N&W #611 and Southern #4501 tied down together overnight between weekend excursions was enough to get me out of the dorm and down to Bristol yard for an inspection. 4501 was like an old friend by that point, but I had only ever seen the big J in print or on a few VHS tapes from the early 1980s. Nothing prepares you for an up close encounter with her impressive stature and stylized lines. I remember that weekend well, as I had only just met and begun dating my eventual college sweetheart, later bride. Her family was in town that weekend for other reasons, and I was delighted to discover that her brother had a soft spot in his heart for trains, too. We all ventured down to the old N&W yard and inspected both locomotives, idle for the evening. The inset photo includes some of my family-to-be, standing around the streamlined pilot. No one else around in the yard, Will and I climbed into the cab of 611 and inspected her controls. I remember how a railfan had tucked a rolled up piece of legal paper behind the automatic brake handle, a note for the next day's engineer: When you get to Rural Retreat on Sunday, can you be sure to pour on the black smoke? I'll be taking pictures there. That made me want to make my way up to Rural Retreat as well! But it would be almost a quarter of a century before I could chase her anywhere. I had no car in those early college days, and the next year Norfolk Southern dropped the entire steam program.
My second encounter with the Queen under steam would come some 23 years later, with a chance to chase the J during a weekend of trips out of Roanoke, Virginia -- May 7-8, 2016. Will and I had watched from afar last summer, when she was brought back to life for a second excursion career after a rebuilding at Spencer Shops in North Carolina. I told him we simply could not let another excursion season go by without seeing her action, finally, after all those years since she was under steam at Bristol. Since then, I had seen her a few times on static display in Roanoke with my father (above, right), but I was determined to be trackside this time so as to finally understand what all the fuss has been about, since 1959 and her first retirement. So we made plans to be in Roanoke top of the morning for the Saturday trips to Lynchburg and Walton. It was more than worth the wait. In advance of an 8am departure, the J made her entrance downtown with and impressive 19 passenger cars in tow. Will and spent the balance of the day chasing her to Forest and back over familiar home rails with CPL signals, later visiting the Virginia Museum of Transportation rail yard during her midday layover, and then catching the consist one last time in a picturesque field outside of Elliston. It was a wonderful day, made perfect by blues skies and mild temps.
I never made it to see her dark clouds displayed across Rural Retreat. But then again, the Queen's reign extends wherever she roams. I'm grateful for a brother-in-law with whom I can attend her court, then and now.