New responsive screen layout coming soon!
Sandersville Railroad
In 1916, Ben Tarbutton was asked to take over the operation of the Sandersville Railroad by the organizing group. They were getting older and wanted a young businessman to run the company. The owners agreed to sell him the company at a favorable price if he agreed to operate it for five years. Back in those days, the railroad hauled freight, mail, express, and passengers. In the 1930s, it was common practice for railroad officials to exchange passes for passenger rail travel allowing the recipient to ride for free. Ben Tarbutton wrote the president of the Pennsylvania Railroad and asked for a pass. The Pennsylvania Railroad president wrote back that the Pennsylvania covered many thousands of miles while the Sandersville Railroad went only three miles. Tarbutton replied, "Yes, that is true, but my railroad is just as wide!" Ironically, the Sandersville Railroad is still operating today while the Pensy is not.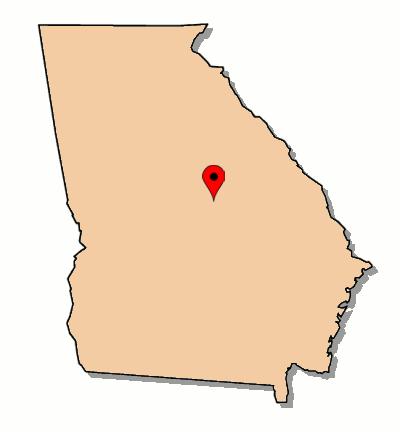 Located in central Georgia, the Sandersville Railroad operates 9 miles of shortline trackage between a Norfolk Southern (originally Central of Georgia) connection at Tennille and its terminus Kaolin, including many miles of industrial switching trackage along the line. Organized in 1893, the line did not reach its current full length until 1957. SAN remains an active shipper of kaolin, wood chips, and other commodities, and is rare among southeastern shortlines for its stable of two power slugs.
1988 Official Guide ad
Motive Power
EMD SW1500 (1967) / Sandersville, Ga / 2002 / JCH
Sandersville #1100
builder:

Electro Motive Division

model:

SW1500

type:

B-B yard switcher

built:

Dec 1967, EMD #33487

series:

807 produced 1966-74

engine:

EMD 645 (12 cyls. 1500 hp)

notes:

_________
Sandersville, Ga / 2002 / JCH
EMD SW1200 (1964) / Sandersville, Ga / 2002 / JCH
Sandersville #1200
builder:

Electro Motive Division

model:

SW1200

type:

B-B yard switcher

built:

Dec 1964, EMD #29888

series:

737 produced 1954-66

engine:

EMD 567C (12 cyls. 1200 hp)

notes:

ex Union Railroad #12
Sandersville, Ga / 2002 / JCH
EMD SW1500 (1970) / Sandersville, Ga / 2002 / JCH
Sandersville #1300
builder:

Electro Motive Division

model:

SW1500

type:

B-B yard switcher

built:

May 1970, EMD #36484

series:

807 produced 1966-74

engine:

EMD 645 (12 cyls. 1500 hp)

notes:

_________
Sandersville, Ga / 2002 / JCH
Sandersville, Ga / 2002 / JCH
Sandersville, Ga / 2002 / JCH
formerly SAN #300 / Sandersville, Ga / collection
EMD SW1500 (1970) / Sandersville, Ga / 2002 / JCH
Sandersville #1400
builder:

Electro Motive Division

model:

SW1500

type:

B-B yard switcher

built:

Feb 1970, EMD #35827

series:

807 produced 1966-74

engine:

EMD 645 (12 cyls. 1500 hp)

notes:

ex Illinois Terminal #1513
Sandersville, Ga / 2002 / JCH
Sandersville, Ga / 2002 / JCH
Rolling Stock
covered hopper / Sandersville, Ga / 2002 / JCH
covered hopper / Sandersville, Ga / 2002 / JCH
boxcar / Sandersville, Ga / 2002 / JCH
Locations
Sandersville, Ga / 2002 / JCH
Sandersville, Ga / 2002 / JCH
Tennille, Ga / 2002 / JCH
Lagniappe
Sandersville, Ga / 2002 / JCH
Sandersville, Ga / 2002 / JCH
Links / Sources