Here's a remarkable tale about a hat.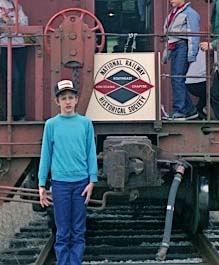 Not just any hat, however: An official Gulf, Mobile & Ohio Historical Society ball cap secured by yours truly at a Mobile meeting of the society. I loved that hat. Wore it everywhere. Too bad none of my middle school pals knew the significance of the Alco FA lashup embroidered in the patch on top. On the southbound run of the Gloster Southern excursion, I held a coveted spot in the cab of the trailing unit, but the northbound return found me perched on the spacious back porch of the ex-ICG caboose -- watching the old Y&MV pass underneath us as we rolled through piney woods. At some point, I leaned out from the porch and turned my head forward up the train to catch a glimpse of the power at work, and -- alas! -- the wind caught my GM&O hat and flung it into the woods. It happened in a flash.
I was forlorn the entire trip home.
Months went by and I soon forgot about my cap, assuming it was rotting away somewhere in the East Feliciana woods. More than a year later, Louis Saillard approached me at an NRHS meeting, square white cardboard box in hand. "I think you'll like this," he said. My hat! But how? Turns out I had the good fortune to have my hat blown off on a section of the GLSR right-of-way adjacent to someone who knew someone who worked for the railroad. This stranger to me found my hat laying in a trackside ditch some months after the excursion, assumed it must have belonged to a company man and so passed it on to a GLSR employee he knew, who in turn passed it on the General Manager in Gloster, who realizing it must have belonged to a passenger on the excursion then passed it up to S. R. Tedder, company president, Georgia-Pacific Lines, Crossett, Arkansas, who then passed it on to Saillard, who then returned it to one grateful kid-owner. Still have it to this day.
Told you it was a good story.