Summer 2017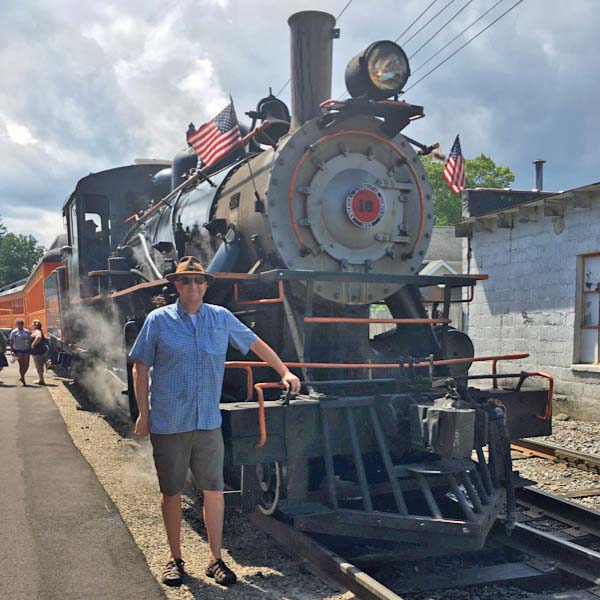 "Dad, these folks have a lot less rules than that last train we rode."
My young daughter wasn't suggesting that the folks at the Arcade & Attica were running anything less than a safe operation. I think her observation was just a natural way of noticing that we were simply enjoying ourselves, meandering behind smoking steam through tall corn fields that no one had to explain. It had occurred to her, after the strong "All Aboard" back at the depot, that no one was chatting her up over the loudspeaker. And no one had to remind her to please hold on something when departing. Two pulls on the whistle cord up front had already suggested that step.
The ARA is a tourist hauler that knows how to get out of its own way, how to let their Cooke kettle, their rustic coaches, and the rambling New York countryside do most of the talking. Some tourist lines chatter on and on about this and that over their P.A., lots of trivial banter and lots of rules and regs with sentences written by liability insurers. I get it: tourists do dumb things and then sue. But not in Wyoming County is one talked up about what could go wrong. On the Arcade & Attica, the sectional rail keeps up the banter, the chorded whistle gives the speeches, the minstrel couple with the eccentric songs makes the most noise. I guess when you run a class AA operation, there's no desire to fill the air with scripts and no need to assume that folks don't know what to do with themselves, safely, at a casual 12 miles per hour. Just come aboard, and enjoy our ride. "We're glad you're hear," the open coach windows seem to say.
In that sense, and in many others, the ARA is one of the classiest little pikes I have travelled in a long time. Take the enduring class of the Strasburg Railroad and the clerestory lore of the East Broad Top and mix them together: you get a visit to the Arcade, New York. I kept thinking of the Strasburg, especially, the great granddaddy of all tourist railroads. Like the SRC, the ARA simply soldiers on as the fine little common-carrier shortline it was always meant to be. No theme parks here. No feeble non-profits. No liability waivers. Just pure railroading, old school. But also like the Strasburg, there is a sense of grand purpose hanging thick in the air. Around the Arcade depot and engine shed, everything is tidy. Everything is painted. Everything is neat, even if homespun. When you walk through the depot, you feel like you are in your Aunt and Uncle's living room. There's local history here. Everything is orderly, to be sure, but nothing is over-managed. Every employee: dressed to the nines in the fitting garb but also friendly as can be. You feel the solidity of good practice -- that's what the rules and regs are for -- but you also feel like you are staying awhile in someone's home. When the train makes the halfway point at Curriers, before the runaround, the steamer is backed up to a pair of sturdy stair-steps, one for either side of the cab. Why? ... so that riders can walk through the temple and feel the holy of holies up close. Of course. Why wouldn't you want your patrons to see, smell, taste what all this fuss is about. A class move.
From the conductors in ties to the custom mile post markers to the four-axle Lackawana coaches that feel like they just rolled off the interchange track from a wild western set, the ARA is an experience of another day and time in every respect. "Where history repeats itself," the brochure says. That's one way to put it. Another is simply to pay attention to all those sectional joints clinking under your feet, to the fullsome smell of soft coal drifting back to the rear end from a trim Alco product long past its use-by date; it is to notice that everything is well run around here, but also well loved. That orange-hued affection may just be the reason there's been steam in this county, in one boiler or another, for a century this May.
"All aboard!"
Now that's one rule I'm glad to follow.