New responsive screen layout coming soon!
Coaster Commuter
San Diego North County Transit District
The COASTER commuter train provides breathtaking coastal scenery as it runs north and south through San Diego County, serving eight stations between Oceanside and downtown San Diego. More than 20 trains run on weekdays, with additional service on the weekends. It takes about an hour to travel the entire COASTER route.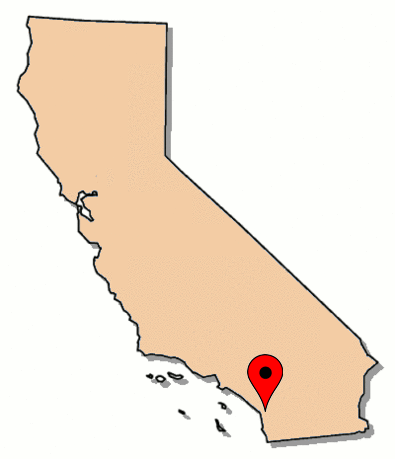 The Coaster is a commuter rail service that operates in the central and northern coastal regions of San Diego County, California. The service is operated by TransitAmerica Services on contract with North County Transit District (NCTD). The service has eight stops and operates primarily during weekday peak periods, with additional weekend and holiday service. Started in 1995, the Coaster service plies the former mainline of the Atchison, Topeka and Santa Fe Railway. The main storage and service yard is located north of Oceanside at Stuart Mesa on Camp Pendleton.
See also our
Amtrak Pacific Surfliners collection
and our
San Diego Trolley collection
Locomotives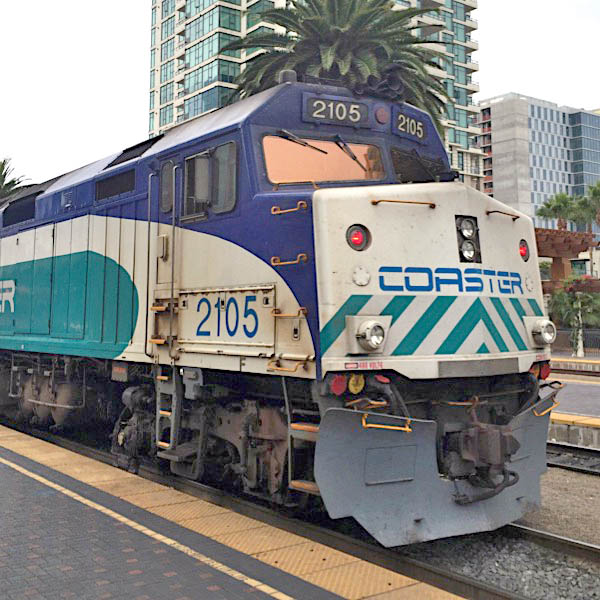 San Diego, Ca / Aug 2015 / RWH
Coaster #2105
builder:

Electro Motive Division

model:

F40PH-2C (MK variant)

type:

B-B passenger unit

built:

Oct 1994, EMD #1193-05

series:

_________

engine:

EMD 645E3 (16 cyl, 3000 hp)

notes:

rebuilt by Morrison Knudsen
1 of 5 on Coaster roster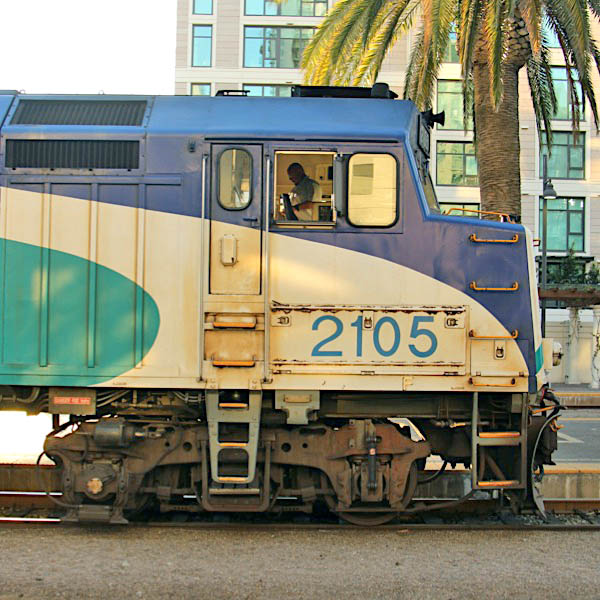 San Diego, Ca / Aug 2015 / RWH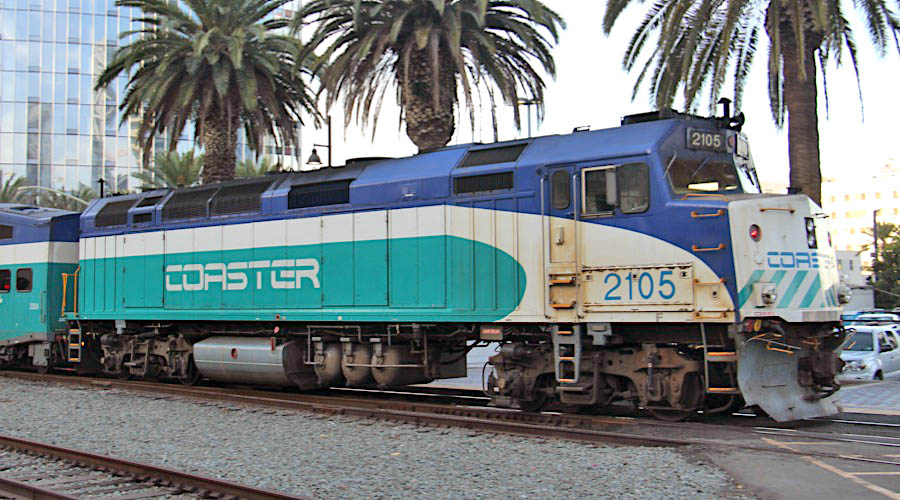 San Diego, Ca / Aug 2015 / RWH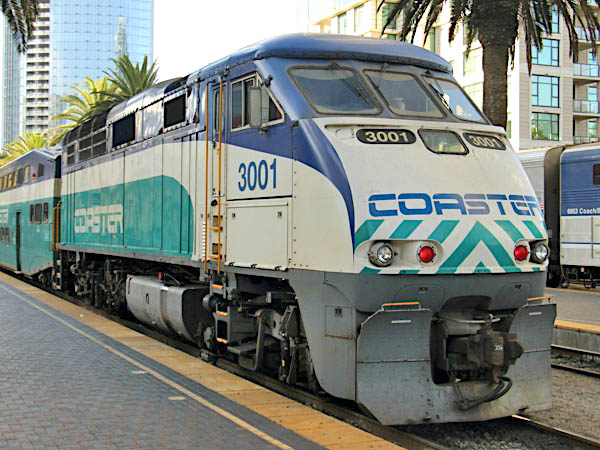 San Diego, Ca / Aug 2015 / RWH
Coaster #3001
builder:

Electro Motive Division

model:

F59PHI

type:

B-B passenger unit

built:

Sep 2001, EMD #996187-1

series:

produced 1994-2001

engine:

EMD 710G3C-EC (12 cyl, 3200 hp)

notes:

rebuilt
1 of 2 on Coaster roster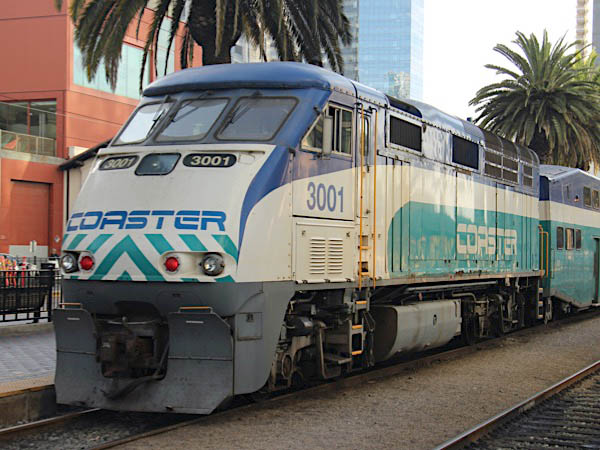 San Diego, Ca / Aug 2015 / RWH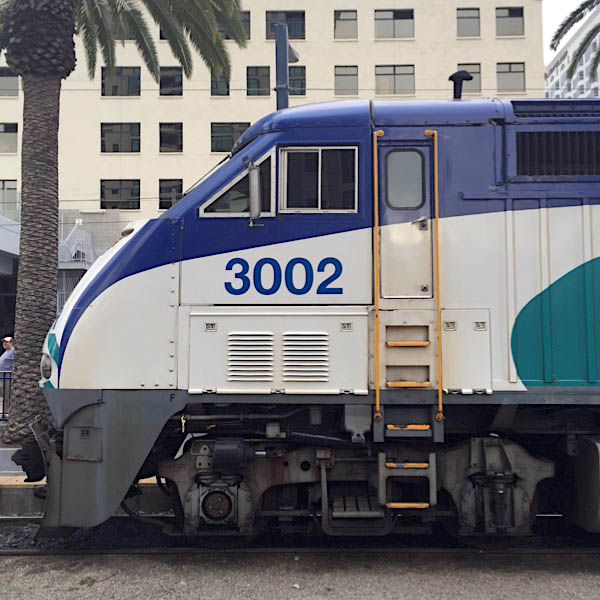 San Diego, Ca / Aug 2015 / RWH
Coaster #3002
builder:

Electro Motive Division

model:

F59PHI

type:

B-B passenger unit

built:

Sep 2001, EMD #996187-2

series:

produced 1994-2001

engine:

EMD 710G3C-EC (12 cyl, 3200 hp)

notes:

rebuilt
2 of 2 on Coaster roster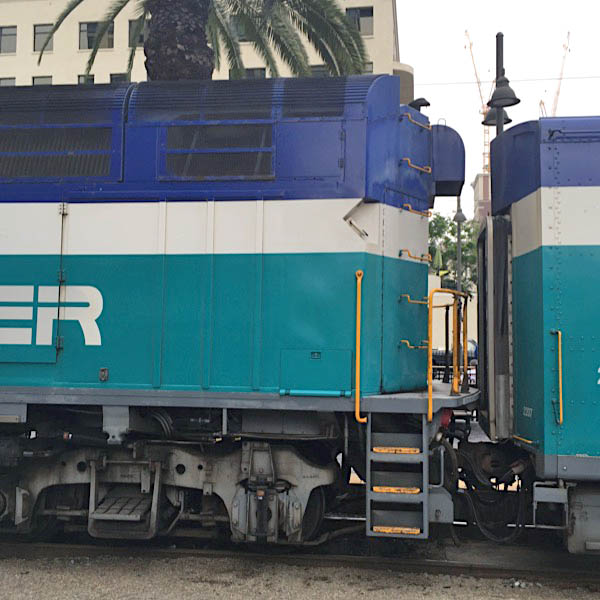 San Diego, Ca / Aug 2015 / RWH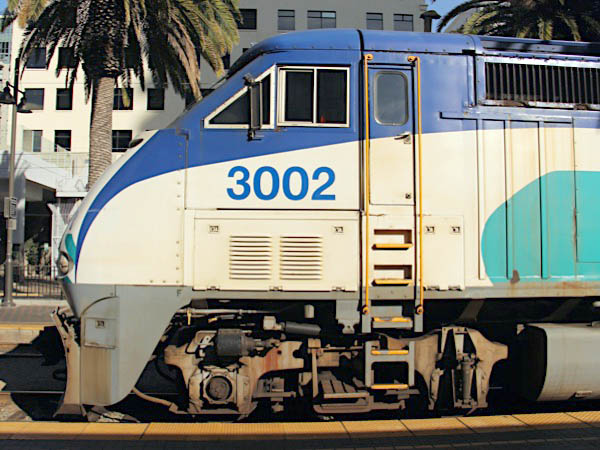 San Diego, Ca / Aug 2015 / RWH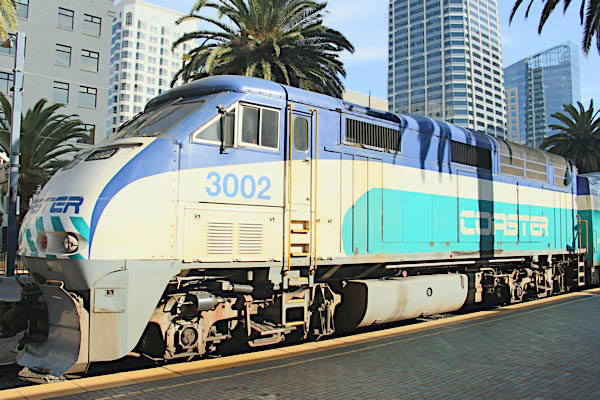 San Diego, Ca / Aug 2015 / RWH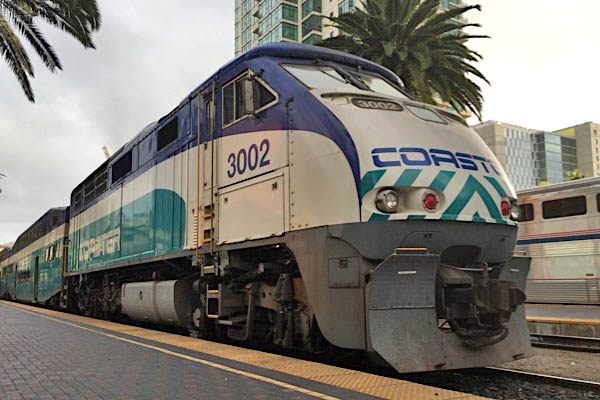 San Diego, Ca / Aug 2015 / RWH
Equipment
San Diego, Ca / Aug 2015 / RWH
Locations
San Diego, Ca / Aug 2015 / RWH
San Diego, Ca / Aug 2015 / RWH
Lagniappe
San Diego, Ca / Aug 2015 / RWH
San Diego, Ca / Aug 2015 / RWH
San Diego, Ca / Aug 2015 / Jerry Deck
Links / Sources
This page was updated on 2015-12-23