New responsive screen layout coming soon!
Denver & Rio Grande Western Railroad
The Denver & Rio Grande Western Railroad, often shortened to "Rio Grande" or simply D&RG, originally the Denver and Rio Grande Railroad, is a former common carrier passenger and freight system. The company started as a narrow gauge line running south from Denver, Colorado in 1870. At its peak, however, the D&RGW served as a standard gauge transcontinental bridge line between Denver, and Salt Lake City, Utah. The Rio Grande was a major origin of coal and mineral traffic in the region, and is perhaps best remembered for its sizable fleet of narrow gauge steam locomotives and related equipment. Today the tourist hauler Durango & Silverton Narrow Gauge Railroad operates a historic section of former D&RGW trackage between its namesake towns in southwest Colorado.
See also our complete
Denver & Rio Grande Western
mainline collection
Motive Power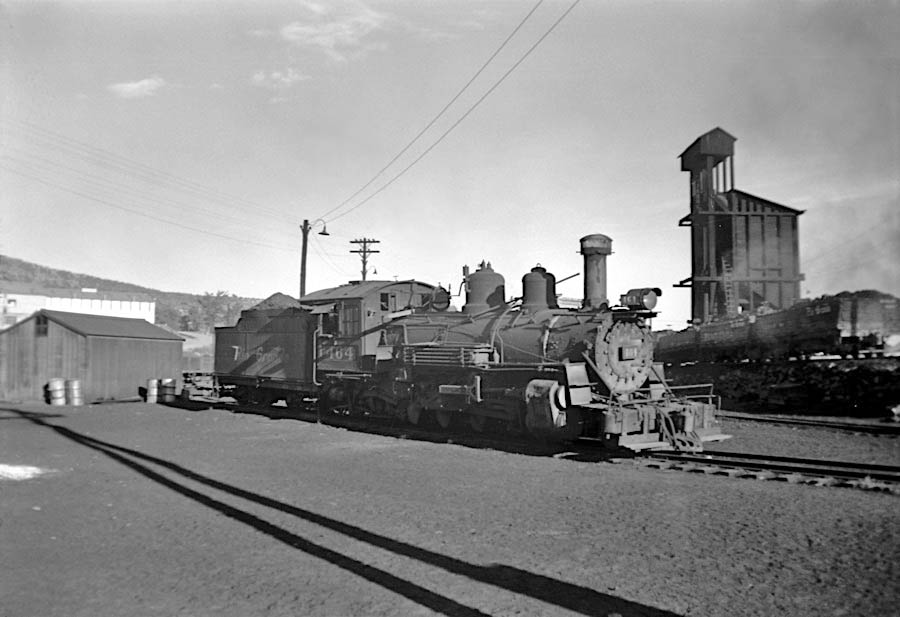 Durango, Co / Jun 1959 / JCH
Denver & Rio Grande Western #464
builder:

Baldwin Locomotive Works

arrangement:

2-8-2 Mikado, class K27

built:

1903, Baldwin #21796

fuel:

coal/water

notes:

17x22 cylinders, 40" drivers
blt Denver & Rio Grande #464
to Denver & Rio Grande Western, 1924
retired, 1962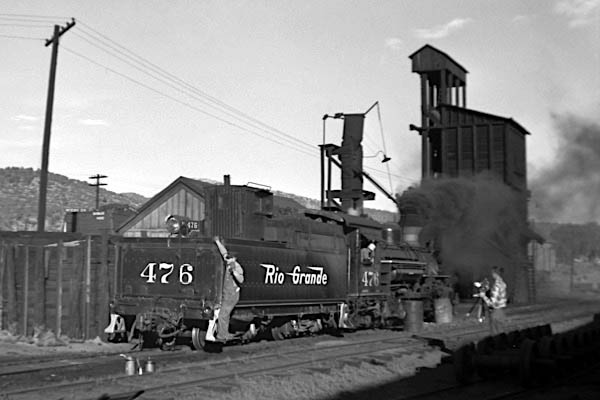 Durango, Co / Jun 1958 / collection
Denver & Rio Grande Western #476
builder:

American Locomotive Company

arrangement:

2-8-2 Mikado, class K28

built:

1923, Alco #64981

fuel:

coal/water

notes:

18x22 cylinders, 44" drivers
to Denver & Rio Grande Western, 1923
to Durango & Silverton, 1981
in service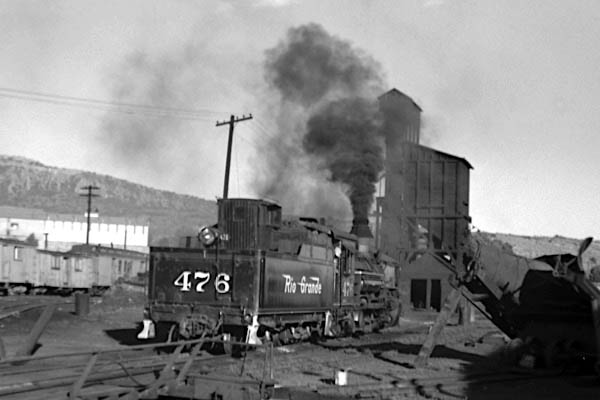 Chama, NM / May 1946 / collection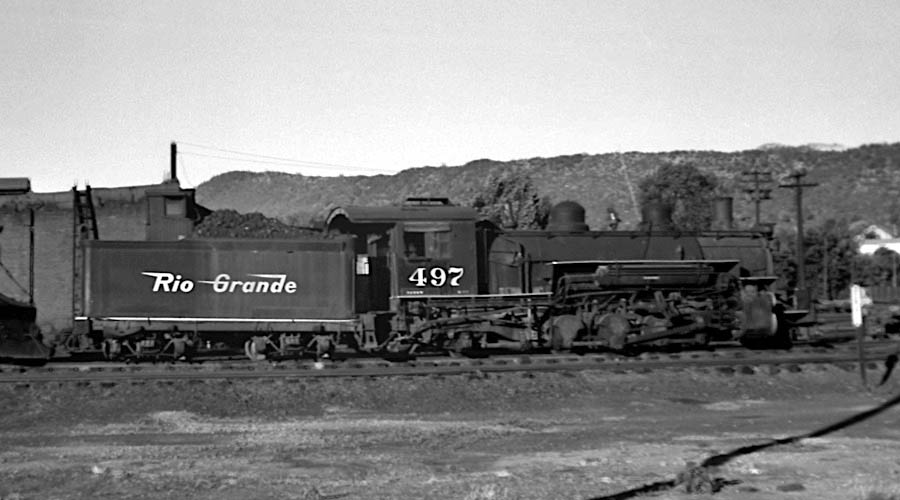 Durango, Co / Jun 1959 / JCH
Denver & Rio Grande Western #497
builder:

Baldwin Locomotive Works

arrangement:

2-8-2 Mikado, class K37

built:

1902, Baldwin #20521

fuel:

coal/water

notes:

20x24 cylinders, 44" drivers
blt Denver & Rio Grande standard gauge
rebuilt by D&RGW to narrow gauge, 1930
to Durango & Silverton, 1981
to Cumbres & Toltec, 1991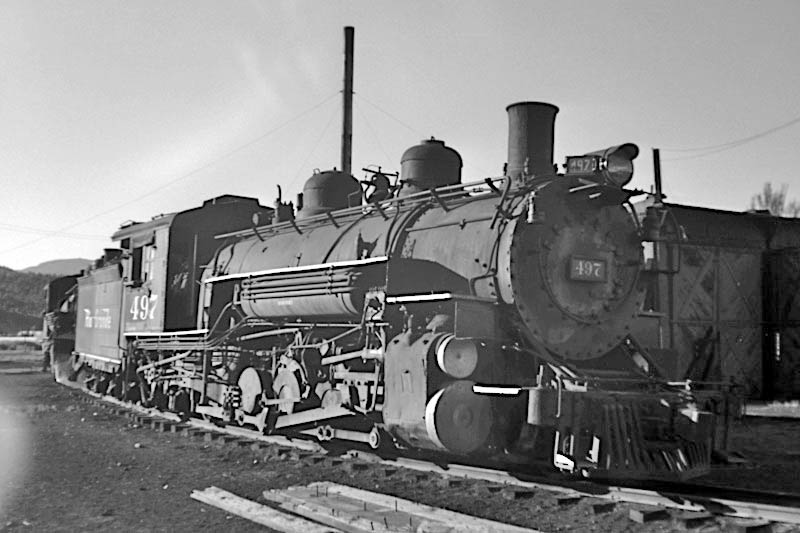 Durango, Co / Jun 1959 / JCH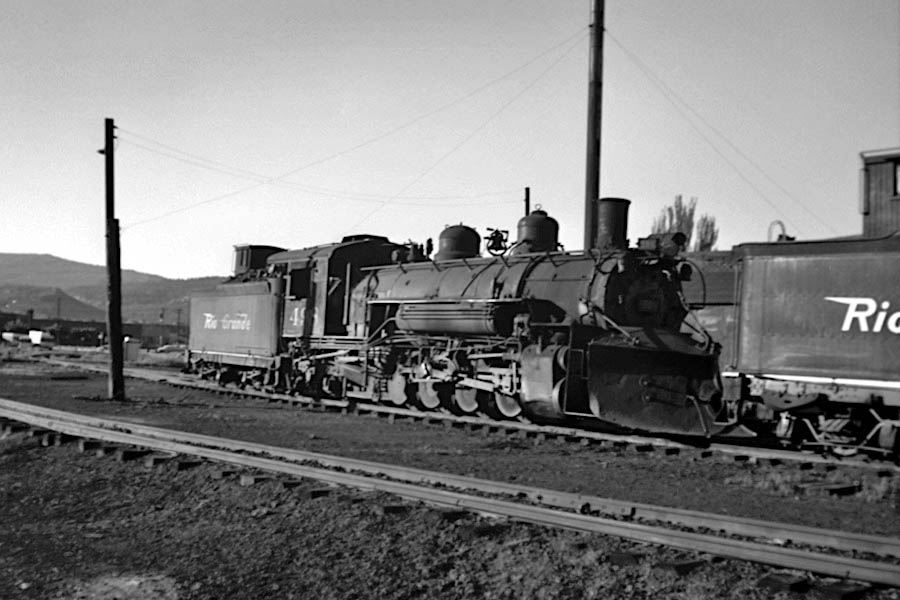 Durango, Co / Jun 1959 / JCH
Denver & Rio Grande Western #498
builder:

Baldwin Locomotive Works

arrangement:

2-8-2 Mikado, class K37

built:

1902, Baldwin #20640

fuel:

coal/water

notes:

20x24 cylinders, 44" drivers
blt Denver & Rio Grande standard gauge
rebuilt by D&RGW to narrow gauge, 1930
to Durango & Silverton, 1981
in service
Lagniappe
Alamosa, Co / Jun 1959 / JCH
Alamosa, Co / Jun 1959 / JCH
Alamosa, Co / Jun 1959 / JCH
Durango, Co / Jun 1959 / JCH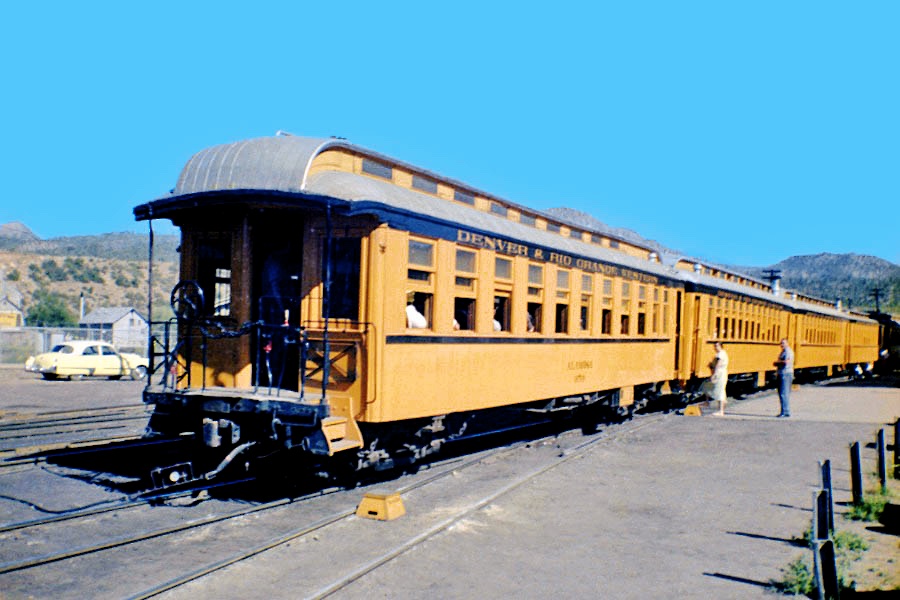 Durango, Co / Jun 1959 / JCH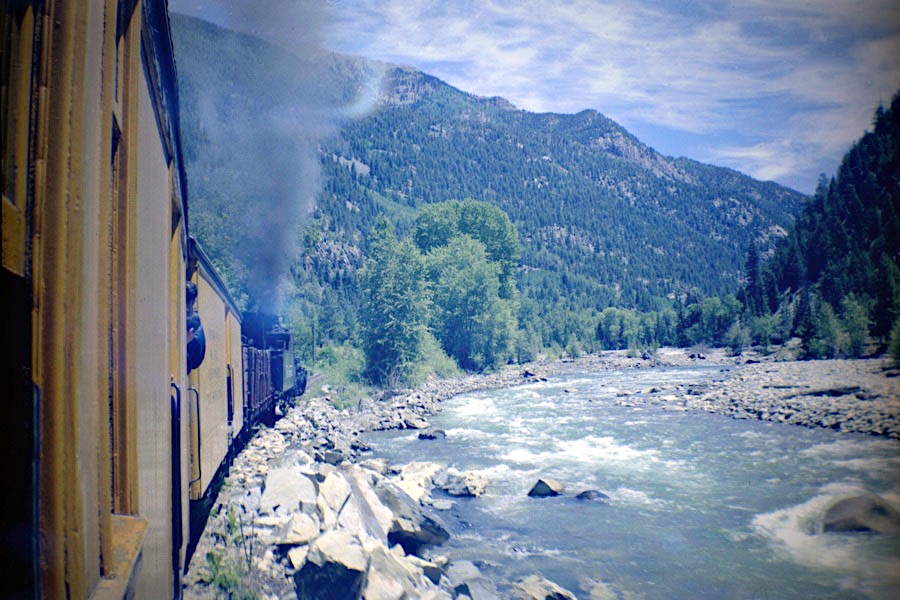 Durango, Co / Jun 1959 / JCH
Links / Sources
This page was updated on 2016-04-17