Pickens Railway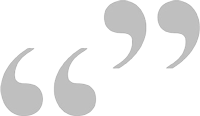 The Pickens Railroad had a foreboding start. On its very first revenue run to Easley in 1898, the train derailed due to local kids wanting to see if placing spikes on top of the rails would cause something to happen. It did. The railroad, already in a precarious financial situation, would not turn a profit for another seven years in 1905. A few years later, in 1910 the railroad was briefly taken over the Southern -- although by the 1920s it returned to private ownership. The biggest change for the Pickens Railroad at the time occurred in 1939 when the Singer Manufacturing Company purchased the railroad to ship its product. What resulted in the purchase began as early as the 1920s when the sewing giant decided to build a large plant near Pickens. Over the years the company used the railroad increasingly to ship its finished products (as well as receive materials) and eventually decided it would be a very important asset.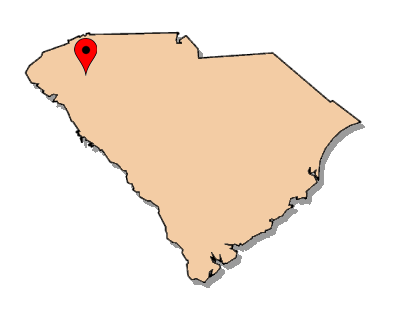 The Pickens Railway operates freight service from a Norfolk Southern connection at Easely, South Carolina to Pickens, 9.9 miles and from Belton to Honea Path, 16 miles. Rail is 85 to 100 pound on the Pickens line and 85 pound on the Belton to Honea Path line. Traffic is transportation equipment, lumber, cotton, paper and fertilizer. The company was chartered on May 10, 1892 to build a 19 mile line from Easley to Olenoy Gap by way of Pickens. The line was opened to Pickens in 1898. Passenger service ceased in 1928. The Belton to Honea Path line -- part of the old Blue Ridge Railway -- was leased to the Pickens Railroad as a part of Norfolk Southern's Thoroughbred Shortline Program on April 11, 1990. Additionally, PICK now operates CSX trackage in Anderson, some 28.5 miles. Pickens handles some about 5000 carloadings on the entire system.
Motive Power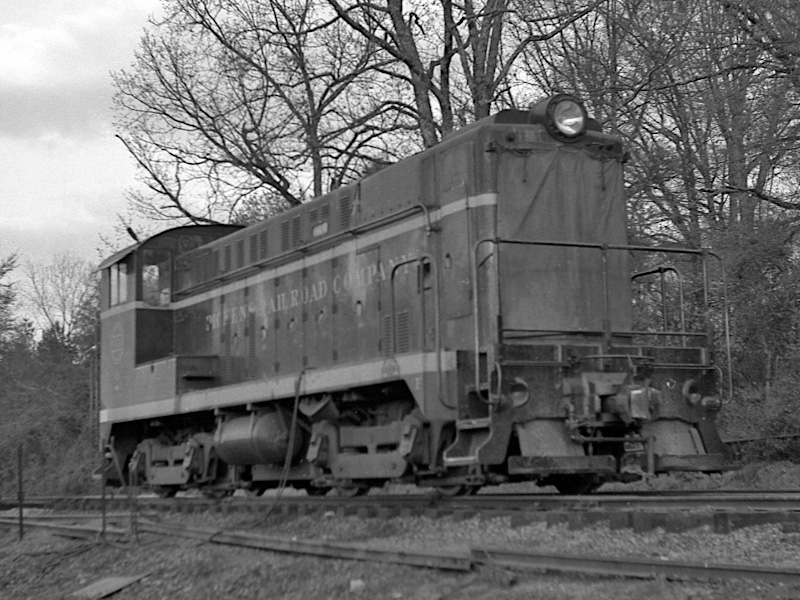 Pickens, SC / Apr 1970 / JCH


Pickens Railway #2
builder:

Baldwin Locomotive Works
model:

VO 660
type:

B-B switcher
built:

1946
series:

138 produced 1939-46
engine:

VO (6 cyls. 660 hp)
notes:
blt Singer Manufacturing #2
to Pickens Railway #2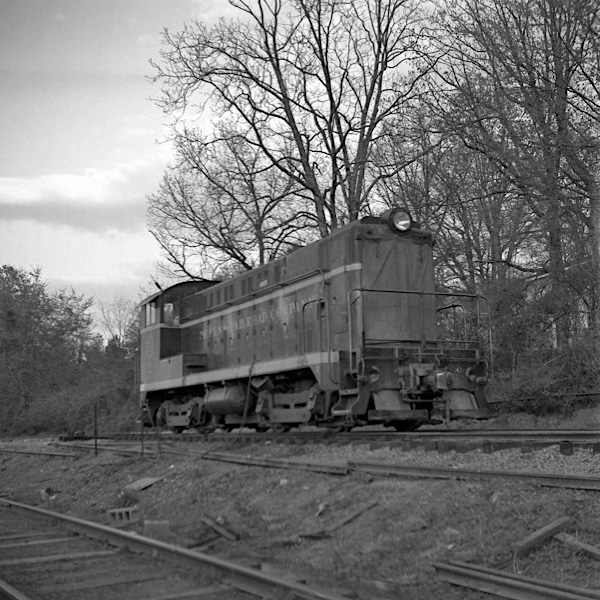 Pickens, SC / Apr 1970 / JCH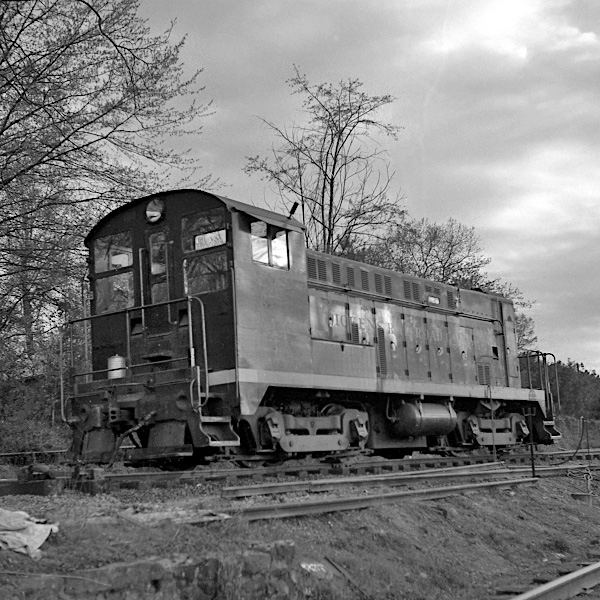 Pickens, SC / Apr 1970 / JCH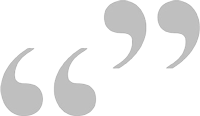 The line dieselized in 1947 with a Baldwin VO-660 (built as Singer Manufacturing #2), It was numbered 2 and was later named T. Grady Welborn. The 2-6-2 steam engine was sidelined until 1955 when it was sold for scrap. Number 2 is still on the property on the original Pickens trackage but has been out of service for some time as a switcher for CLCX, Inc. as of 2009.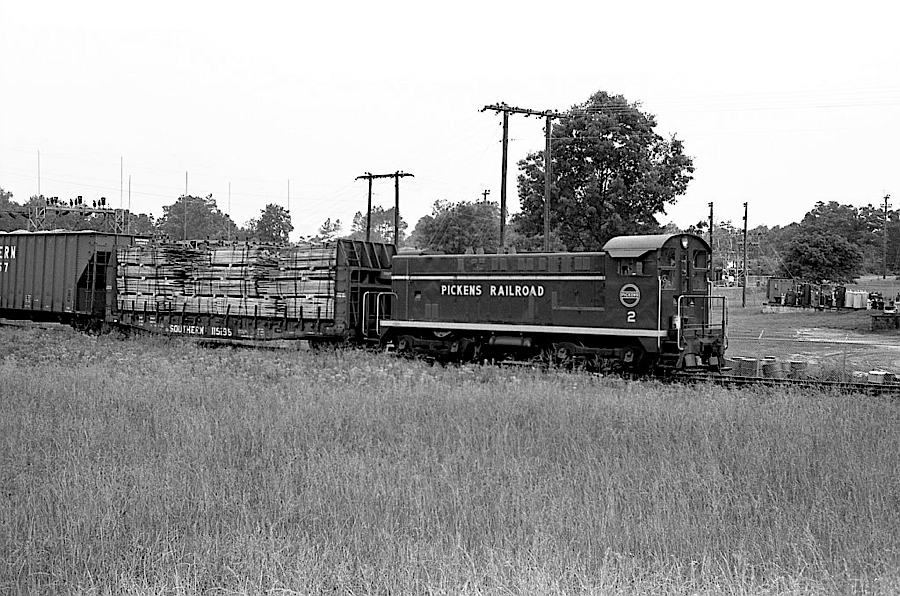 Pickens, SC / Jun 1973 / Doug Leffler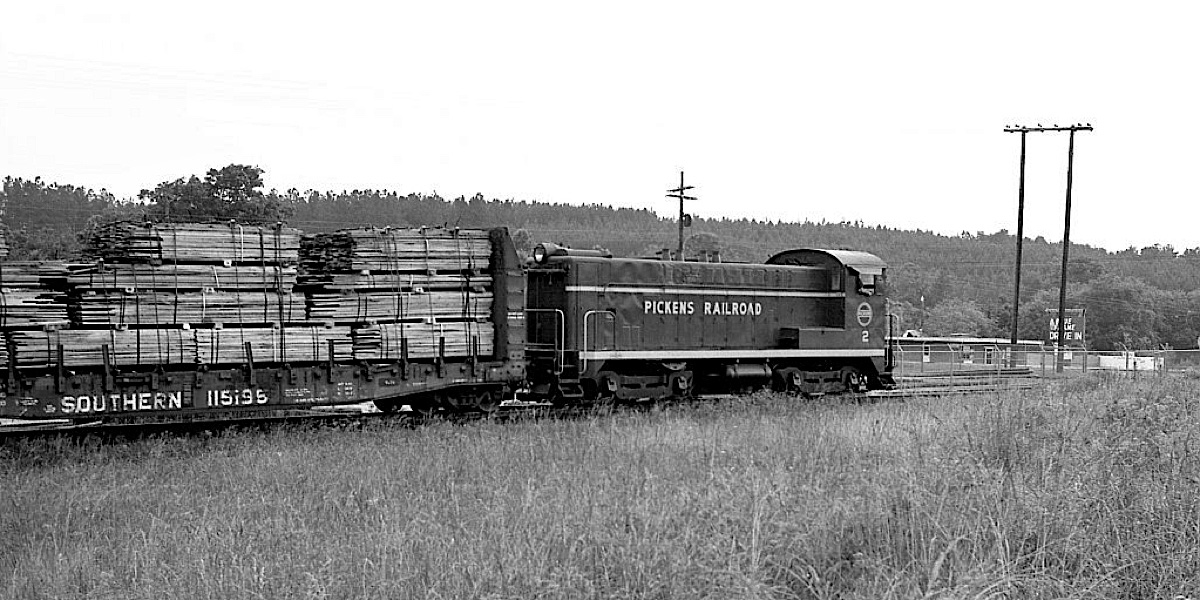 Pickens, SC / Jun 1973 / Doug Leffler
| | |
| --- | --- |
| HawkinsRails thanks Michigan railfan Doug Leffler for use of his Pickens images on this page | |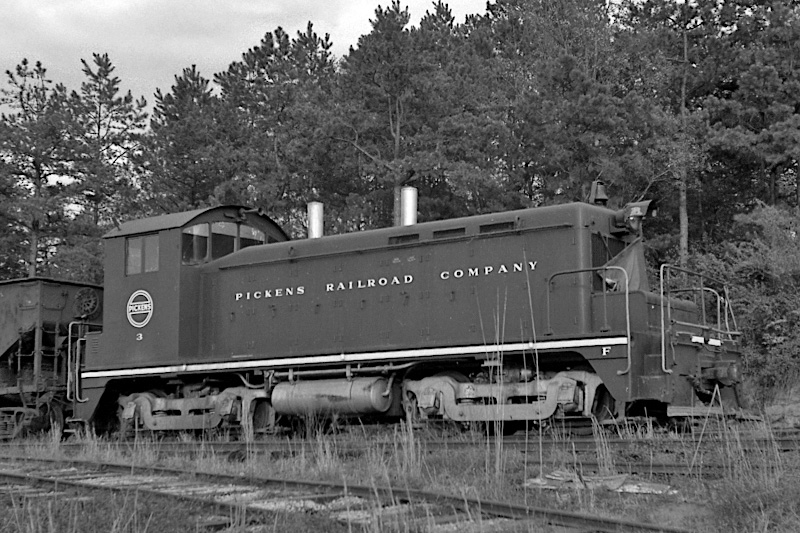 Pickens, SC / Apr 1970 / JCH


Pickens Railway #3
builder:

Electro Motive Division
model:

SW
type:

B-B switcher
built:

unknown
series:

77 produced 1936-39
engine:

201-A (8 cyls. 600 hp)
notes:
ex Union Terminal #5
ex Missouri Pacific #6005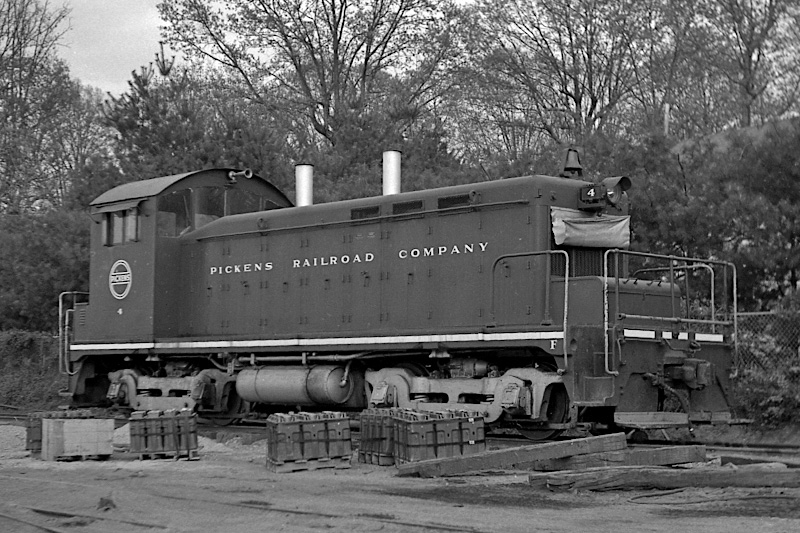 Pickens, SC / Apr 1970 / JCH


Pickens Railway #4
builder:

Electro Motive Division
model:

SW
type:

B-B switcher
built:

unknown
series:

77 produced 1936-39
engine:

201-A (8 cyls. 600 hp)
notes:
#3 (above) and #4 are rare SW units, predecessors to the better known SW and NW series with similar bodies but with the 567 engine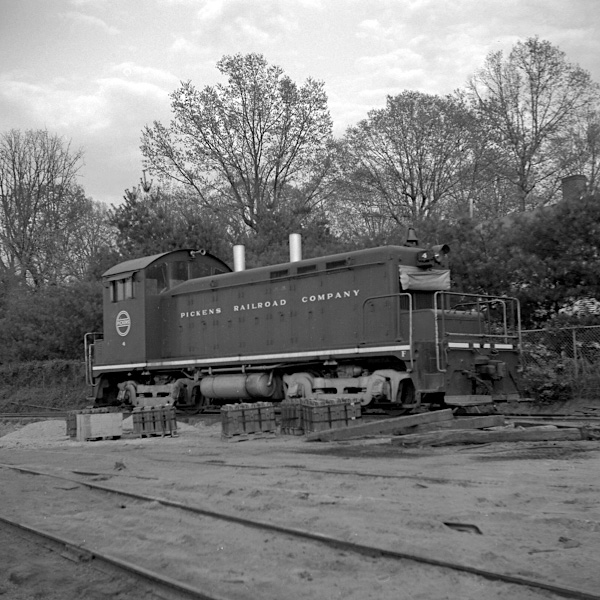 Pickens, SC / Apr 1970 / JCH
Links / Sources
Pickens Railway Company official company site
Wikipedia page for Pickens Railway
AmericanRails.com Pickens page
Edward A. Lewis, American Shortline Railway Guide - Fifth Edition (Kalmbach, 1996) 247
Charles W. McDonald, Diesel Locomotive Rosters (Kalmbach, 1992) 129
This page was updated on 2016-04-16