New responsive screen layout coming soon!
The Horseshoe Curve
An Engineering Feat -- Take a most beautiful drive through the Allegheny Mountains. Experience the challenge the Pennsylvania Railroad workers overcame by completing rail tracks through this rough terrain. Once you have arrived at the Horseshoe Curve, enjoy one of the World's most incredible engineering feats. Ride the Funicular or walk 194 beautiful landscaped steps to the tracks for a front seat view of a train mans' wonder. You will also find the Horseshoe Curve to be a relaxing and entertaining place to enjoy a picnic lunch.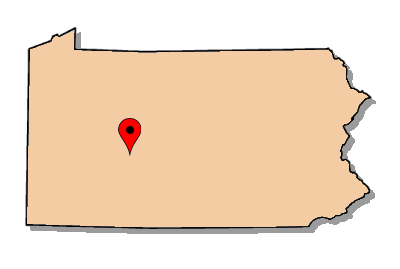 The Horseshoe Curve is a three-track mainline railroad curve situated along the Norfolk Southern "Pittsburgh Line" in Blair County, Pennsylvania, just west of the railroad town of Altoona. Completed in 1854 by the Pennsylvania Railroad to lessen the hard grade up to the summit of the Allegheny Mountains, the curve is over 2000 feet long and over a 1000 feet in diameter. The trackage was later owned and used by Pennsylvania Railroad successors Penn Central, Conrail, and now Norfolk Southern. Horseshoe Curve is listed on the National Register of Historic Places, designated a National Historic Landmark, and was named a National Historic Civil Engineering Landmark in 2004. The location has long been a tourist attraction, with a trackside observation park established as early as 1880. In the 1990s the park was renovated and a new visitor center constructed. Today the Railroaders Memorial Museum in Altoona manages the center, which daily sees the passing of numerous Norfolk Southern freight movements and Amtrak's daily Pennsylvanian regional passenger train.
See also our
Altoona Railroaders Memorial Museum
and
Gallitzin Tunnels Park
pages
Horseshoe Curve postcard / collection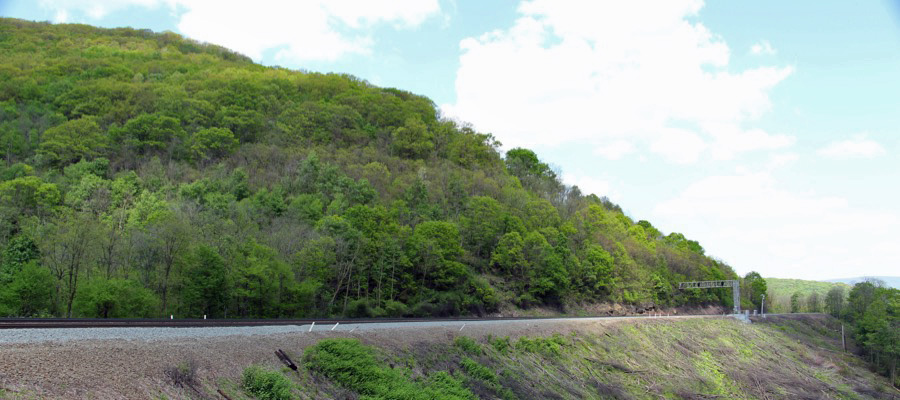 RWH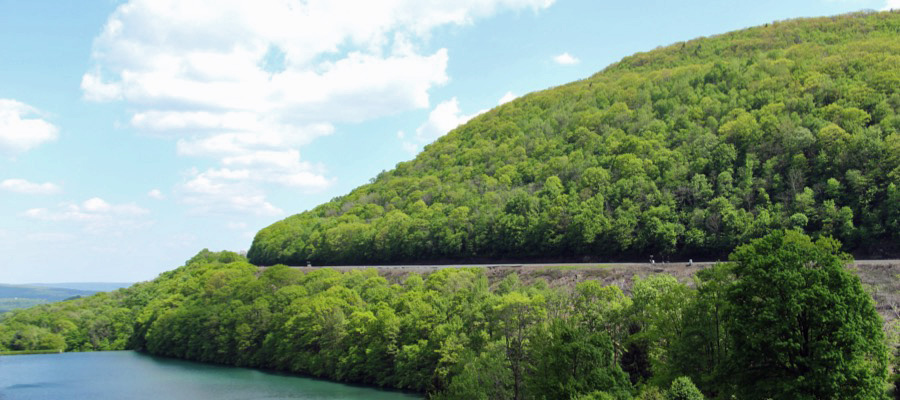 RWH

Horseshoe Curve, Pa / May 2016 / RWH
Click to see the Horseshoe Curve park plotted on a
Google Maps
page

Horseshoe Curve, Pa / May 2016 / RWH

Horseshoe Curve, Pa / May 2016 / RWH
Displays
Horseshoe Curve, Pa / May 2016 / RWH
Pennsylvania #7048
builder:

Electro Motive Division

model:

GP9

type:

B-B road switcher

built:

Dec 1955, EMD #20752

series:

4112 produced 1954-63

engine:

EMD 567C (16 cyl, 1750 hp)

notes:

blt new for Pennsylvania, class EFS17m
to Penn Central, then Conrail #7048
replaced PRR K4 #1361 as park display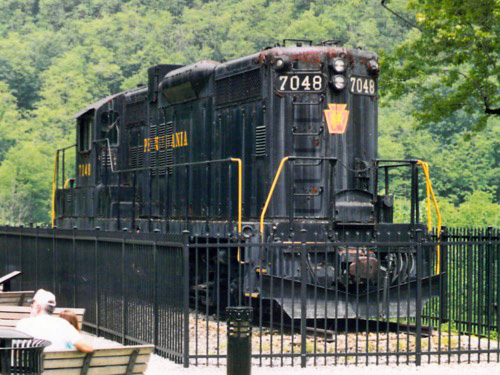 Horseshoe Curve, Pa / Jun 2003 / RWH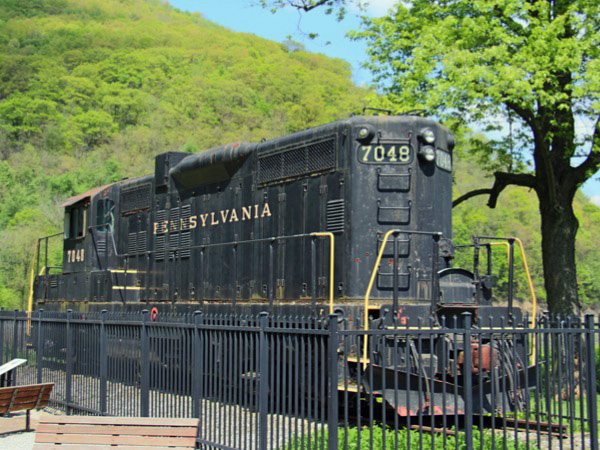 Horseshoe Curve, Pa / May 2016 / RWH

Horseshoe Curve, Pa / May 2016 / RWH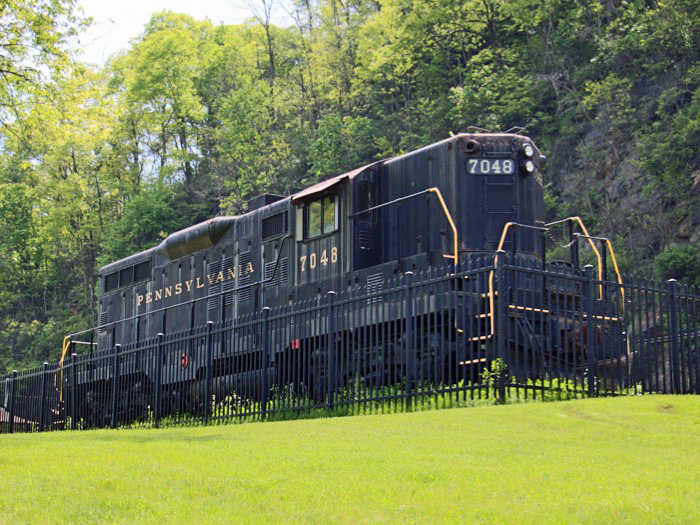 Horseshoe Curve, Pa / May 2016 / RWH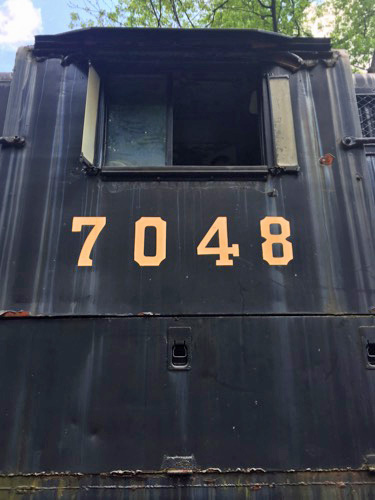 May 2016 / RWH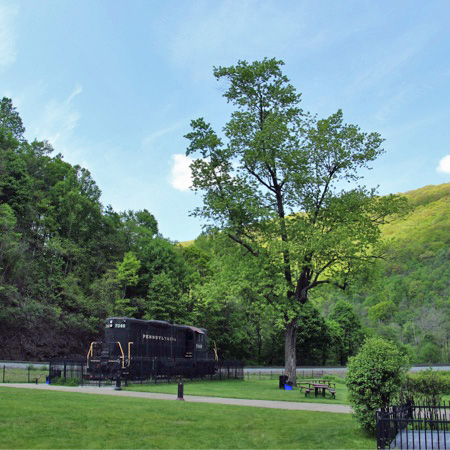 Horseshoe Curve, Pa / May 2016 / RWH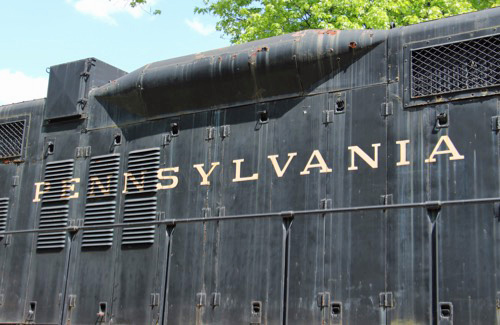 Horseshoe Curve, Pa / May 2016 / RWH
Action
Horseshoe Curve Facts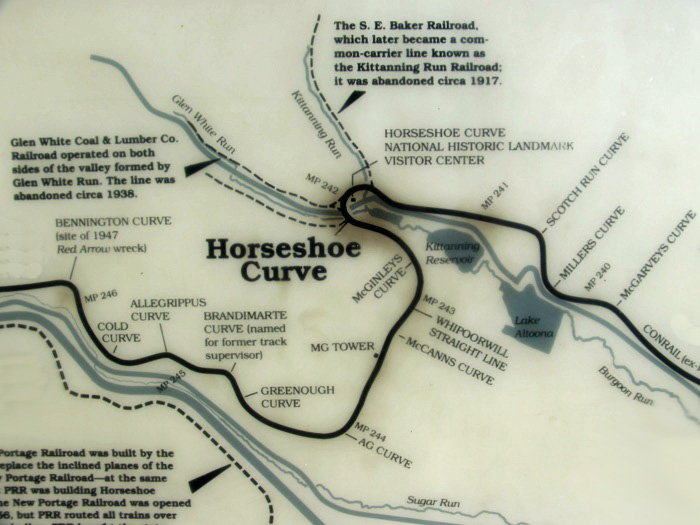 The Horseshoe Curve opened February 15, 1854 and was engineered by J. Edgar Thompson. It is located at Kittaning Point, at the base of the Allegheny Mountains.
The length of the curve is 2375 feet. Degree of curvature is 9 degrees; 25 minutes; central angle is 220 degrees. Elevation of lower (east) end of the curve is 1594 feet, upper (west) end is 1716 feet-122 feet total elevation climb. The grade is 1.8% or 1.8 foot rise per 100 feet.
The construction of the Curve was done by about 450 workers, many of them from Ireland. The work was done entirely by hand, and workers were paid 25 cents per hour for a twelve hour day.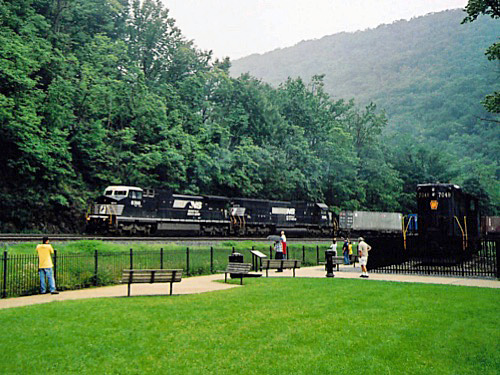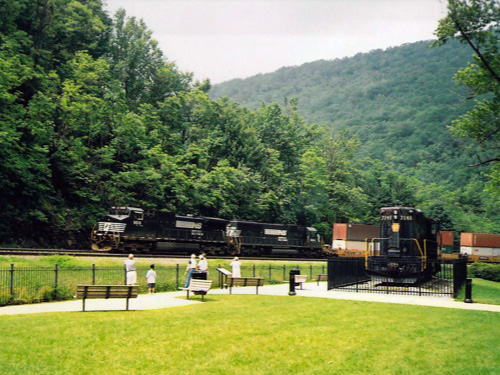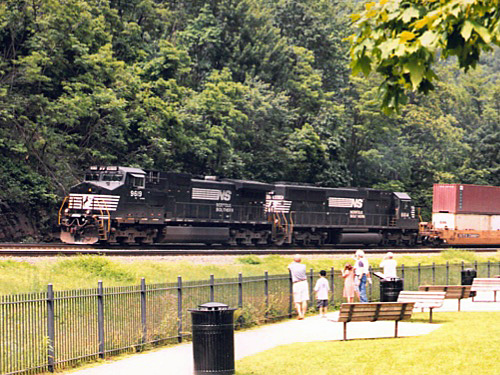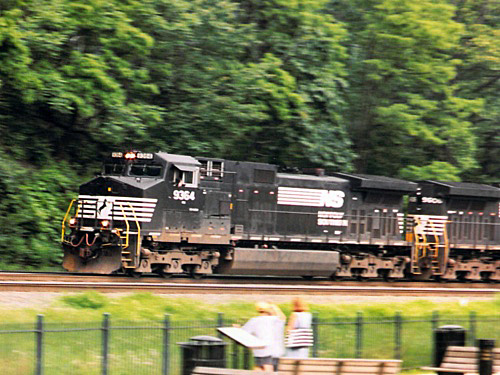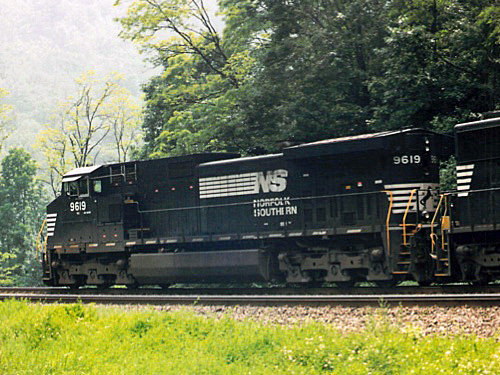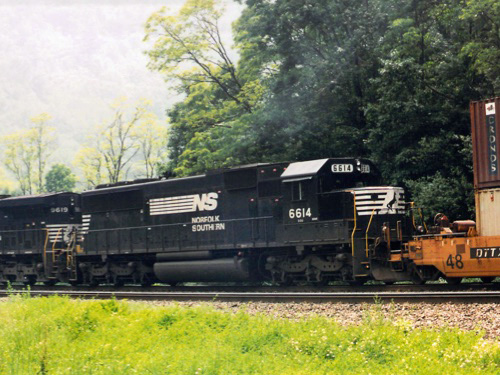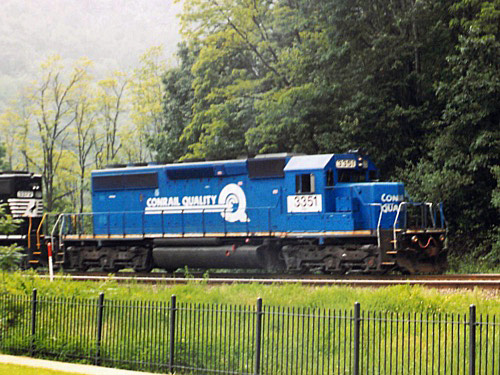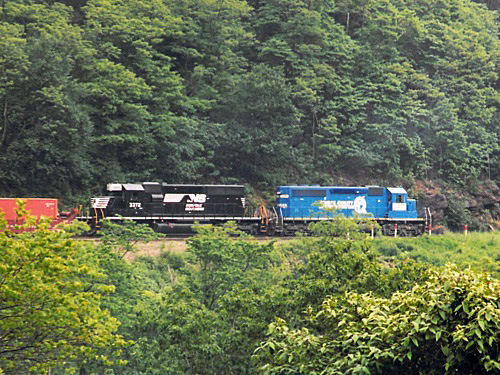 various Norfolk Southern freights / all photos above Horseshoe Curve, Pa / Jun 2003 / RWH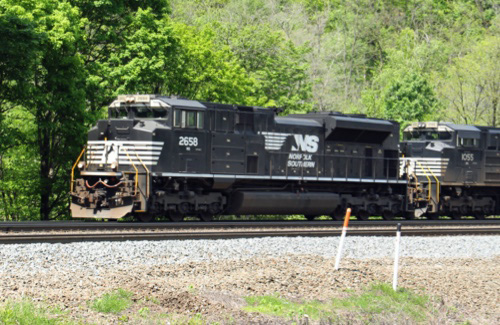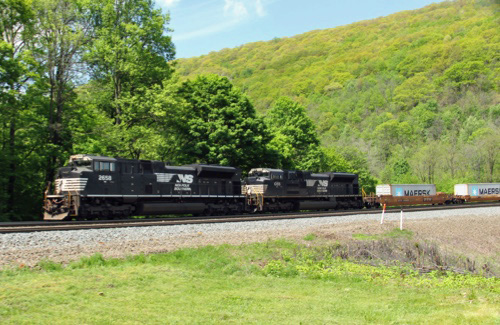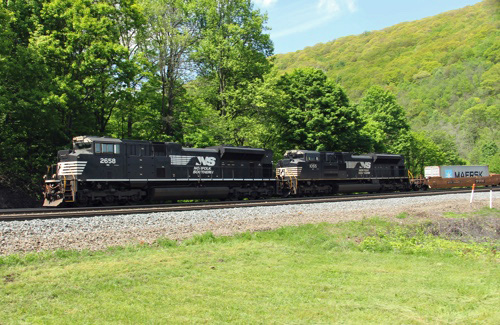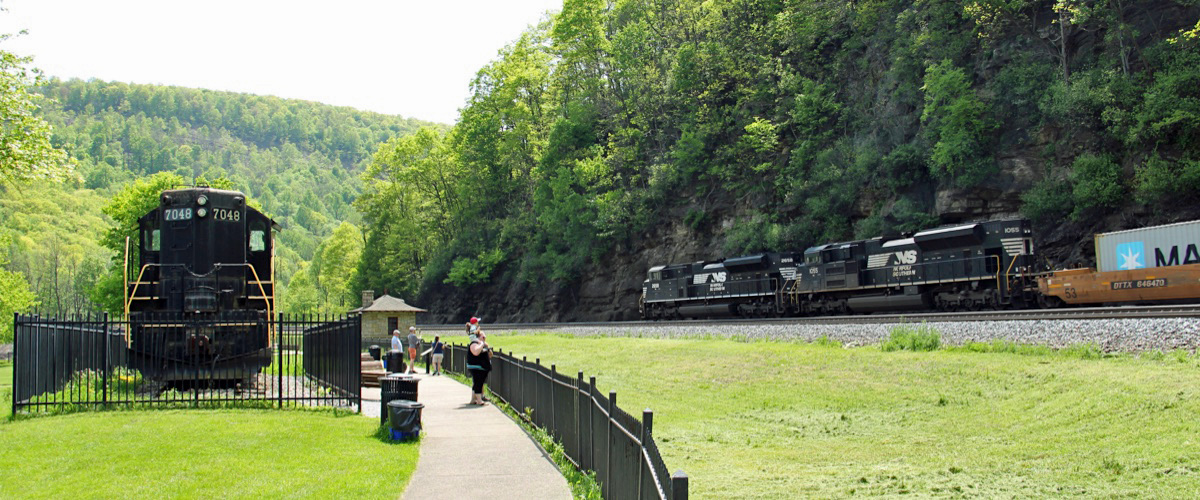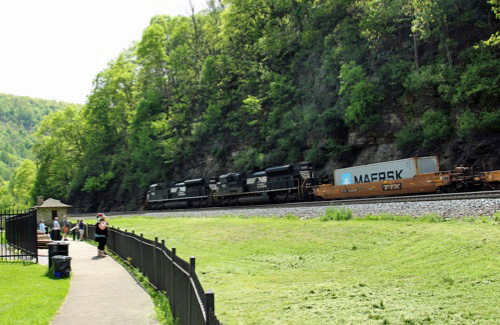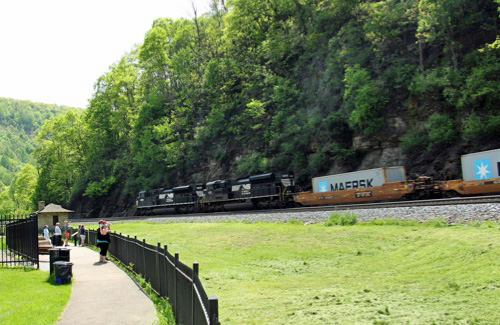 westbound Norfolk Southern intermodal / all photos above Horseshoe Curve, Pa / May 2016 / RWH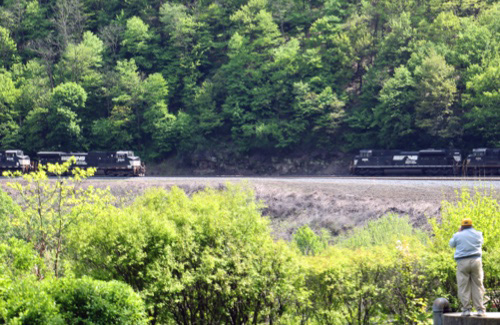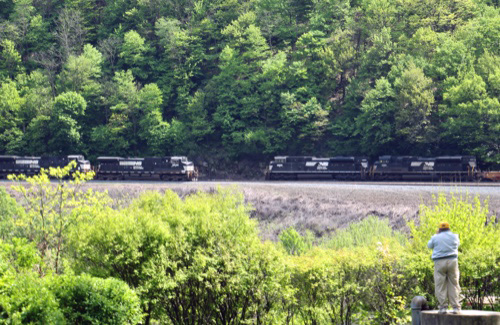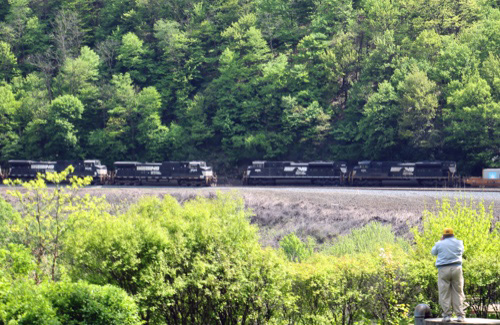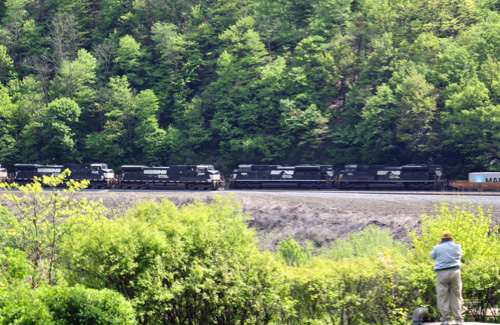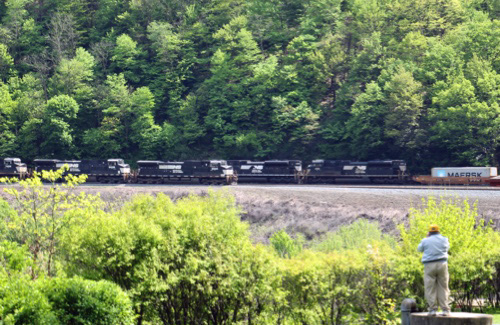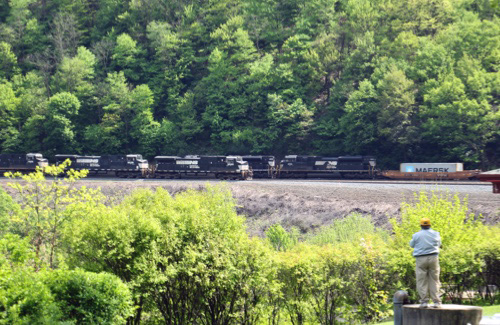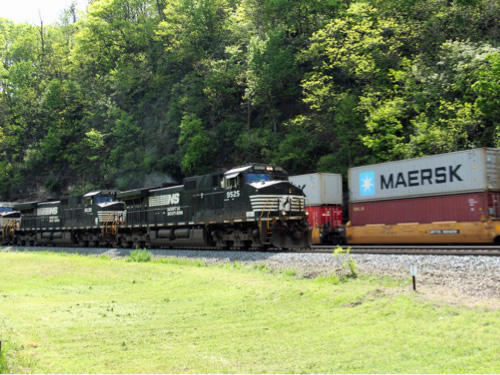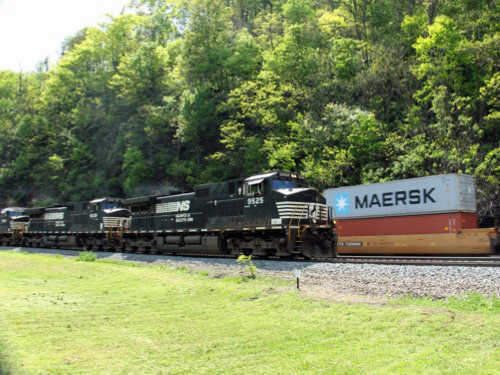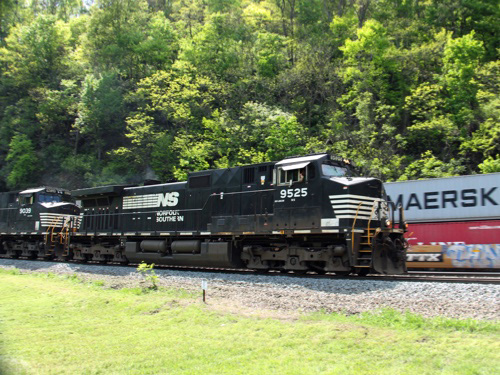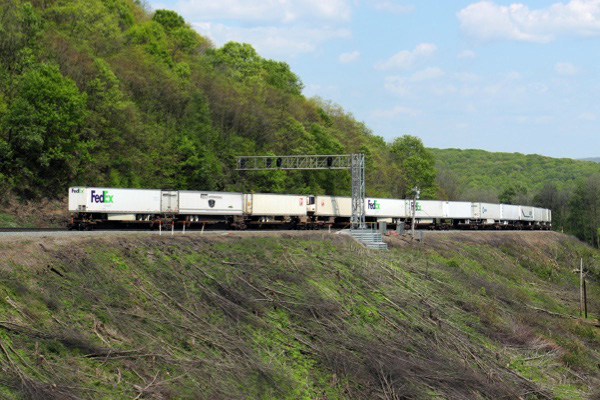 eastbound Norfolk Southern intermodal / all photos above Horseshoe Curve, Pa / May 2016 / RWH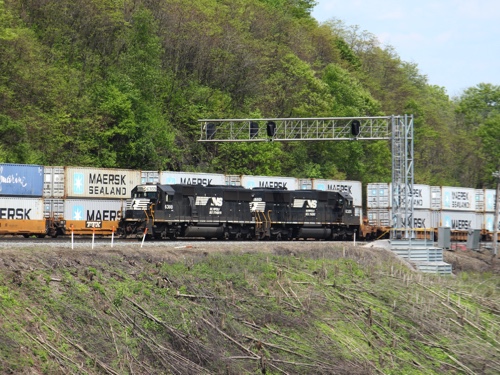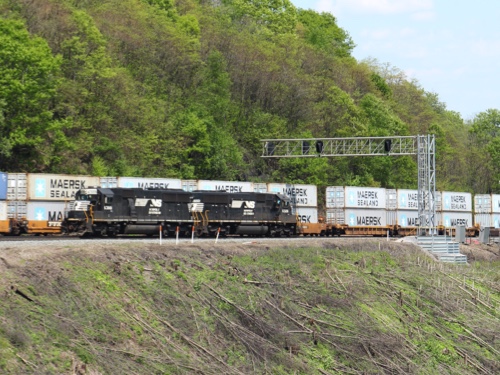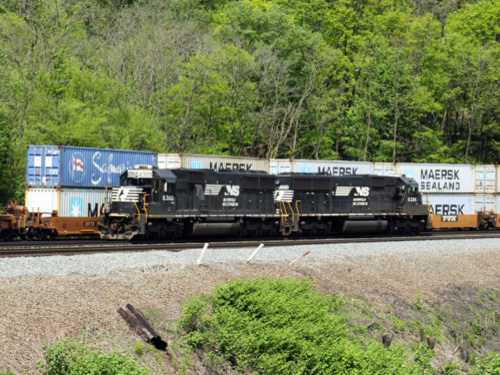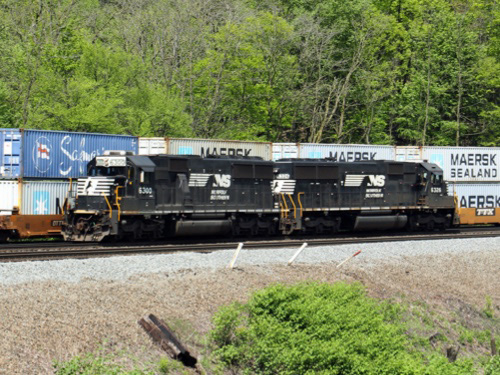 westbound Norfolk Southern helper set / all photos above Horseshoe Curve, Pa / May 2016 / RWH
Structures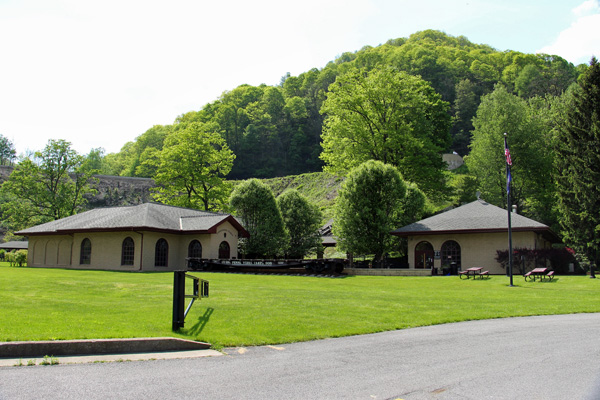 Horseshoe Curve, Pa / May 2016 / RWH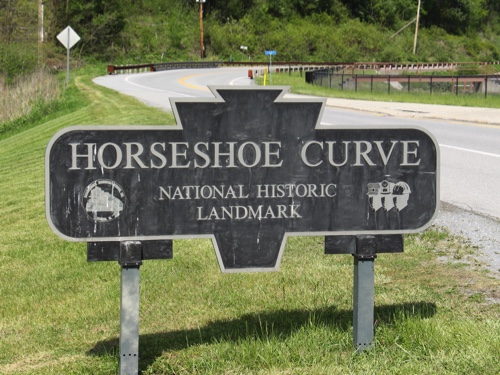 Horseshoe Curve, Pa / May 2016 / RWH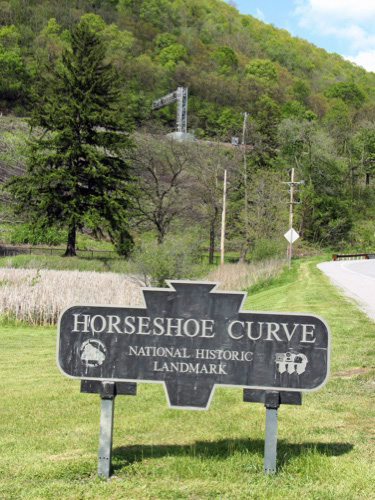 Horseshoe Curve, Pa / May 2016 / RWH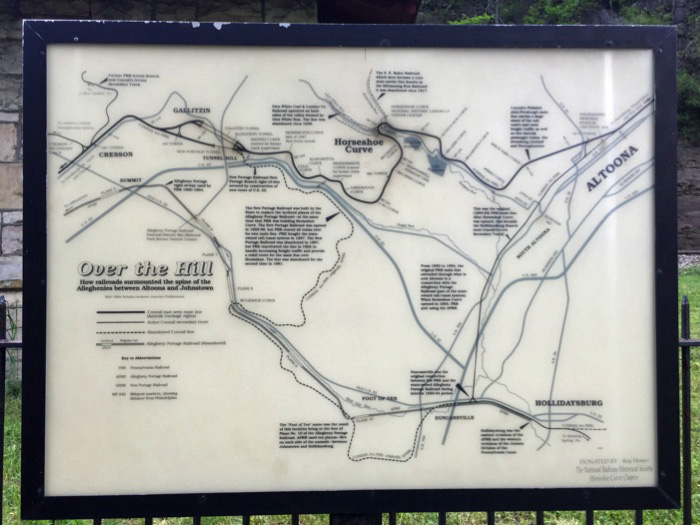 May 2016 / RWH
Funicular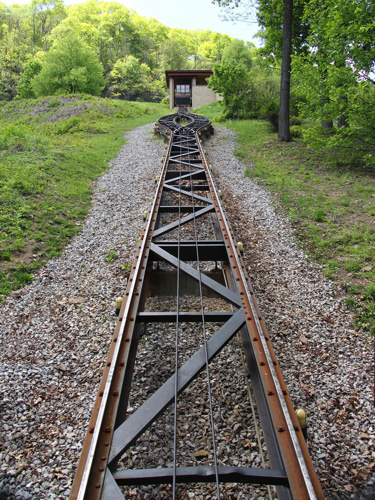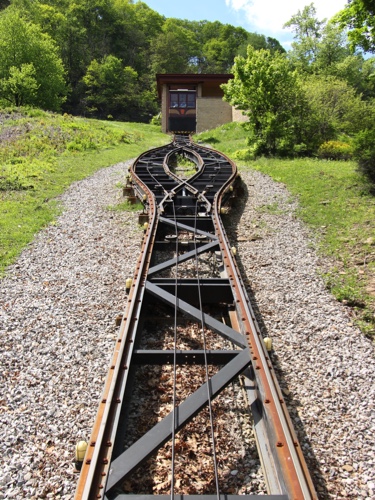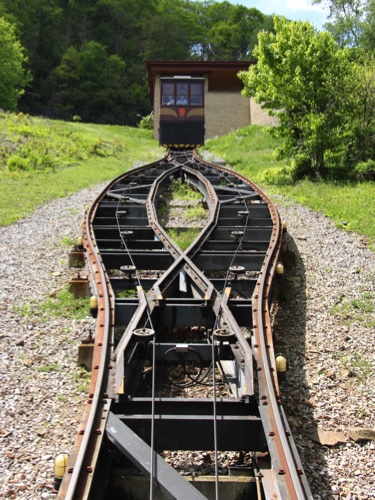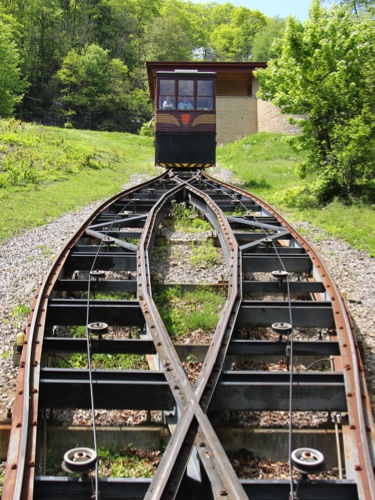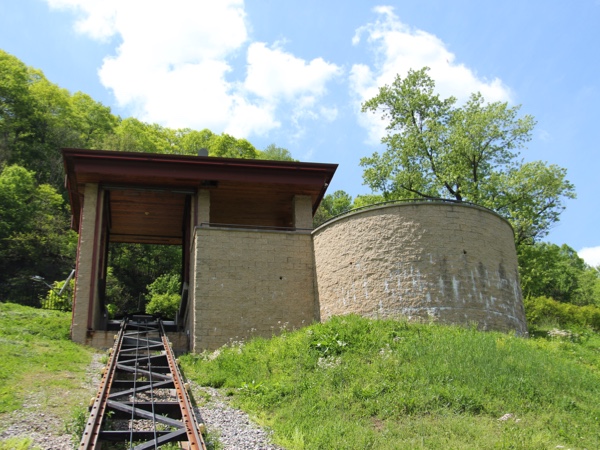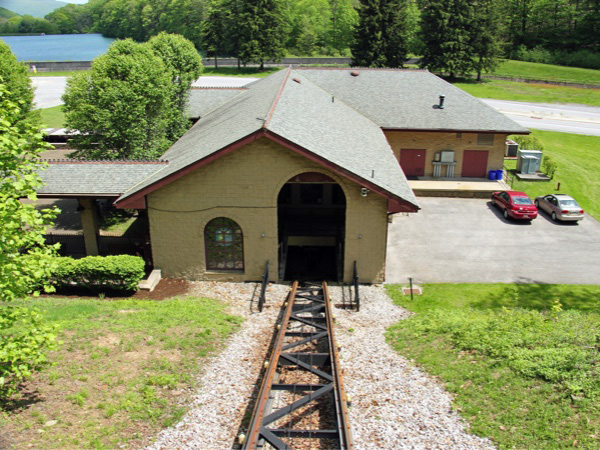 all funicular photos above Horseshoe Curve, Pa / May 2016 / RWH
Lagniappe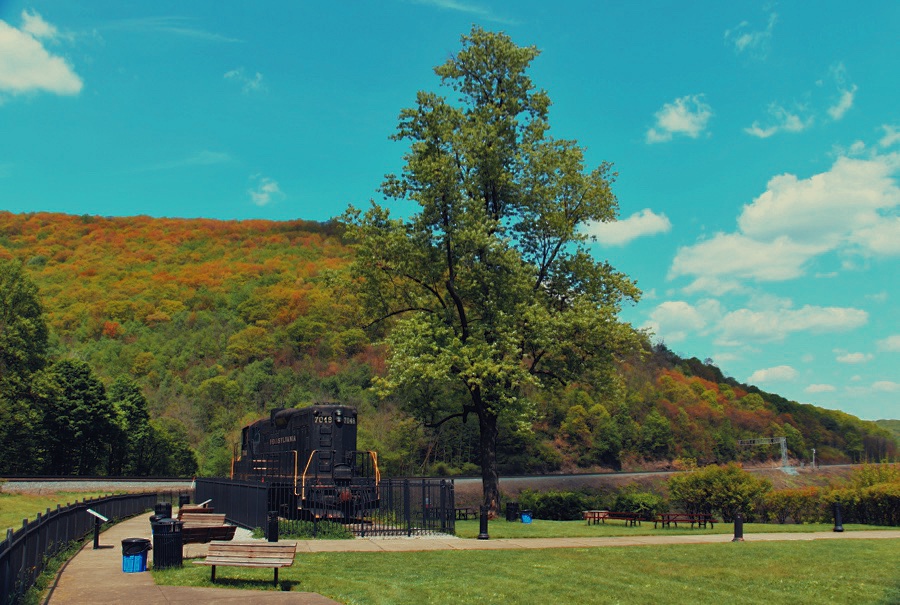 Horseshoe Curve, Pa / May 2016 / RWH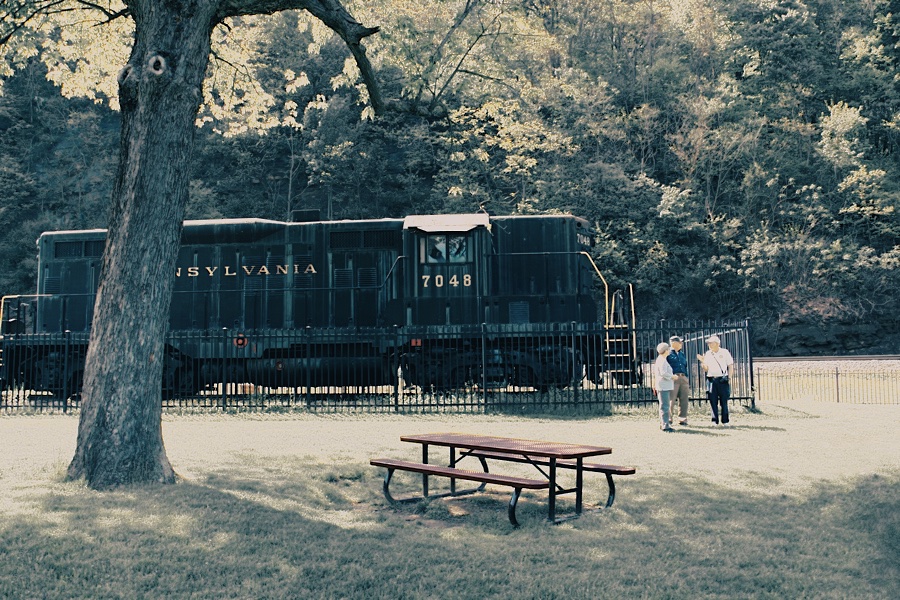 Horseshoe Curve, Pa / May 2016 / RWH

Horseshoe Curve, Pa / May 2016 / RWH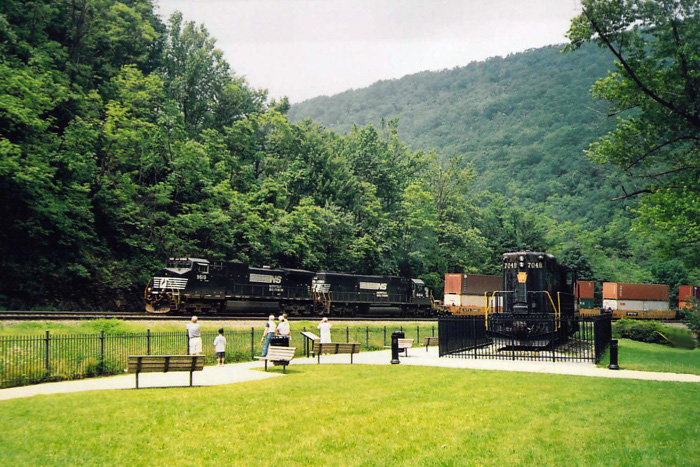 Horseshoe Curve, Pa / Jun 2003 / RWH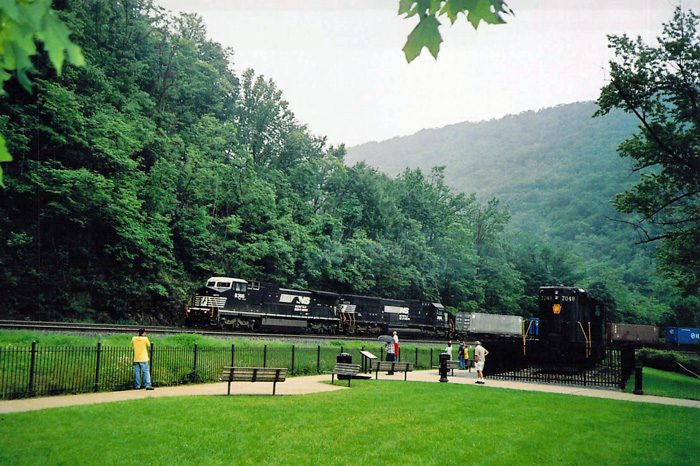 Horseshoe Curve, Pa / Jun 2003 / RWH
Jun 2003 / RWH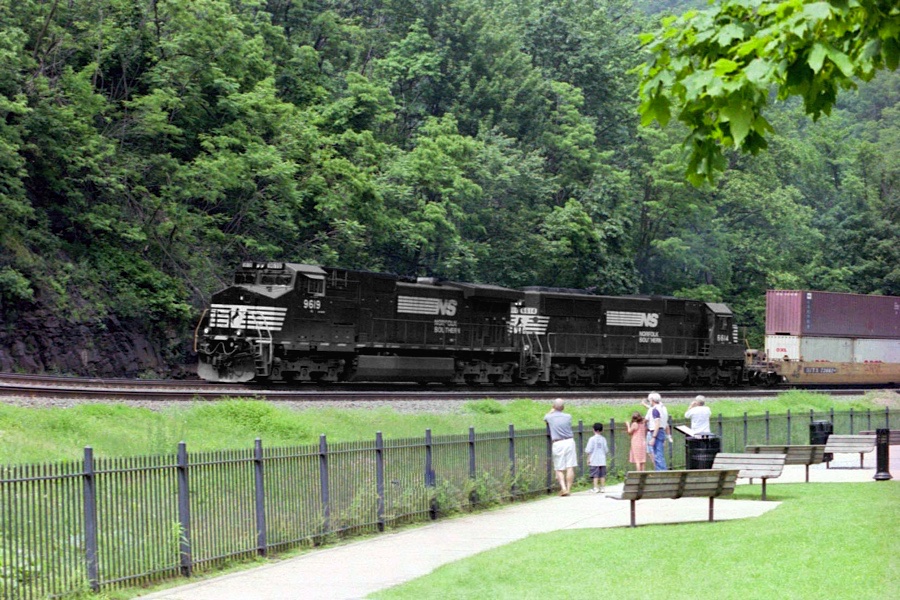 Horseshoe Curve, Pa / Jun 2003 / RWH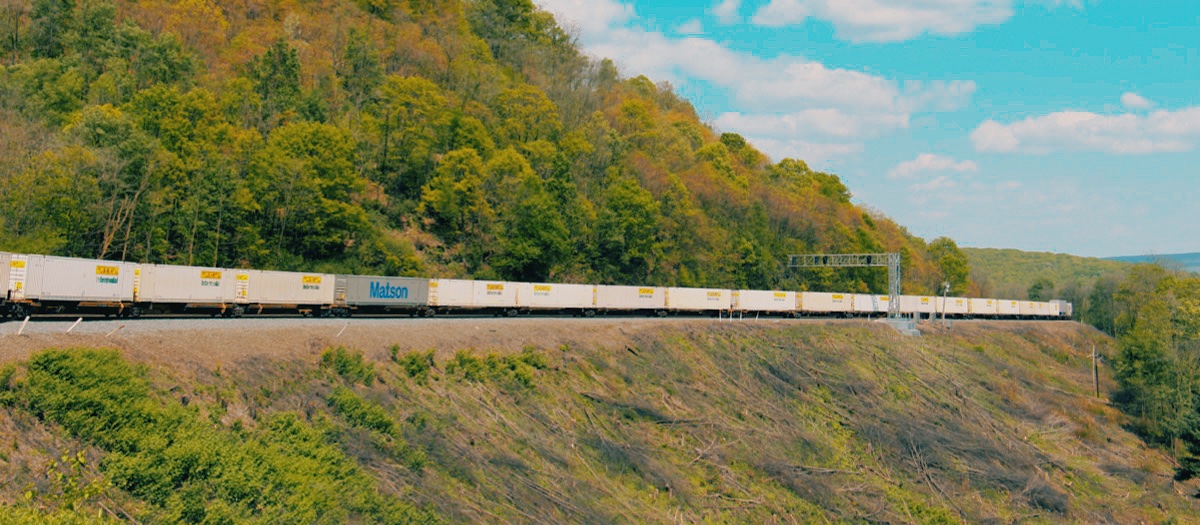 Horseshoe Curve, Pa / May 2016 / RWH

Horseshoe Curve, Pa / May 2016 / RWH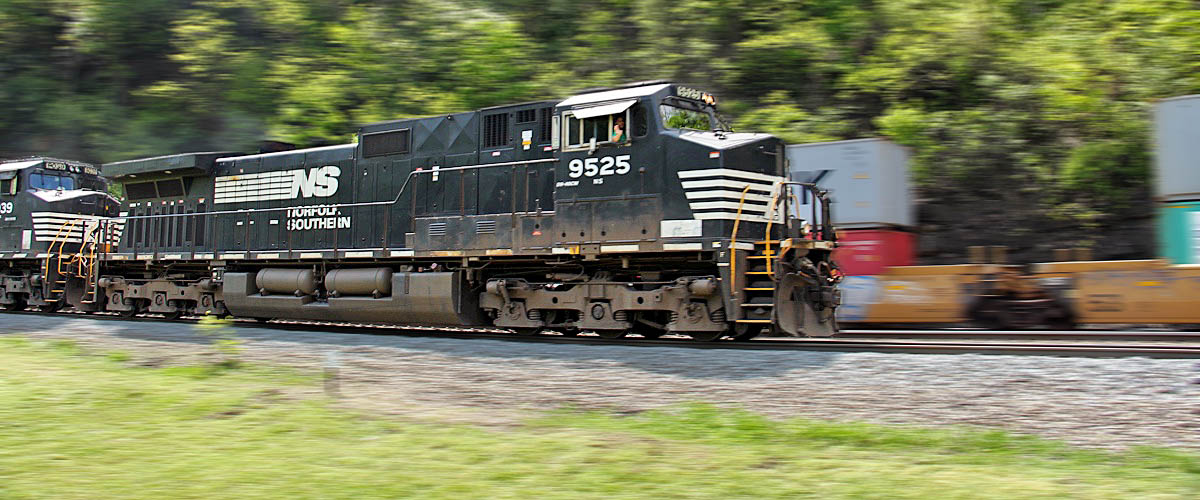 Horseshoe Curve, Pa / May 2016 / RWH
Links / Sources
This page was updated on 2016-06-30