Age of Steam Roundhouse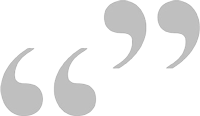 As a young teen, Jerry Jacobson loved to watch the Baltimore & Ohio steam locomotives operating on the Akron Division run through his hometown of Cuyahoga Falls, Ohio. He was fortunate, as this stretch of B&O main line was the track where Steam fought its last stand in 1957 on the B&O. Jerry was even more fortunate one day when he was invited to ride in the cab of B&O Mountain-type 4-8-2 No. 710 as it switched out cars from the local freight it was pulling. Unfortunately, the B&O shut down the last of its steam locomotives later that year. From that moment on Jerry dreamed about how great it would be to own his own steamer.
Knowing that he would have to own his own railroad in order to run his own steam locomotives, in 1988 Jerry bought a 90-mile railroad and named it Ohio Central. Twenty years later his Ohio Central Railroad System had grown to ten individual freight-hauling railroads, 84 diesels, ten steam locomotives, and two dozen heavyweight and lightweight passenger cars. The highlight of the OC was the daily-except-Sunday steam-powered summertime tourist passenger trains that operated seven miles from Sugarcreek to Baltic.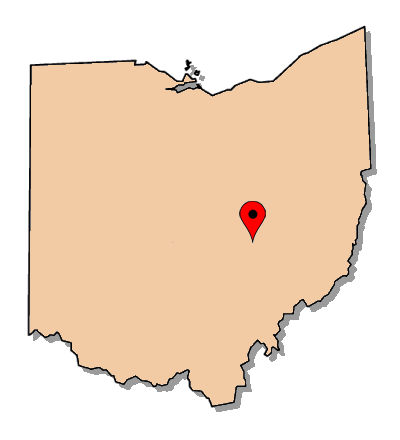 The Age of Steam Roundhouse is a steam locomotive restoration, maintenance, and interpretation facility, located along the Ohio Central mainline south of Sugarcreek, Ohio. Created in 2008 on former farmland, the facility features a working turntable, an 18-stall roundhouse, and a steam backshop. All of the rolling stock -- including steam locomotives, diesel locomotives, and passenger cars -- are the private collection of Jerry Joe Jacobson, former chief of the Ohio Central shortline system.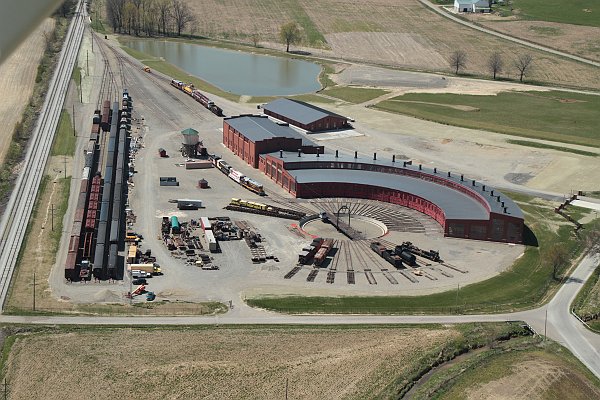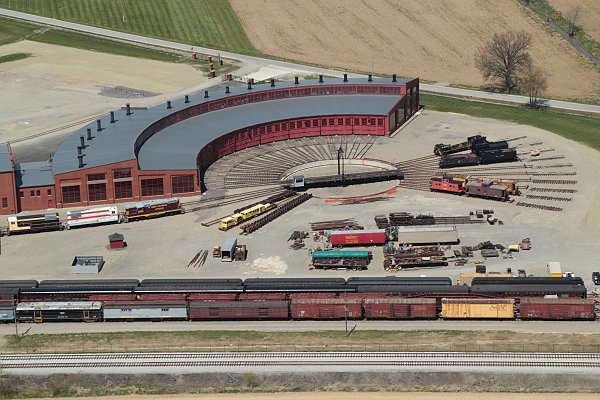 Diesel Motive Power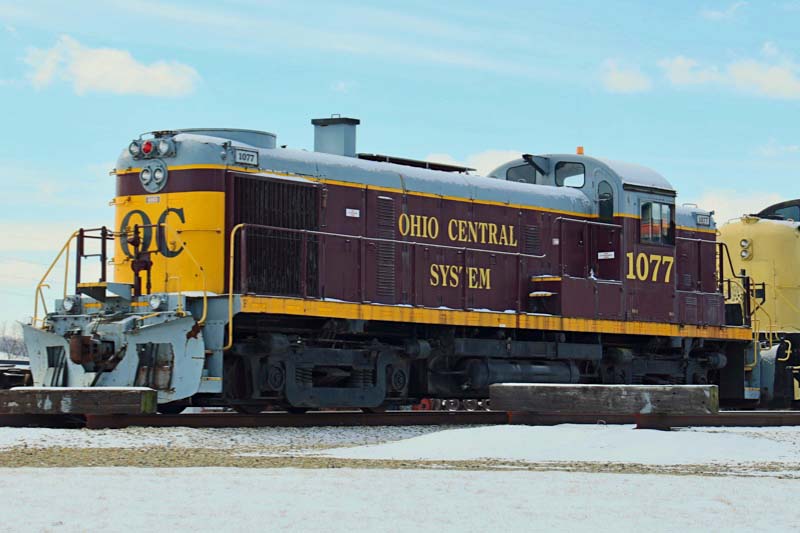 Sugarcreek, Oh / Feb 2016 / RWH


Ohio Central #1077
builder:

American Locomotive Company
model:

RS3
type:

B-B road switcher
built:

1955, Alco #81353
series:

1265 produced 1950-56
engine:

Alco 244 (12 cyl, 1600 hp)
notes:
ex Long Island #1553
to Detroit & Mackinac #1077
to Michigan Shore #1077
to Ohio Central #1077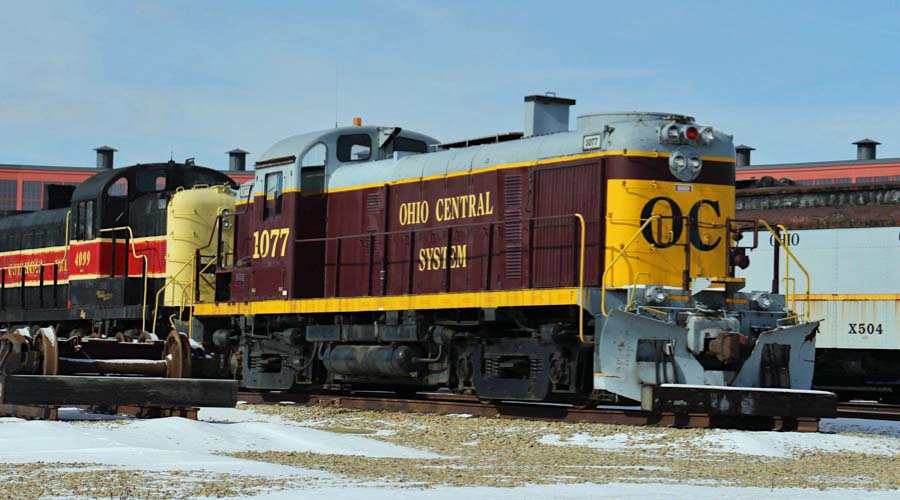 Sugarcreek, Oh / Feb 2016 / RWH

Sugarcreek, Oh / Feb 2016 / RWH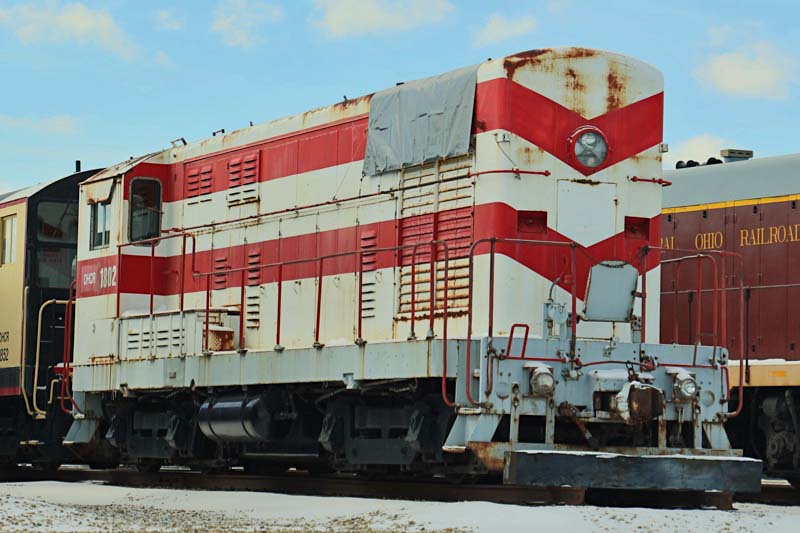 Sugarcreek, Oh / Feb 2016 / RWH


Ohio Central #1802
builder:

Fairbanks-Morse
model:

H-12-44
type:

B-B yard switcher
built:

1956, FM #12L1024
series:

303 produced 1950-61
engine:

(1200 hp, 6 cyl)
notes:
ex Yankeetown Dock #2
to North Carolina Port Authority
to Ohio Central #1802
Rolling Stock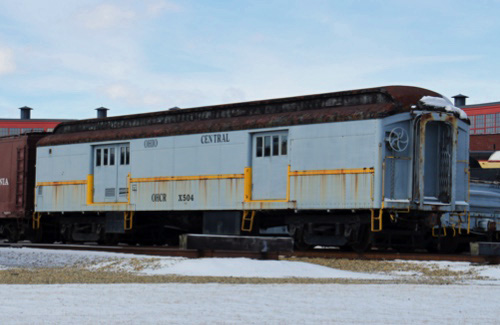 baggage car / Sugarcreek, Oh / Feb 2016 / RWH
Lagniappe

February 2016
I've been wanting to see the progress on the remarkable Age of Steam Roundhouse project ever since the news broke about Jacobson's big kettle plans, but Ohio railfan outings never took me that far south (relative to my western Pennsylvania home). But a safari up from Zanesville through Coshocton following the main Ohio Central route gave me the perfect opportunity to locate the roundhouse. The term "middle of nowhere" certainly applies: One has to get off the beaten path to find it, but once you do you'll be glad to you did. Understandably, everything is fenced off. However, you can still get a good view of the impressive buildings from the adjacent county road. The roundhouse and turntable are stunning. The whole place has a step-back-in-time feel, yet every wall and fixture is brand new. Always interested in the next roster shot, the facility is one giant temptress -- dozens of first generation diesels and other rollings stock, all but a few out of reach from a camera lens on the fence-line. Perhaps I'll donate money to build a giant reviewing stand just across the road! I'm hoping the place will become more open to the public over time, although I can understand the tricky balance between private collection and public interpretation. Still, maybe a visit inside the fence-line will be in the cards over the next few years. How I would love to see the inside of those walls, and their iron contents. For now, I'm grateful for regular website updates.
Links / Sources
This page was updated on 2016-02-15