New responsive screen layout coming soon!
Wheeling & Lake Erie Railway
Despite the long term challenge of the Conrail merger, the reborn WLE is looking at a promising future. With the varied traffic base of bulk commodities, heavy on-line traffic, and interline potential, WLE has a strong foundation on which to continue building. Under aggressive and efficient management, the WLE is determined in becoming one of the more successful regionals to emerge in recent railroad history. WLE's legacy requires it. WLE intends for its employees, its customers, and the communities it serves to benefit from this new Wheeling & Lake Erie Railway.
The current Wheeling & Lake Erie Railway is the second regional railroad to bear that name. In 1990 the Norfolk and Western Railway, a subsidiary of the Norfolk Southern Railway, sold portions of its lines in Ohio and Pennsylvania, including most of the lines of the original W&LE and the Akron, Canton and Youngstown Railroad, as well as a lease on the Pittsburgh and West Virginia Railroad, to the Wheeling Acquisition Corporation -- a total of nearly 350 miles. At its formation, trackage rights were granted by CSX Transportation from Connellsville, Pennsylvania to Hagerstown, Maryland, a remnant of the old Alphabet Route of which the original W&LE was a participant. Total miles of operation near 900, and principal shops are in Brewster, Ohio
Motive Power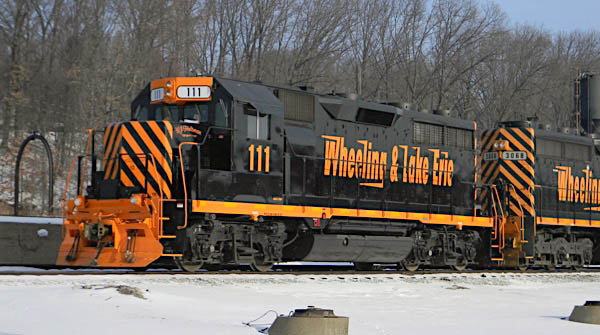 Akron, Oh / Dec 2010 / RWH
Wheeling & Lake Erie #111
builder:

Electro Motive Division

model:

GP35-3 (upgraded GP35)

type:

B-B road switcher

built:

Jan 1965, EMD #77766-7

series:

1250 produced 1963-66

engine:

EMD 567D3A (16 cyl, 2500 hp)

notes:

blt Denver, Rio Grande & Western #3045
to Wheeling & Lake Erie #3045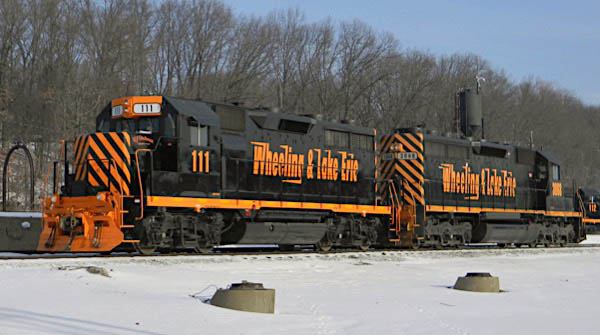 Akron, Oh / Dec 2010 / RWH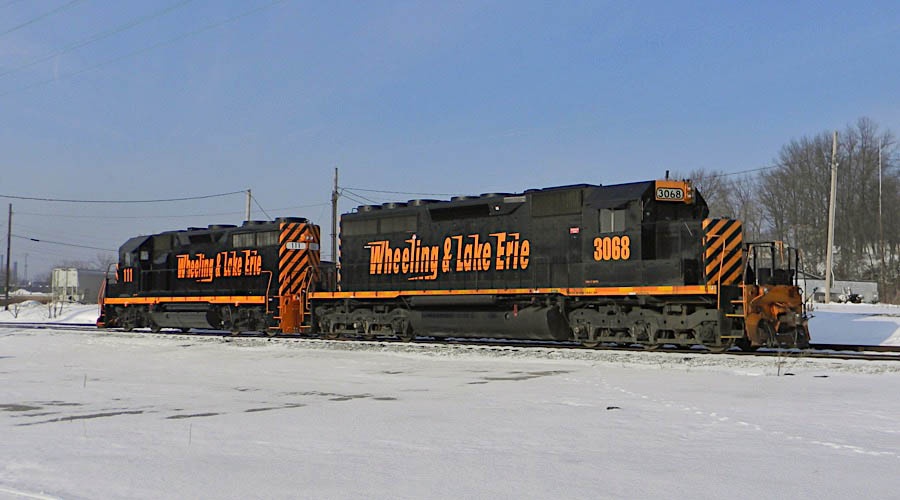 Akron, Oh / Dec 2010 / RWH
Wheeling & Lake Erie #3068
builder:

Electro Motive Division

model:

SD40-3 (upgraded SD40)

type:

C-C Special Duty

built:

1966, EMD #32420

series:

865 produced 1966-72

engine:

EMD 645E (16 cyl, 3000 hp)

notes:

ex Union Pacific #3068 (SD40)
Akron, Oh / Dec 2010 / RWH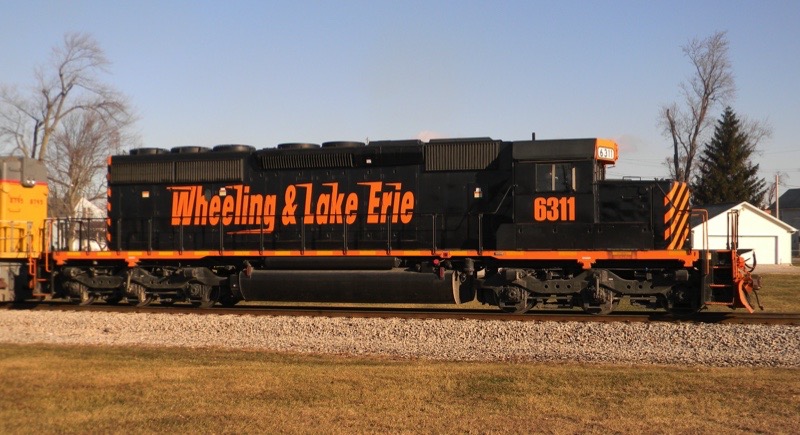 Bellevue, Oh / Dec 2014 / RWH
Wheeling & Lake Erie #6311
builder:

Electro Motive Division

model:

SD40-2

type:

C-C special duty road unit

built:

Apr 1980, EMD #79631-4

series:

3982 produced 1972-89

engine:

EMD 645-E3 (3000hp, 16 cyl)

notes:

blt Missouri Pacific #6057
to Union Pacific #3957, later #9948
to Progress Rail #7881
Bellevue, Oh / Dec 2014 / RWH
Greenwich, Oh / Mar 2013 / Ken Hyle
Wheeling & Lake Erie #6384
builder:

Electro Motive Division

model:

SD40-2

type:

C-C special duty

built:

Mar 1974, EMD #73748-20

series:

3982 produced 1972-89

engine:

EMD 645-E3 (3000hp, 16 cyl)

notes:

blt Missouri Pacific #3198
to Union Pacific #4198
to GMTX Locomotive Leasing #7377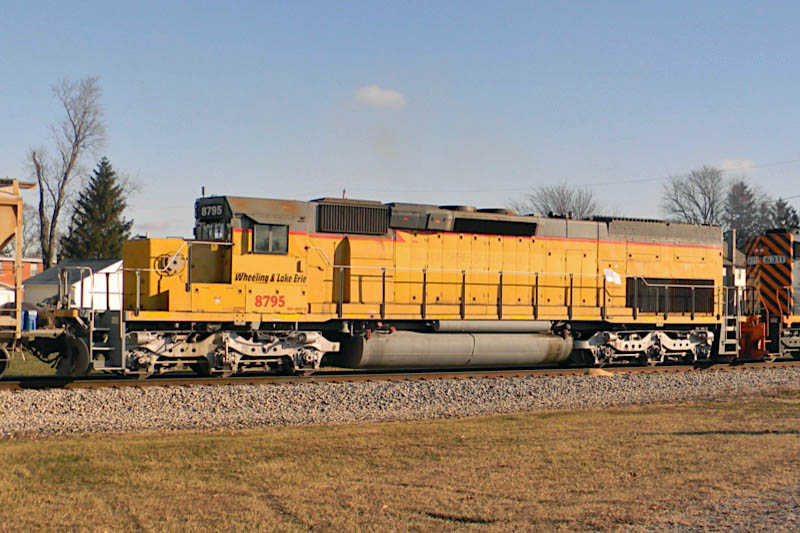 EMD SD40T-2 / Bellevue, Oh / Dec 2014 / RWH
Rolling Stock
Caboose / Greenville, Pa / May 2009 / RWH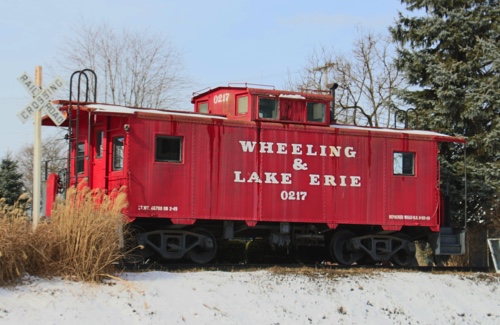 Brewster, Oh / Feb 2016 / RWH
Locations
Akron, Ohio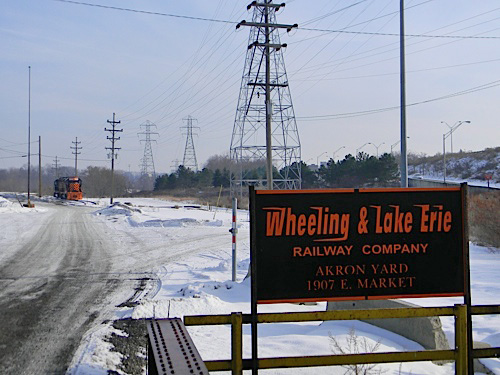 Akron, Oh / Dec 2010 / RWH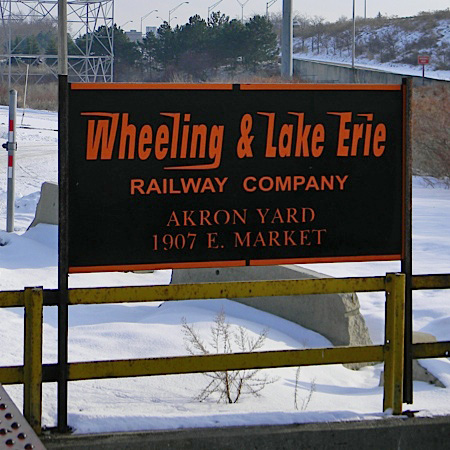 Akron, Oh / Dec 2010 / RWH
sanding area / Akron, Oh / Dec 2010 / RWH
Brewster, Ohio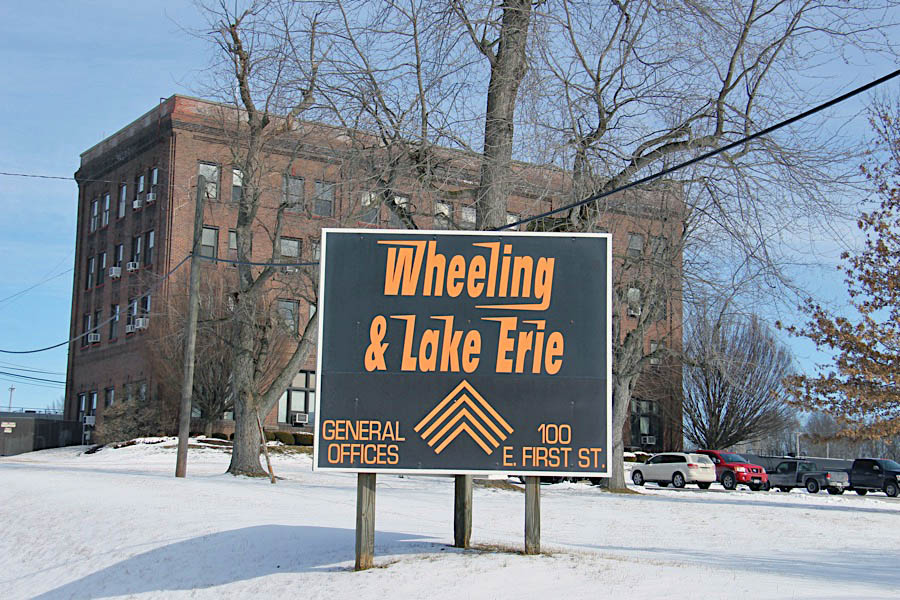 WE corporate offices / Brewster, Oh / Feb 2016/ RWH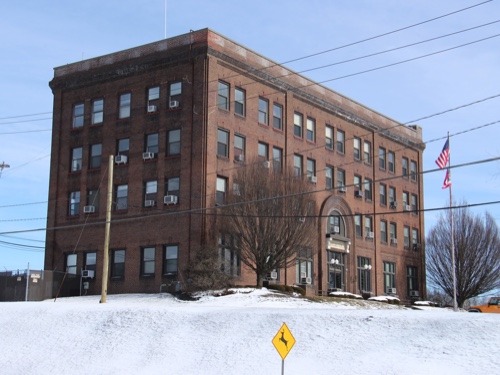 Brewster, Oh / Feb 2016/ RWH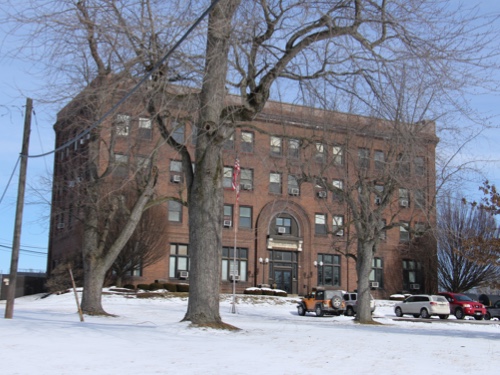 Brewster, Oh / Feb 2016/ RWH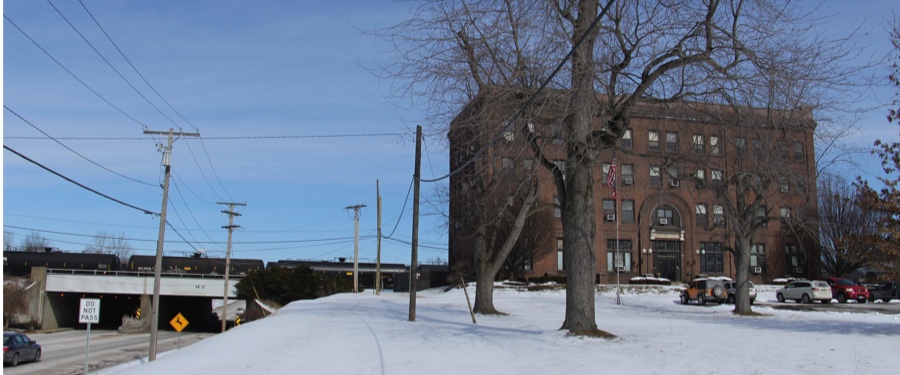 Brewster, Oh / Feb 2016/ RWH
Bellevue, Ohio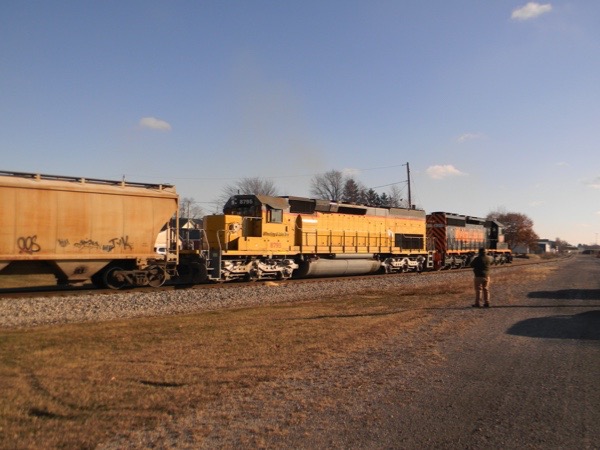 Bellevue, Oh / Dec 2014 / RWH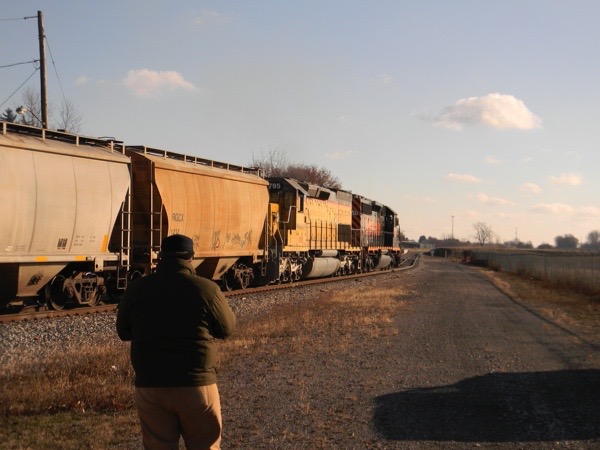 Bellevue, Oh / Dec 2014 / RWH
Lagniappe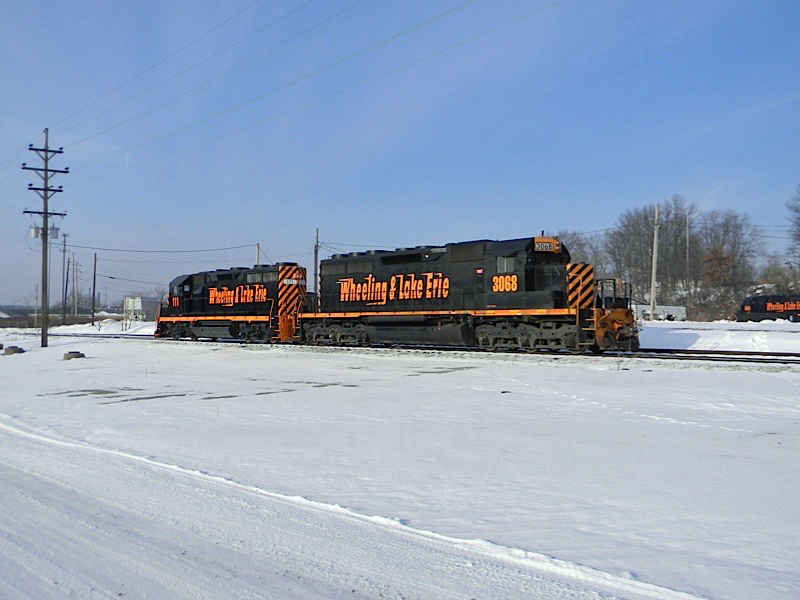 Akron, Oh / Dec 2010 / RWH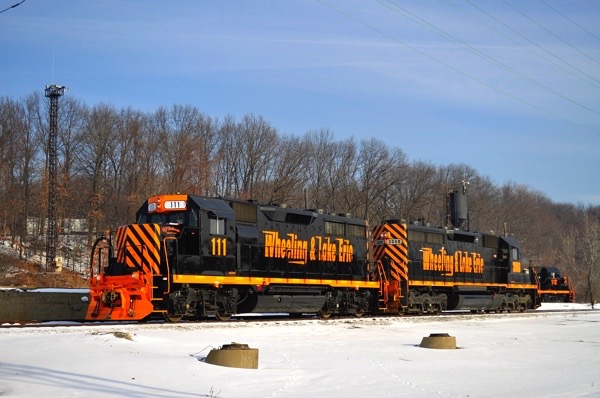 Akron, Oh / Dec 2010 / Jon Clark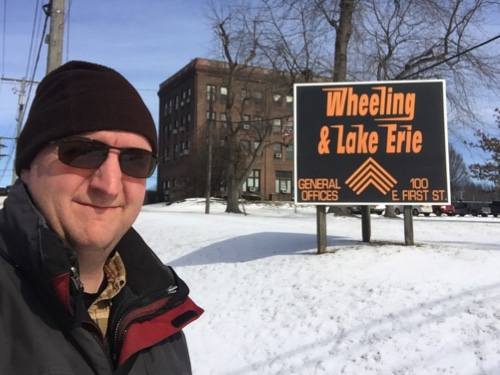 Brewster, Oh / Feb 2016 / RWH
Links / Sources
This page was updated on 2016-04-24