New responsive screen layout coming soon!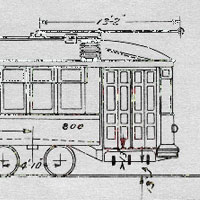 New Orleans Streetcars
Arch-Roofed Steel
They got their money's worth out of their rolling stock. They kept the cars in good repair. Yes, lots of cars with years behind them. I can recall no double truckers with sagging platforms or shabby bodies, and but very few of the old single truckers with a "humped body" or sagging platforms. I rode the St. Charles and Canal Lines when last in New Orleans in 1953, and the fact cannot be glossed over: the relaxed feeling experienced riding the cars over the smooth track of the neutral ground with no noise, no vibration and no motion except the smooth forward glide, is indeed the ideal method of street transportation. Satis verborum.
E. Harper Charlton, April 1955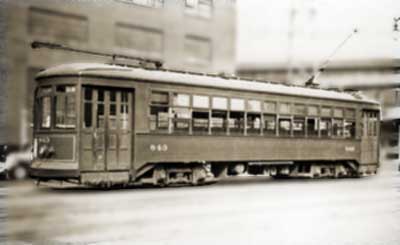 Prior to 1914, streetcars purchased for service in the Cresenct City represented a wide variety of wheel arrangements, car builders, and even propulsion systems -- including horses, steam, compressed air, and even ammonia gas. Before 1900 most cars in use in the city were of the single-truck (4 wheel) arrangement, but even with the introduction of more stable and powerful double-truck electric cars, early 8 wheel versions still depended on large amounts of wood in their bodies and underframes. But in 1914 a new conception of car type was introduced in New Orleans, one that would prove to be the standard arrangement for NOPSI throughout the 20th century. The arch roof, steel body design, riding on double trucks, quickly proved itself to be a stable, powerful, and durable design, largely because the only wood in use in the car was in the floor, roof, and some interior trim -- depending on the series. Instead of a "Palace" type roof of earlier classes, these cars featured a closed, arch design roof utilizing wood and canvas for form and covering. All steel bodies, supports, and underframes made for a more durable car that required less maintenance and fewer overhauls. All three classes featured double-ended operation, convenient drop down steps, seating for 52 people, and a closed body-type for greater protection in inclement weather. All in all, 233 streetcars of this type would carry untold numbers of families, commuters, and tourists over the course of several decades. By the late 1960s, only the 900 series and a handful of 800 series cars remained, but by then the design had secured itself in the public's imagination as the archetypal NOLA streetcar. The steel cars were constructed by four different builders and were numbered by NOPSI in three classes, as follows:
numbers

qty

builder

year

length

height

weight

scrapped

400-449
50
Southern Car Company
1914
47' 8"
11' 3"
34,898
1948
800-831
32
J. G. Brill and Company
1922
47' 8"
11' 4"
41,148
832-851
20
Perley-Thomas Car Works
1922
47' 8"
11' 4"
41,148
852-894
43
J. G. Brill and Company
1922
47' 8"
11' 4"
41,148
895-899
5
Perley-Thomas Car Works
1922
47' 8"
11' 4"
41,148
900-972
73
Perley-Thomas Car Works
1923-24
47' 8"
11' 4"
42,036
1000-1009
10
Perley-Thomas Car Works
1928
48' 2"
11' 4"
40,300
1949
1010-1019
10
St. Louis Car Company
1928
48' 2"
10' 8"
40,900
1949
400-449
Built by the Southern Car Company (later Perley Thomas) in 1914, the 400-series cars actually contained the highest percentage of steel of all three classes. Only the roof, interior floor, and belt rails utilized wood. Interiors were finished in a dark cherry with light green ceilings, while the exteriors featured the olive green paint scheme that would become the standard NOPSI application on all remaining cars. Powered by two General Electric motors, the 400 series' trucks were unusual in that the idler wheels were 9 inches smaller in diameter than the powered wheels. All four doors had to be manually operated in this series, and two sets of doors featured only two moving panels (in contrast to the more typical four panel doors used on every opening in later series). These cars were by any measure the lightest of the three classes, and their schedule speed proved to be just under 11 mph in typical operation. During their lifetime, the 400s ran on nearly every major line in the city, with most ending their careers on the St. Charles - Tulane Belt Line. All were retired and scrapped in 1948.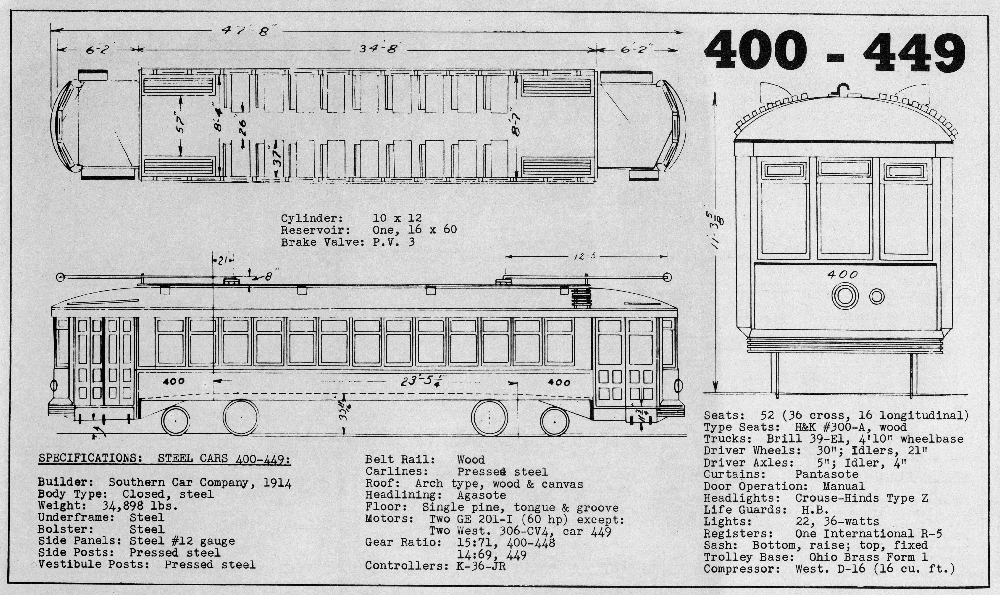 NOPSI 400 series plans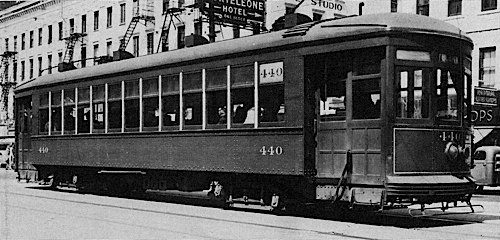 Canal Street / 1939 / collection
NOPSI cars 400-449
builder:

Southern Car Co, 1914

type:

Enclosed, steel

underframe:

steel

roof:

wood & canvas

doors:

manual

headlights:

Crouse-Hinds Z

register:

International R-5

seats:

52 (36 cross, 16 long)

compressor:

Westing. D-16

brake valve:

Westing. PV-3

trucks:

Brill 76-E2, 4'10" wb

wheels:

30" drivers, 21" idlers

gear ratio:

15:71

motors:

2 General Elec. 201-I

controllers:

K-36-JR

weight:

34,898 lbs.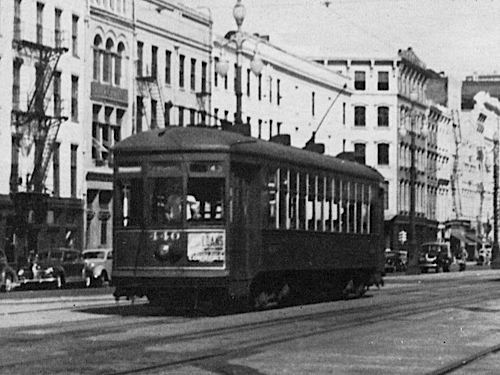 Canal Street at North Peters / Jun 1949 / collection
800-972
The 173 double-truck cars of the middle steel series turned out to be not only the most numerous of the arch-roof type, but also the tallest, heaviest, and longest-lived. Built in the early 1920s by either Brill or Perley-Thomas, the venerable 800 and 900 cars set the standard for NOPSI's mid-century streetcar look and function. Except for a slight variance in weight and component manufacturers, there is little difference between the two number series within this class. All rode on large 33 inch wheels and were propelled by two traction motors. All featured four-panel folding doors at every entrance, although the 800 cars were opened manually whereas pneumatic operation was introduced with #900 and following. The 800s arrived in the city in 1922, with the 900s right on their heels over the following two years. All racked up untold miles on almost all of the city's post-war routes, but by 1955 most of the 800 series and a handful of 900 cars had been retired and scrapped due to ever-decreasing route mileage. The closure of the historic Canal Street Line in the mid 1960s sealed the fate of the remaining 800 cars, but a handful were donated to various trolley museums instead of being torched. NOPSI chose the best of the remaining 900 cars to cover operations on the remaining St. Charles line, thus securing for that model a place of honor in the history of street railroading. The remaining pool was rebuilt once by NOPSI and then again in the 1980s by the Regional Transit Authority, NOPSI's successor. Even as they continue in operation today, the 900 series cars still at work on the St. Charles line share a place of honor with the route itself on the National Register of Historic Places.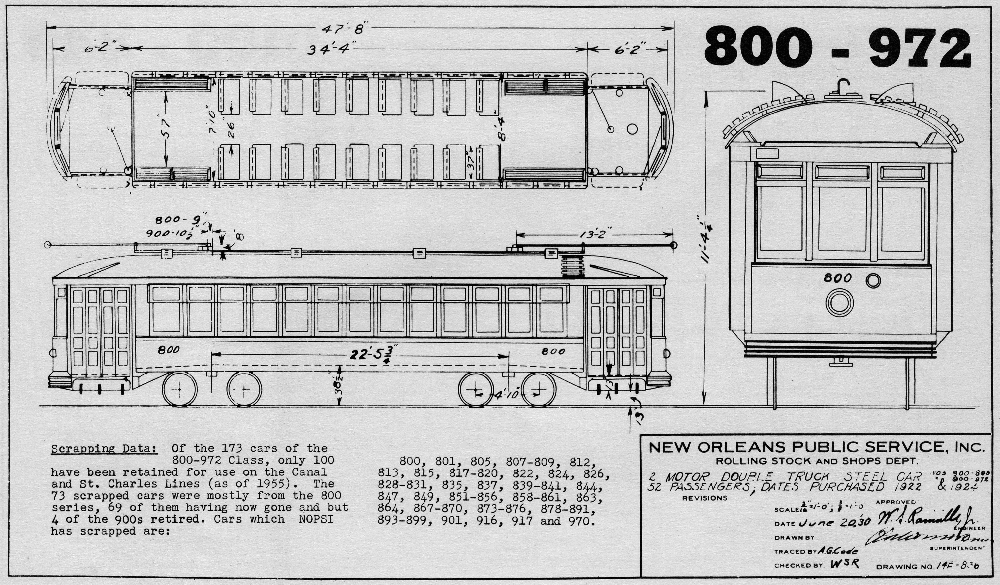 NOPSI 800-900 series plans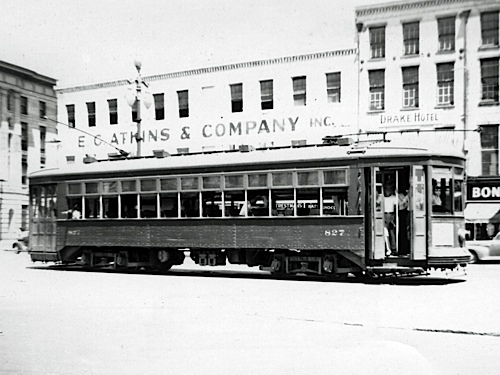 Brill (1922) / Canal Street / Sep 1963 / collection
NOPSI cars 800-972
builders:

Brill: 800-831, 852-894
Thomas: 832-851, 895-899
Thomas: 900-972

built:

1922-24

type:

Enclosed, steel

underframe:

steel

roof:

wood & canvas

doors:

Manual, 800-899
Pneumatic, 900-972

headlights:

Crouse-Hinds ZP

register:

International R-5, R-11

seats:

52 (36 cross, 16 long)

compressor:

General Electric CP-27
Westinghouse DH-16

brake valve:

General Electric Type S
Westinghouse PV-3

trucks:

Brill 76-E2, 4'10"

wheels:

33"

gear ratio:

General Electric cars: 15:71
Westinghouse cars: 14:69


motors:

2 General Electric 263A
2 Westinghouse 306-CV4

controllers:

K36-JR

avg weight:

41,592 lbs.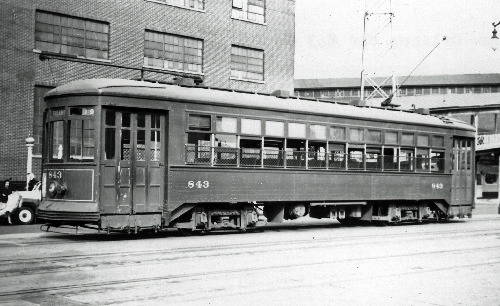 Perley-Thomas (1922) / Canal Street / Sep 1963 / collection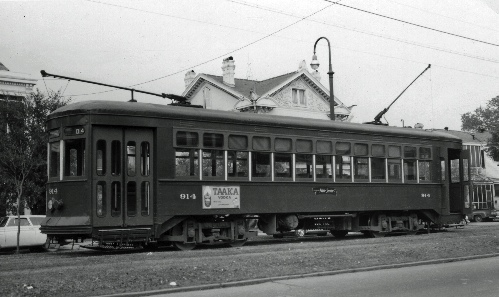 Perley-Thomas (1923) / St. Charles Ave / Feb 1967 / collection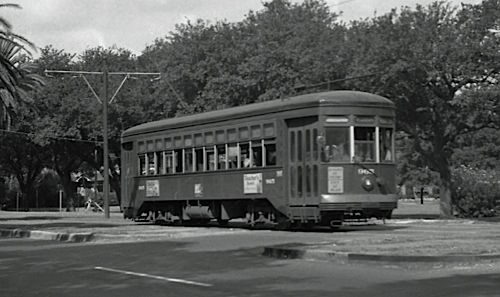 Perley-Thomas (1923) / Carrollton Ave / Jul 1972 / JCH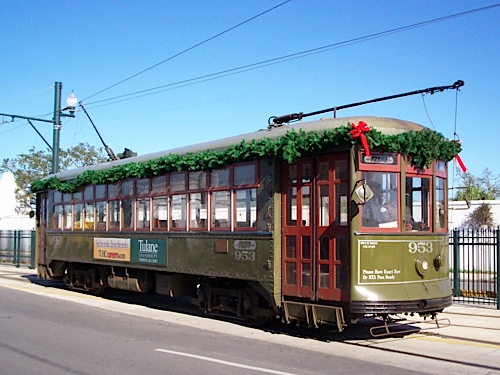 Perley-Thomas (1924) / Carrollton Ave / Dec 2006 / Earl Hampton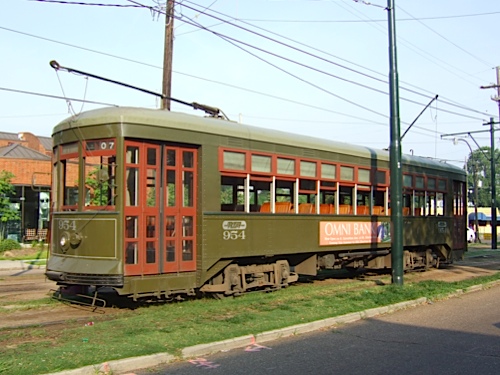 Perley-Thomas (1924) / St Charles Ave / Jun 2008 / Earl Hampton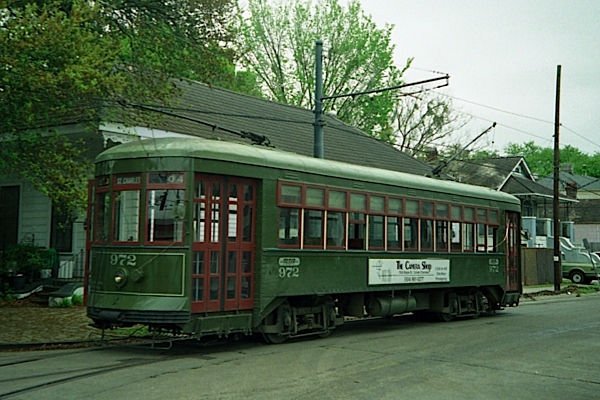 Perley-Thomas (1924) / Jeannette Street / Mar 2002 / JCH
1000-1019
Ordered in the fall of 1927, the 20 low-level cars in the 1000 series were divided evenly between two builders: Perley-Thomas and the St. Louis Car Company. The 1000 series would be the third and final class of double-trucked, arched roof, all-steel cars deployed in the Crescent City, and its most modern. While in outward appearance they generally favored the previous two classes, there were a few characteristics unique to these orders: The cars rode on 26 instead of 33 inch wheels, placing them lower to the ground and allowing them to "hug" the rails at higher speeds. Because of their low-slung bodies, these cars lacked dropped down platforms for passengers to step up into the car. Instead, their floors featured a graduated ramp from the lower entrance level up into the seating area. The 1000 cars were wider than both previous series, and with four motors instead of only two they offered a smart acceleration and could maintain a higher average speed.
NOPSI purchased the 1000 series cars with the intention of ushering in an era of cost-efficient single-man operation, and it is likely the company would have ordered many more than the original 20 had municipal labor politics not intervened to prevent the removal of the second crewman. Eventually the cars were modified for two-man operation, and they finished their careers on the St. Claude line -- where even 20 cars could provide base service. Superior in speed and design to all previous units, the 1000 cars would surely have outlived even the now famous 900 series cars had there been greater numbers to allow for adequet coverage on the larger Canal and St. Charles lines. This fact alone precipitated their premature demise. Says E. Harper Charlton: "All 1000s were put to the torch in 1949 with no regard for possible disposition to other operating companies. Thus the most modern cars New Orleans owned performed less service than any other type ever used in the city."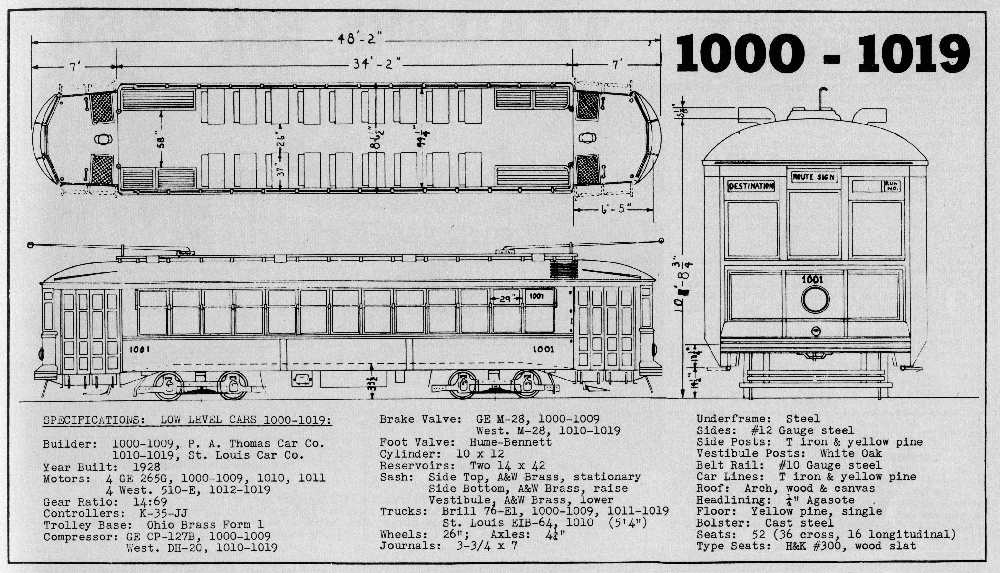 NOPSI 1000 series plans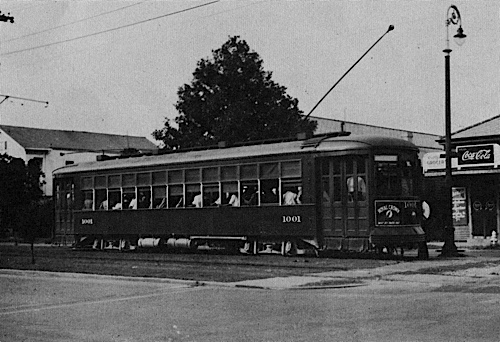 St. Claude Avenue / c 1945 / collection
NOPSI cars 1000-1019
builders:

Perley-Thomas: 1000-1009
St. Louis Car Co: 1010-1019

built:

1928

type:

Low-level enclosed, steel

underframe:

steel

roof:

wood & canvas

doors:

National Pneumatic Co

register:

International R-11

seats:

52 (36 cross, 16 long)

compressors:

General Electric CP-127B
Westinghouse DH-20

brake valves:

General Electric M-28
Westinghouse M-28

trucks:

Brill 76-E1, 5'4" wb

wheels:

26"

gear ratio:

14:69

motors:

4 General Electric 265G
4 Westinghouse 510-E

controllers:

K-35-JJ

avg weight:

40,600 lbs.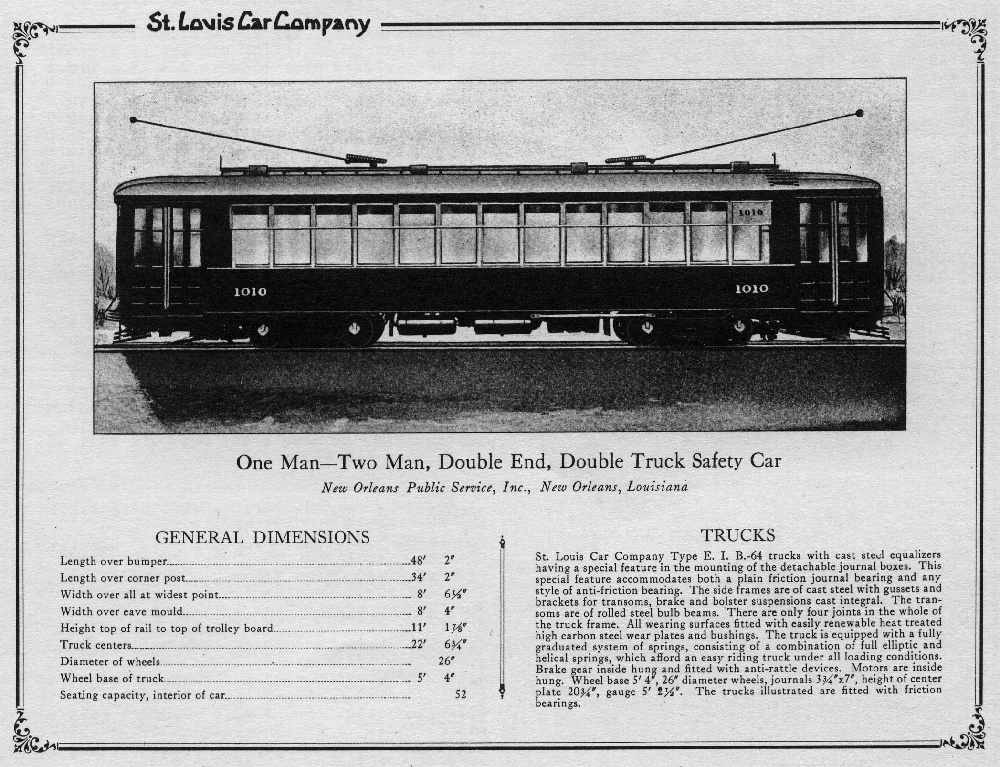 St. Louis Car Company catalog / 1000 series ad / collection
Links / Sources
E. Harper Charlton, Street Railways of New Orleans (Interurbans Special No. 17 , April 1955) 59-61