New responsive screen layout coming soon!
Louisiana Southern Railway Company
As an aftermath principally of the financial depression of the 1930s, Southern Railway System companies went through a long era of abandoning unprofitable lines and segments of lines. The increasing industrialization of the South and the decision of large industry to find new sites in Southern System territory brought a turnabout in the 1950s, however, and prompted Southern and its affiliates to acquire certain shortline railroads, advantageously located, in which they had not theretofore had any financial interest, as potential feeders to their existing main lines.
John B. Hyde, Legal History of the Lines of Railroad of Southern Railway Company, 1958
Charted in 1897 as the successor to two defunct southeast Louisiana shortlines, the Louisiana Southern Railway Company operated a mainline that extended 45 miles, from Elysian Fields Avenue in New Orleans to Pointe a la Hache in Plaquemines Parish, with a 15 mile branch from Poydras Junction to Shell Beach on Lake Borgne. For twelve years, beginning in 1911, the property was leased to the New Orleans, Texas & Mexico Railroad Company. Independent operation followed, struggling until a war-era boost in traffic made the line profitable and attractive for purchase. Through its regional subsidiary, New Orleans & Northeastern, the Southern Railway acquired the shortline in 1953.
See also our complete
Louisiana Southern shortline collection
Steam Motive Power
New Orleans, La / Apr 1923 / collection
Louisiana Southern #5
builder:

Baldwin Locomotive Works

arrangement:

4-4-0 American

built:

Dec 1891, Baldwin #12352

fuel:

_________

notes:

15x22 cylinders, 56" drivers
blt New Orleans & Southern #5
to Louisiana Southern #5, Feb 1897
New Orleans, La / Apr 1923 / collection
Louisiana Southern #8
builder:

Baldwin Locomotive Works

arrangement:

4-4-0 American

built:

Jul 1870, Baldwin #2194

fuel:

_________

notes:

16x24 cylinders, 60" drivers
blt St. Louis, Vandalia & Terre Haute #21
to Louisiana Southern #8
New Orleans, La / Jun 1937 / collection
Louisiana Southern #10
builder:

Baldwin Locomotive Works

arrangement:

4-4-0 American

built:

Sep 1876, Baldwin #3992

fuel:

_________

notes:

17x24 cylinders, 63" drivers
blt Texas & Pacific #43
renumbered Texas & Pacific #519, 1882
renumbered Texas & Pacific #43, 1886
to Louisiana Southern #10, 1910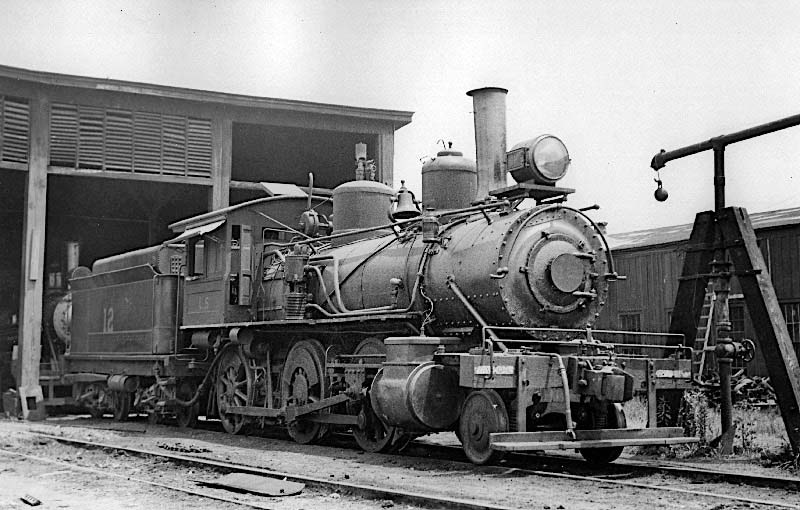 New Orleans, La / Feb 1935 / collection
Louisiana Southern #12
builder:

Baldwin Locomotive Works

arrangement:

2-6-0 Mogul

built:

Sep 1887, Baldwin #8790

fuel:

oil/water

notes:

19x24 cylinders, 56 1/2" drivers
blt St. Louis & San Francisco #214
to New Orleans Texas & Mexico #314
to New Iberia & Northern #45, May 1916
to Louisiana Southern #12, Sep 1923
New Orleans, La / unknown / collection
New Orleans, La / Jun 1937 / collection
Louisiana Southern #13
builder:

Baldwin Locomotive Works

arrangement:

2-6-0 Mogul

built:

Mar 1914, Baldwin #41168

fuel:

oil/water

notes:

18x24 cylinders, 54" drivers
blt Cape Girardeau Northern #11
to Birmingham Rail & Locomotive
to Louisiana Southern #13, Jan 1925
New Orleans, La / Aug 1931 / collection
Louisiana Southern #14
builder:

American Locomotive Company

arrangement:

2-6-0 Mogul

built:

Sep 1913, Baldwin #53978

fuel:

oil/water

notes:

18x24 cylinders, 54" drivers
blt Cape Girardeau Northern #9
to Birmingham Rail & Locomotive
to Louisiana Southern #14, Jan 1925
New Orleans, La / Feb 1950 / collection
Louisiana Southern #16
builder:

ALCo - Schenectady

arrangement:

2-8-0 Consolidation

built:

_________

fuel:

oil/water

notes:

18x26 cylinders, 57" drivers
blt for Texas Central
to Missouri Kansas & Texas #685
to Louisiana Southern 16
retired, Dec 1948
to Westwego Salvage Co, Aug 1950
New Orleans, La / Apr 1950 / collection
Louisiana Southern #17
builder:

Cooke Locomotive Works

arrangement:

4-6-0 Ten-wheeler

built:

May 1901, Cooke #2402

fuel:

oil/water
20x24 cylinders, 61" drivers

notes:

blt Missouri Pacific #765
renumbered Missouri Pacific #2516
to New Orleans & Lower Coast #2516
to Louisiana Southern #17, Mar 1948
retired, Oct 1948
to Southern Scrap, New Orleans, July 1953
Links / Sources
John B. Hyde, Legal History of the Lines of Railroad of Southern Railway Company, 1958
Steam locomotive roster data courtesy of Allen Stanley at Railroad Data Exchange