Historic steam locomotive no. 765 is a high-stepping, fourteen-wheeled, magnificent machine that stands 15 feet tall, weighs 404 tons, goes over 60 miles an hour and restored to the way it looked and sounded when it was built by the Lima Locomotive Works in 1944. Celebrated for pulling passenger excursions throughout the country as a goodwill ambassador, the 765 is the pride of the Fort Wayne Railroad Historical Society and one of only a handful of steam locomotives that still operate in the United States. This is the 765's story. The railroads built America. They won wars, built cities, and carried citizens from coast to coast. Steam locomotives were utilized for 150 years. They were built to be stronger and faster, and to better perform their duties, but they were replaced by more efficient, modern machines. These were precision machines forged and crafted from solid steel. They meant something to those who worked in their shadow. Make no mistake, however, these iron horses, so often romanticized, take hard, unwieldy work to corral and maintain. They lived and breathed, had voices and moods, and hummed with an audible heartbeat; they were the most human of all our inventions.
Nickel Plate Road #765 is a 2-8-4 "Berkshire" type steam locomotive built for the Nickel Plate in 1944 by the Lima Locomotive Works of Lima, Ohio. Classified as a "S-2" class Berkshire by its owner, the locomotive operated fast, heavy freight and passenger trains until retirement in 1958. Following a restoration in 1979 and after a major overhaul in 2005, 765 operates in passenger excursion train service. It is owned and maintained by the Fort Wayne Railroad Historical Society and is on the National Register of Historic Places.
Wayne, Oh / Jul 2015 / RWH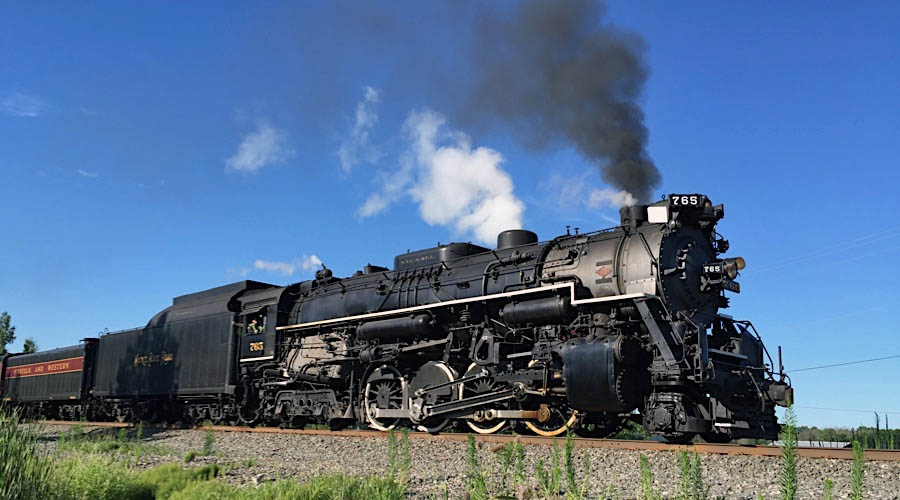 Hartford, Oh / Jul 2015 / RWH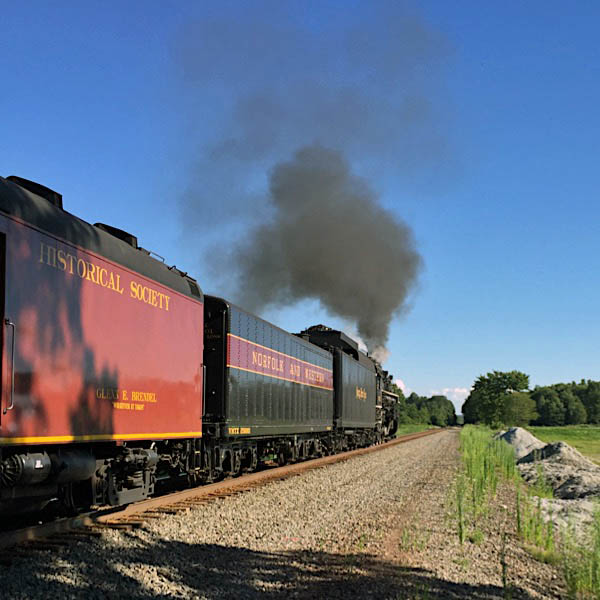 Jul 2015 / RWH
Brookfield Center, Oh / Jul 2015 / RWH
July 2015
I can't think of a better way to spend a summer afternoon than chasing the Nickel Plate #765 through the flat countryside of eastern Ohio. Ben Wells and I left a morning with the New Castle Industrial and traveled northwest towards Ashtabula, following the Norfolk Southern secondary. About halfway there, we found an excellent crossing near Wayne, Ohio, and decided to stay put and wait it out. Other fans began showing up. Finally the Twitter feed announced "10 miles south of Ashtabula," and I knew we would soon be in business. Sure enough, about 3 miles north of our crossing, her headlight appeared up the tangent and we all got in our places. 765 rolled by at a modest pace and with great ease. This being a ferry move to put her in place for weekend excursions, she had half a dozen gons in tow full of coal, followed by the excursion consist complete with an HEP boxcar on the end providing hotel power. Norfolk Southern had them limited to 25 mph all the way, which made chasing them from crossing to crossing a real breeze. We made several stops and caught her several times before calling it a night north of Hubbard. She is a terrific machine, and the Fort Wayne group has her running like a fine watch. I was struck by how smooth and crisp she sounded as nearly coasted by us at every crossing. I always thought the Lima "Berks" had great lines. All business. 765 is no exception.
Steam In the Valley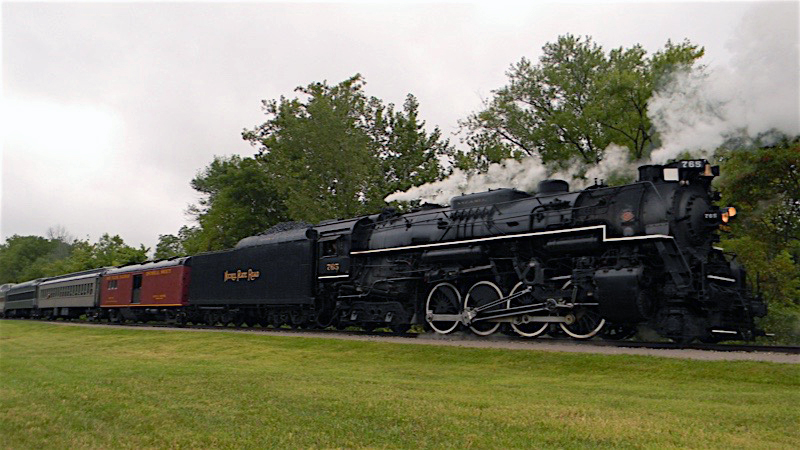 Boston Mills, Oh / Sep 2014 / RWH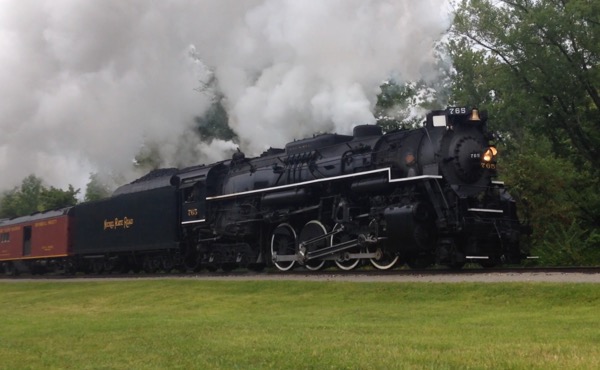 Boston Mills, Oh / Sep 2014 / RWH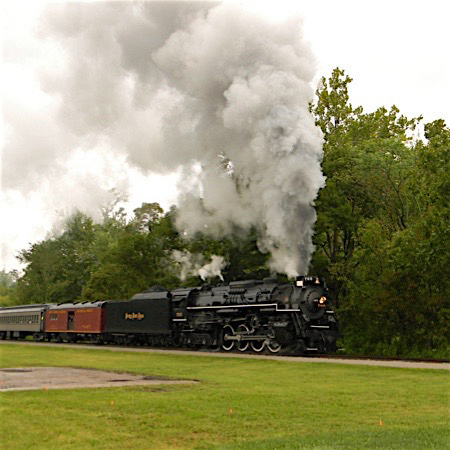 Boston Mills, Oh / Sep 2014 / RWH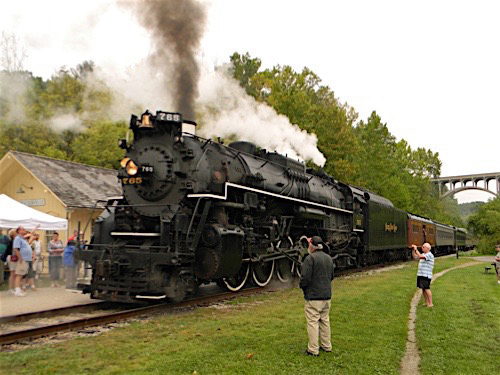 Brecksville, Oh / Sep 2014 / RWH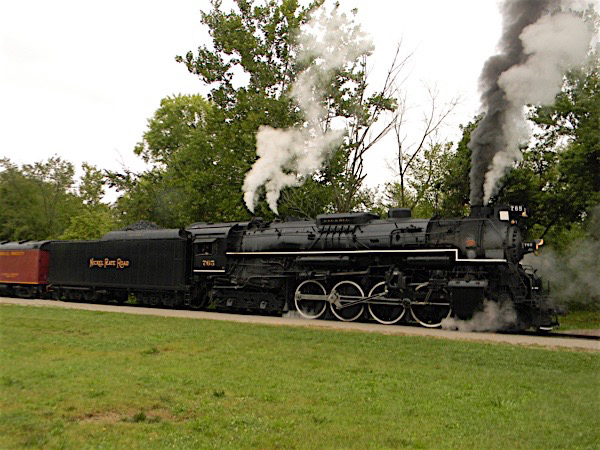 Boston Mills, Oh / Sep 2014 / RWH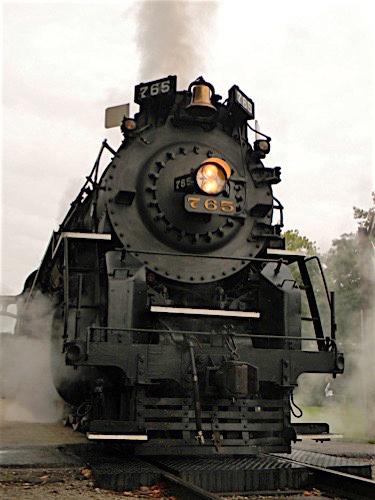 Brecksville, Oh / Sep 2014 / RWH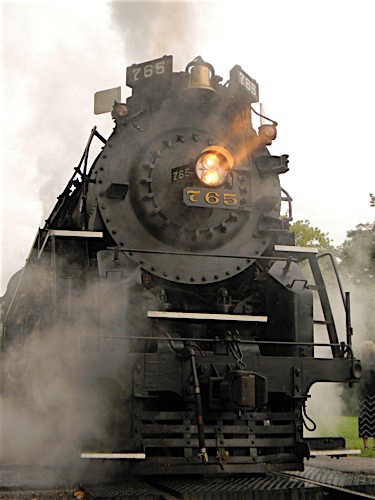 Brecksville, Oh / Sep 2014 / RWH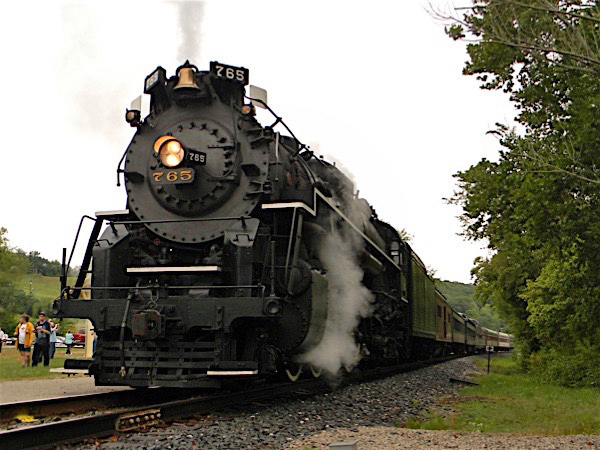 Boston Mills, Oh / Sep 2014 / RWH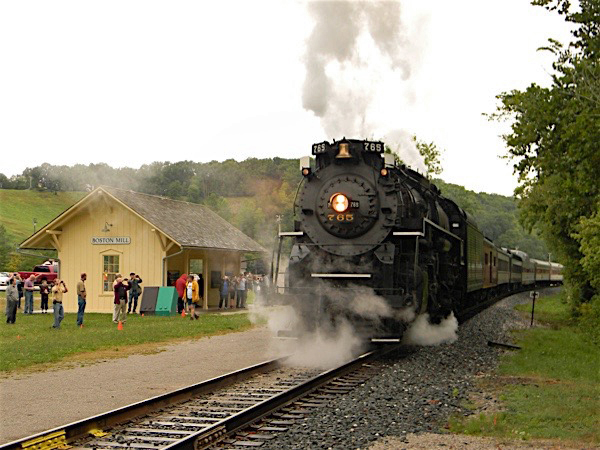 Boston Mills, Oh / Sep 2014 / RWH
Boston Mill, Oh / Sep 2014 / RWH
Boston Mill, Oh / Sep 2014 / RWH
Boston Mill, Oh / Sep 2014 / RWH
Boston Mill, Oh / Sep 2014 / RWH
September 2014
On a rainy, cloudy, fall Saturday, my daughter and I made the trek into Ohio to catch a ride on #765 during one of the Cuyahoga Valley Scenic Railroad's Steam in the Valley events. In every other respect, it was a terrible day for railfanning: cold, wet, and overcast. Even so, I was glad to finally meet the Big Berk after so many years of only seeing her run in videos and pose in pictures. Despite the lousy weather, I detrained at the tiny Boston Mill depot for two photo runbys, then came back to the area again on her second trip and caught two more later in the day. No doubt about it, she is one impressive machine.
Rolling Stock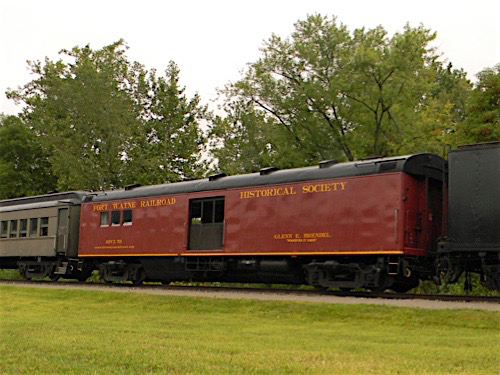 tool car / Boston Mill, Oh / Sep 2014 / RWH
Lagniappe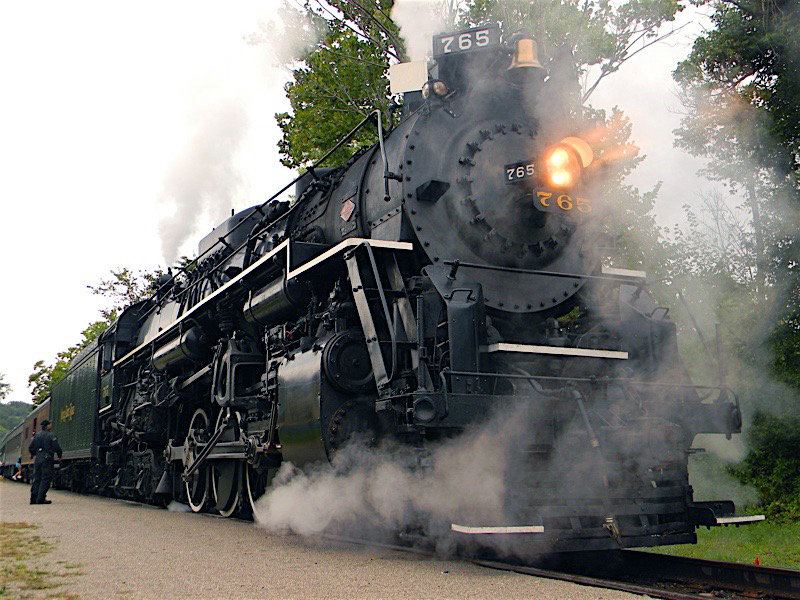 Brecksville, Oh / Sep 2014 / RWH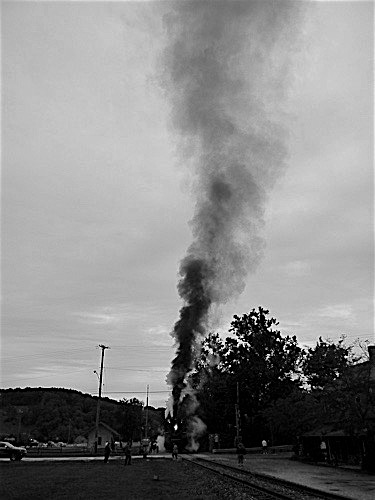 Boston Mills, Oh / Sep 2014 / RWH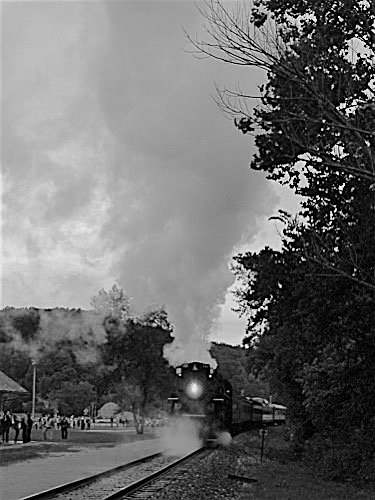 Boston Mills, Oh / Sep 2014 / RWH
Links / Sources