New responsive screen layout coming soon!
Prescott & Northwestern Railroad
The primary traffic carried by the Prescott and Northwestern was forest products, but for a number of years the line also carried an extensive crop of Elberta peaches from Highland (Pike County) to Prescott during the fruit harvesting season. At Prescott, the refrigerator cars of fruit shipments were transferred to the Missouri Pacific Railroad to northern markets.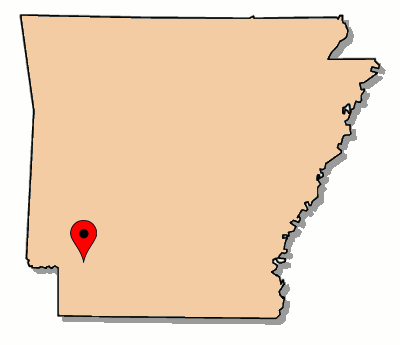 Chartered in 1890, the Prescott & Northwestern Railroad lived up to its name by eventually building 31 miles of timber trackage northwest from Prescott as far as Highland, Arkansas. Primary commodities on the line were forest products and cement, but for a time the PNW shipped loads of Elberta peaches. Passenger service ended in 1945, and freight service on the mainline ended in 1980. Today the PNW is owned by the Potlatch Corporation and operates 5 miles of switching trackage around the Prescott sawmills, interchanging with the Union Pacific.
Motive Power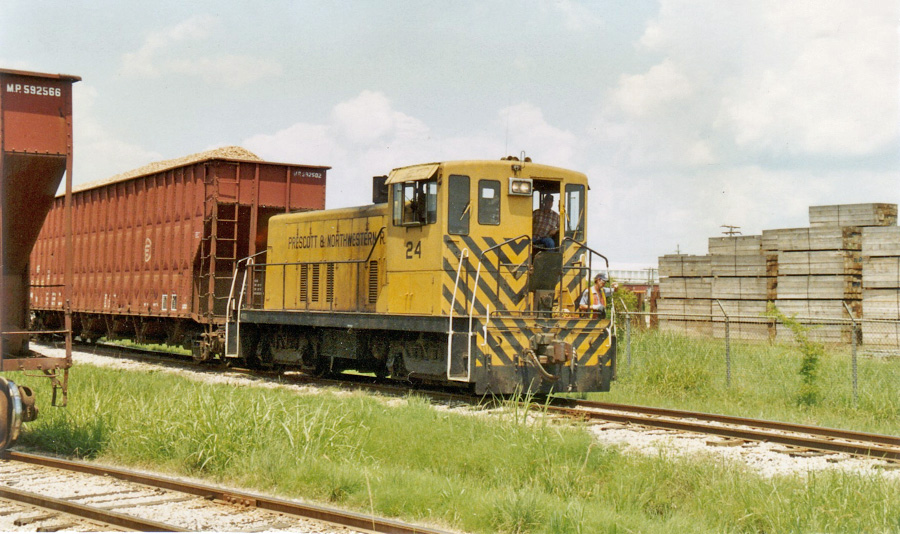 GE 70 ton (1955) / Prescott, Ar / Apr 1985 / collection
Prescott & Northwestern #24
builder:

General Electric

model:

70 tonner

type:

B-B light switcher

built:

Apr 1955, GE #32283

series:

193 produced 1946-58

engine:

CB FWL-6T (6 cyls. 660 hp)

notes:

_________

Prescott, Ar / Aug 1992 / RWH
Prescott, Ar / Aug 1992 / RWH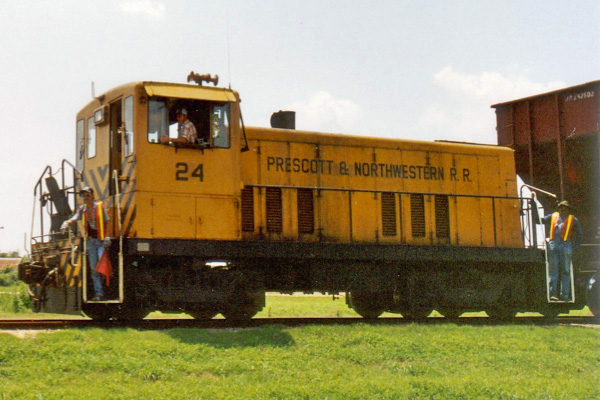 Prescott, Ar / Aug 1992 / RWH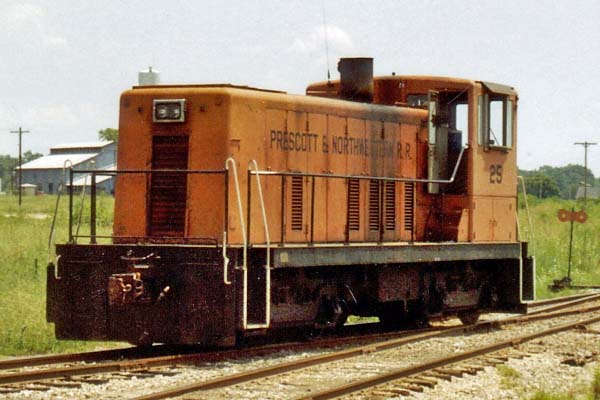 GE 70 ton (1956) / Prescott, Ar / Aug 1992 / RWH
Prescott & Northwestern #25
builder:

General Electric

model:

70 tonner

type:

B-B light switcher

built:

Jul 1956, GE #32595

series:

193 produced 1946-58

engine:

CB FWL-6T (6 cyls. 660 hp)

notes:

_________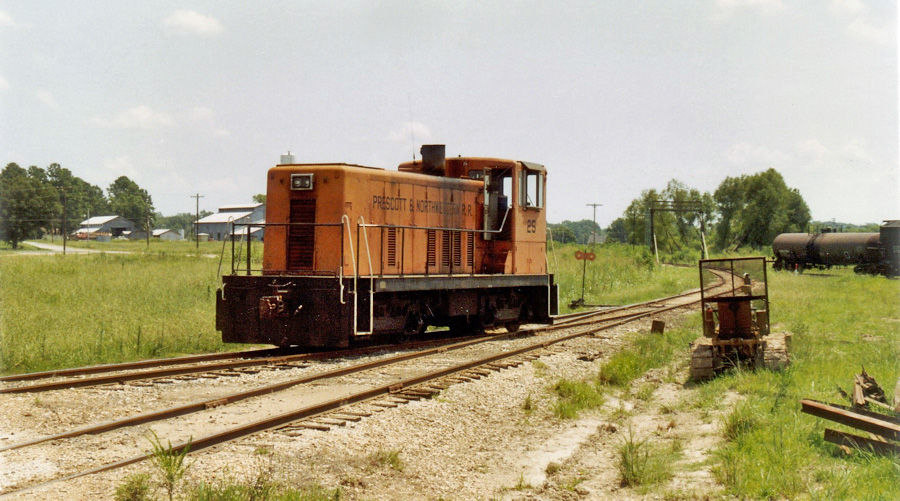 Prescott, Ar / Aug 1992 / RWH
Locations
Prescott, Ar / Aug 1992 / RWH
Lagniappe
all photos above Prescott, Ar / Aug 1992 / RWH
Links / Sources
Wikipedia article for Prescott & Northwestern
Edward A. Lewis, American Shortline Railway Guide - Fifth Edition (Kalmbach, 1996) 256