November 2016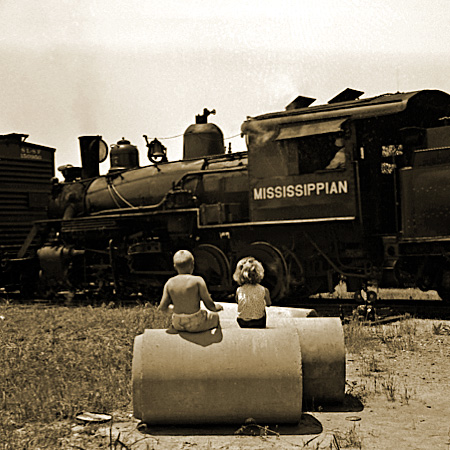 I was so pleased to receive the following email correspondance from Patricia Horne and her brother:
We are looking at your pics of the Mississippian in the 1960s. The pic of two kids, if I am not mistaken, is of me and my sister. We sat on those tiles several days and watched the train. My grandmother ran a store right behind the tracks and my grandfather ran a cotton gin on the other side of tracks. Enjoyed looking at pics.
It was a exciting time in the late 50's and 60's there in Smithville. If the train came by my grandmother's store around 12, it would stop and they would get off and eat. There was five of us boys around there and we would jump on the caboose and ride about two miles down the track to a fishing hole. The train would stop there and water up. We either walked back or waited till it came back about three or fours hours later and rode back and jump off back in town. We did more swimming than fishing and had time to dry out before going home. Again thanks for picture. I will show it to my mother, she grew up by the tracks.
I love receiving this kind of note out of the blue, and my dad would have been "tickled pink" to know his impromptu subjects relived this simple moment so many decades later. He loved visiting the Mississippian in the 1960s during various family travels across the Magnolia State.