New responsive screen layout coming soon!
Maine Eastern Railroad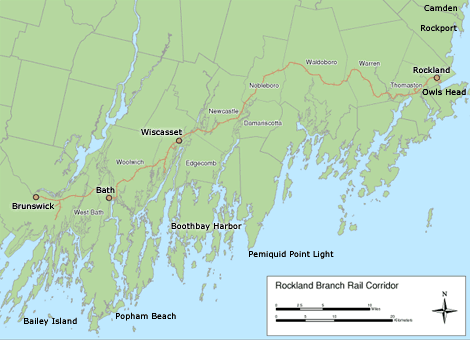 System map from Maine Eastern website
The
Maine Eastern Railroad
is currently the tourist passenger division of the Morristown & Erie Railroad serving the lower eastern coast of Maine. Acquired by the M&E in 2003, the line runs from Brunswick and Rockland and operates seasonal passenger service using, among other power, two EMD FL-9 locomotives. The Geep pictured below, whose lineage traces back through Amtrak to the Union Pacific, has been photographed by railfans in winter snowplow service.
Motive Power
EMD GP9 (1954) / Rockland, Me / Jul 2006 / RWH
Maine Eastern #764
builder:

Electro Motive Divison

model:

GP9

type:

B-B road switcher

built:

Mar 1954, EMD #19186

series:

3436 produced 1954-59

engine:

EMD 567C (16 cyls. 1750 hp)

notes:

ex Amtrak #764
ex Union Pacific #185
Rockland, Me / Jul 2006 / RWH
Locations
Rockland, Me / Jul 2006 / RWH
Lagniappe
Surely one of the greater joys of any hobby - no less so with railfanning - is the unexpected find. I experienced this pleasure with the Maine Eastern while spending three weeks in the summer of 2006 on the lower coast of Maine. For many days, I saw the twice-daily ME passenger train with its classy FL9s come and go through Bath hauling summertime tourists. When we left Bath for Bar Harbor, I thought I had said goobye to the pike, only to stumble upon this handsome GP parked on a turntable in Rockland, on the coast. A more striking shortline Geep paint scheme I have never seen; I darted out of traffic and pulled over to snap these roster shots.
Links / Sources