New responsive screen layout coming soon!
Moscow, Camden & San Augustine Railroad
Due to the close relation of the railroad to the W. T. Carter and Brother Lumber Company, locals suggested that the initials on the side of the locomotive tender stood for "Mr. Carter and Sid Adams," the owner and longtime superintendent, respectively, of the sawmill. The Moscow, Camden and San Augustine never owned much rolling stock; for much of its history it only had one or two locomotives and a combination baggage-coach with space for express, passengers, and a desk for the conductor. Freight traffic, originally lumber from the sawmill and later supplemented by pulp wood or wood chips, was carried in cars provided by its connecting railroad. In 1903 the railroad reported passenger earnings of $500 and freight earnings of $15,000. By 1952 the amounts were $100 and $50,000, respectively.
A Pictorial History of Polk County, Texas, 1846-1910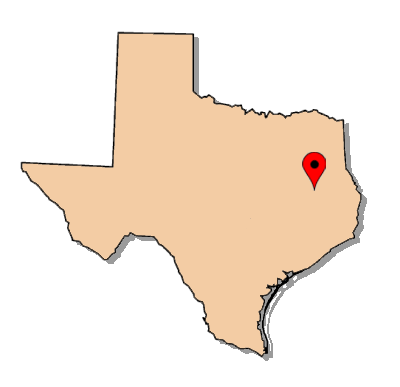 Chartered in 1998, the intent of the Moscow, Camden and San Augustine Railroad was to build a shortline between all three of its namesake towns in eastern Texas. Rails were completed from Camden to Moscow by the turn of the century, but the pike never reached San Augustine. Noted for its mixed train service with a wooden combine until 1973, the MCSA stabled a large collection of steam and diesel power throughout its long history on a short line. Champion International acquired the road in 1969. Shops are in Camden, and the MCSA interchanges with the Union Pacific (former Southern Pacific) at Moscow.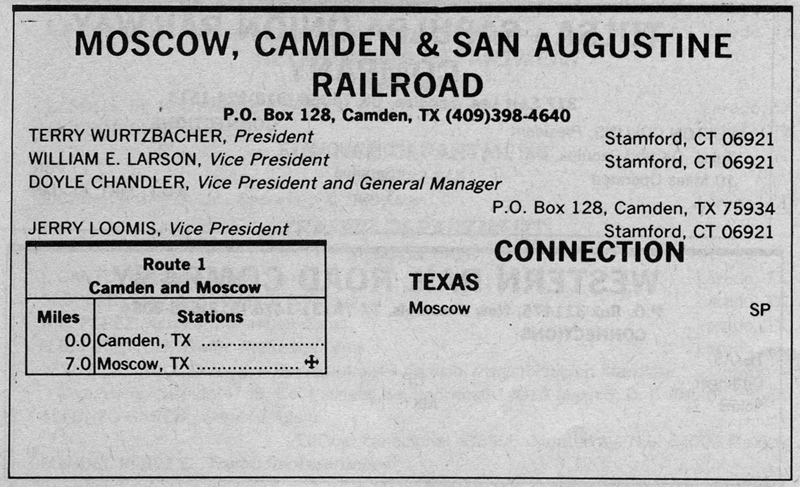 1988 Official Guide ad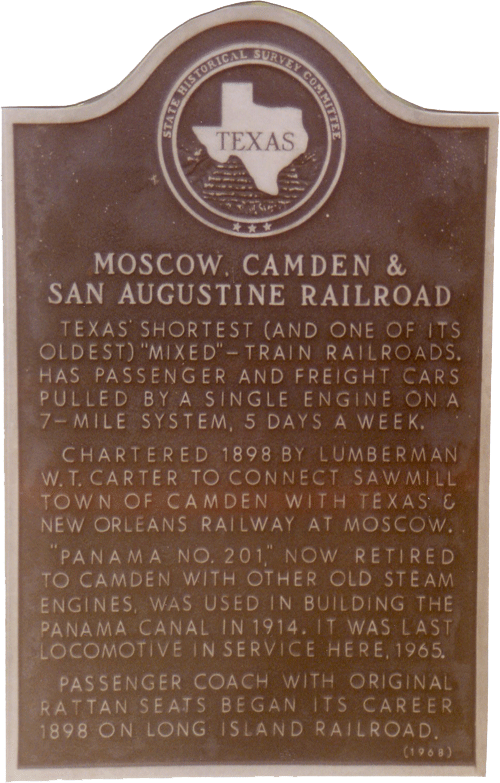 Historical marker
Motive Power
Cooke 2-6-0 (1906) / Moscow, Tx / unknown / collection
Moscow, Camden & San Augustine #201
builder:

ALCO Cooke

arrangement:

2-6-0 Mogul

built:

Jan 1906, Alco #39094

fuel:

coal/water

notes:

blt Isthmian Canal Commission #203
used in Panama Canal construction
to Equitable Equipment Co, 1922
to MCSA #201, 1929
to Grisby Foundation, 1970
GE 44 ton (1944) / Moscow, Tx / unknown / collection
Moscow, Camden & San Augustine #17
builder:

General Electric

model:

44 tonner

type:

B-B light switcher

built:

Nov 1944, GE #18183

series:

334 produced 1940-56

engine:

(2) Cat. D17000 (8 cyls. 400 hp)

notes:

blt Pacific Electric #1654
to Texas & New Orleans #17, 1958
to MCSA #17, 1961; sold, 1971
GE 70 ton (1953) / Camden, Tx / Apr 1972 / collection
Moscow, Camden & San Augustine #601
builder:

General Electric

model:

70 tonner

type:

B-B light switcher

built:

Jan 1953, GE #31727

series:

193 produced 1946-58

engine:

CB FWL-6T (6 cyl. 660 hp)

notes:

blt Ahnapee & Western #601
to MCSA #601, 1971
scrapped 2001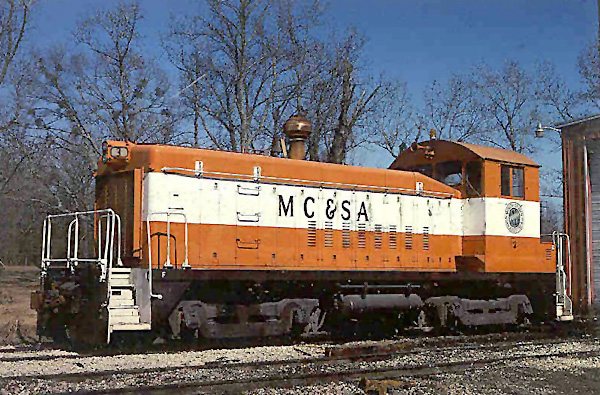 EMD SW900 (1957) / Camden, Tx / 1986 / collection
Moscow, Camden & San Augustine #3
builder:

Electro Motive Division

model:

SW900

type:

B-B yard switcher

built:

Apr 1957, EMD #23304

series:

260 produced 1954-65

engine:

EMD 567C (8 cyls. 900 hp)

notes:

blt Champion Paper #3
later MCSA #3
Camden, Tx / Aug 1992 / RWH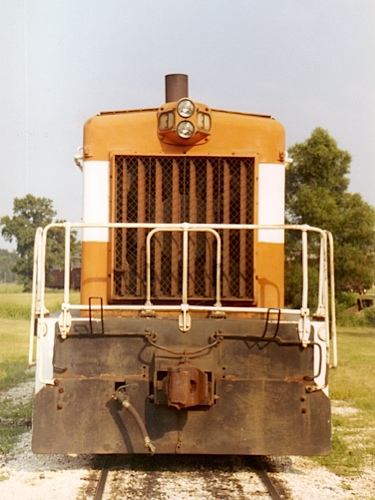 Camden, Tx / Aug 1992 / RWH
Rolling Stock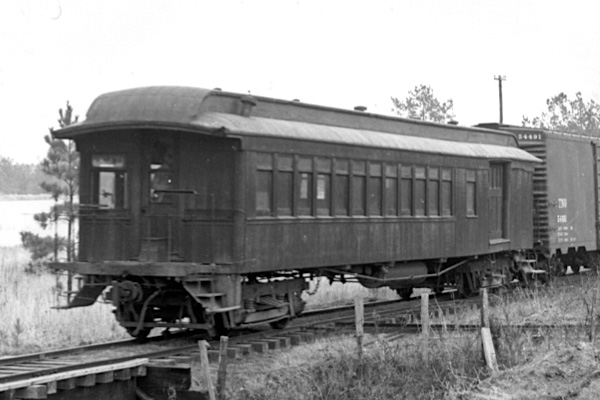 wooden combine / Camden, Tx / unknown / collection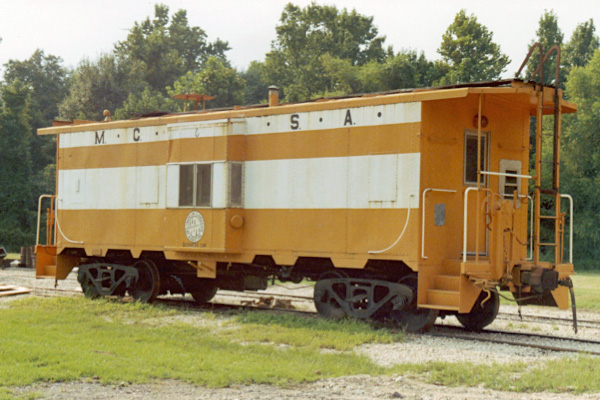 caboose / Camden, Tx / Aug 1992 / RWH
Lagniappe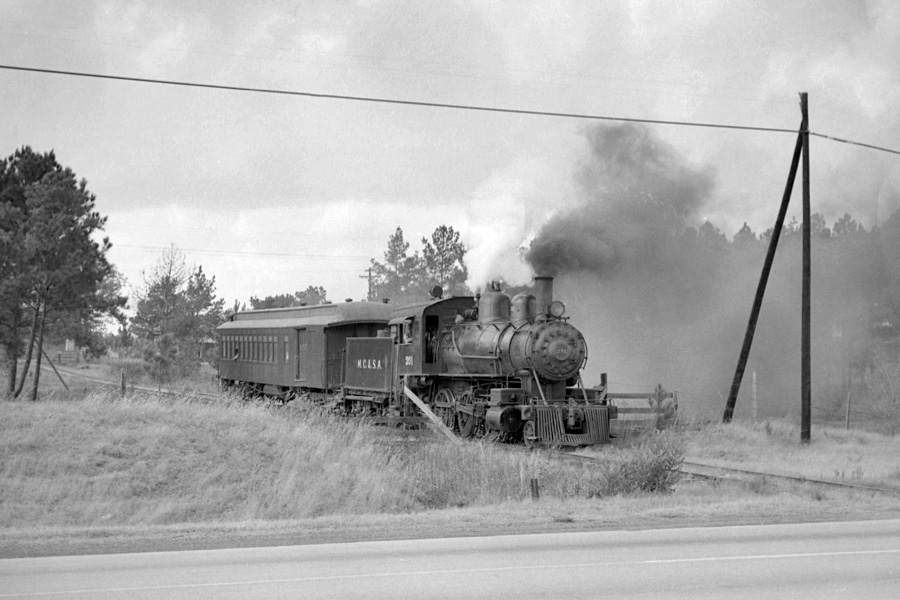 Moscow, Tx / unknown / collection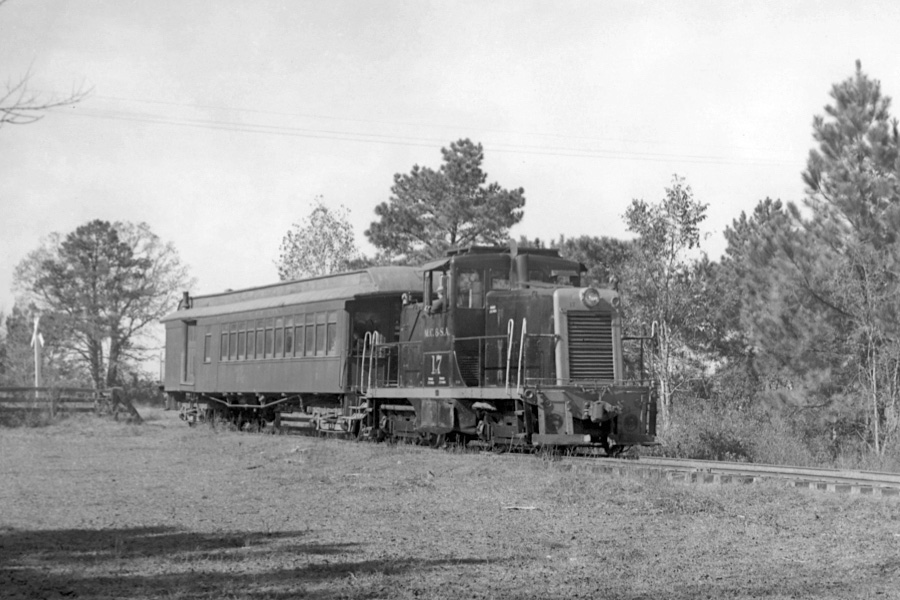 Moscow, Tx / unknown / collection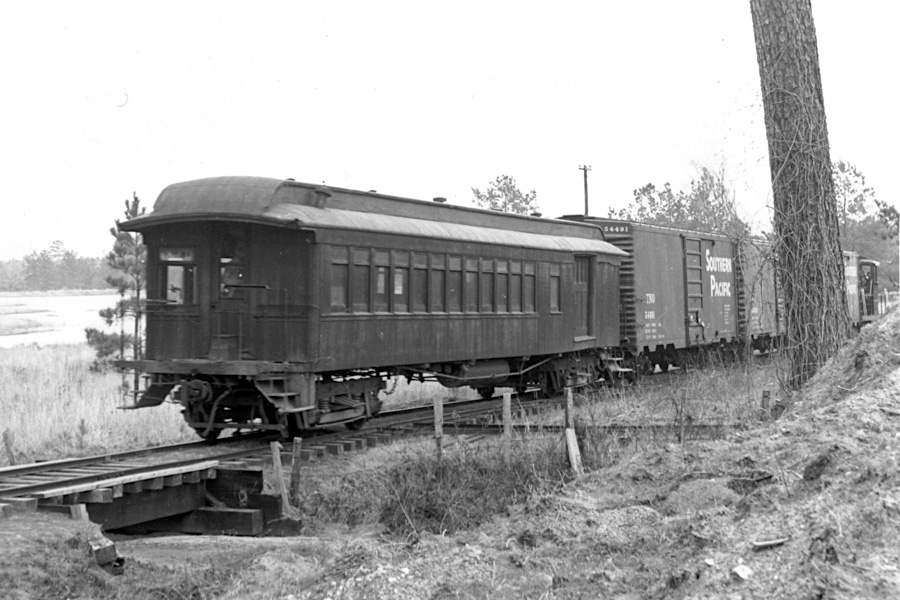 Camden, Tx / unknown / collection
Links / Sources