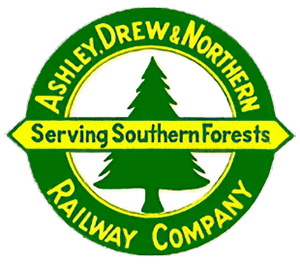 TO: MR. Ralph Hawkins, Master Mechanic, Samuel, Willie & Southern RR
FROM: Mr. Russell Tedder, President, Ashley Drew & Northern Railway
SUBJECT: SW&S's Recent Acquisition of ADN 1513
Dear Mr. Hawkins:
First, I send warm greetings to you and the entire staff of the new Samuel, Willie & Southern Railroad. I do hope that the Hawkins family had a blessed Thanksgiving as well. You have a great heritage from your father, the late Mr. John Hawkins, who was so kind to paint and letter LOP&G GE 70-tonner No. 300 for another one of my railroad enterprises. I am pleased to report that this locomotive is functioning well on the Tedder County Railroad, a shortline connection to the Charleston & Chattanooga, which happens to have a Saluda Branch as well. With encouragement from our Class 1 Connection, the C&C, we have generated new business and are keeping the ADN "Tedder Green" boxcar well utilized in hauling furniture from a new furniture plant that we enticed to locate on the Tedder County. Unfortunately, other responsibilities prevent my being on site on the Tedder County as much as I would wish, but it is in good hands with local management.
I want to congratulate the entire organization on the recent formation and construction of the Samuel, Willie & Southern RR. Please give my special word of encouragement to young Master Samuel who is working in truly efficient shortline mode as traffic manager and first-shift engineer. I know of no better combination of crafts or skills than these two which will contribute immensely to the success of the new SW&S road. First, you have to have loaded cars to haul, and I am sure that with a definitely attractive service to sell, that young Samuel will be successful in keeping the engineer and conductor far apart, separated by numerous cars, the objective of any well-run railroad. Master Samuel shows just the right degree of enthusiasm when he wants to wait to see if any Norfolk Southern movements are tied up in the yard. Who knows, they may have brought revenue producing carloads for interchange to the SW&S. The icing on the cake would be the necessity of running an extra to handle the additional tonnage, a very nice problem for railroad managers to have.
It also appears that you have a very enthusiastic cadre of officers and employees in all departments of the new line. This speaks well to the probable success of any enterprise, but especially a shortline railroad. I am sure the enthusiasm of Master Samuel will be contagious to each of them. Please convey my encourage to each and best wishes to everyone of them for well-deserved success.
I am very impressed with the industrial traffic base that reflects the good judgment and foresight of the founders of the SW&S and results in excellent possibilities of a good traffic base. For the enthusiastic engineer and other train and switch crew members, it will be exciting to be placing and pulling cars, knowing that each one makes its own contribution to the financial success of the line and generate a good return on Chairman Jim's investment in the property. I am also impressed with your Official Guide entry. This shows that the officers and employees have truly "hit the ground running," in getting down to business. On second thought, my choice of metaphors about hitting the ground must surely be taken in the abstract because I know that under the capable direction of Mr. John Hawkins, Chief Engineer, that the SW&S is and will be maintained to the highest standards to ensure safe operations and reliable service to the road's customers.
I am extremely gratified to know that our original investment in ADN 1513, along with three other like units, one more for the ADN and two for the Gloster Southern continues to pay dividends to the SW&S, the current operator of the unit in its resplendent "Tedder Green" paint scheme. It was a fine day to go shopping back in 1986 when the AD&N's master mechanic, along with the road's general manager, accompanied me to the Santa Fe shops at Cleburne, Texas to "shop" for locomotives. Luis Munoz, Shop superintendent, who had supervised the conversion of the original F units to CF7 road switcher type locomotives, pointed with pride to a line of about 100 such units, any of which could be bought for $20,000 each, less than what you would have to pay for many second hand pickup trucks. We originally were looking for only two to press into service on the then new Gloster Southern Railroad. However, at the low price, and the relatively good condition of the ones that our master mechanic picked out, I could not resist buying two for the AD&N. To my knowledge that are still "going and going," just like the proverbial battery powered bunny rabbit.
Please don't let anyone discourage you by calling the 1513 an "ugly duckling." It is a solid locomotive whose lines will never be confused with a GP7 or other model locomotive, a unique, one of a kind, workhorse that the SW&S and its personnel can be justly proud of. Perhaps in the not too distant future, the SW&S can afford a mate for the ADN 1513. Another CF7, operated back to back makes a very nice appearance. Even a switcher, such as an SW1200 or SW1500, also coupled back to back, makes a very attractive combination. Or, a GP type locomotive, likewise operated back to back, which is the key to bringing out the best in the appearance of the duo, will also look like a well-matched combination of units.
Your generous invitation to visit the SW&S is highly appreciated, and I look forward to a day when I can take advantage of your offer of a special guided tour. Perhaps in could be in conjunction with a railfan special in the manner of the Gloster Southern boxcar that you mentioned and that I well recall. In fact, I may possibly have a picture of that trip but not sure. In the meantime, I hope that, as time permits, that I may receive updates on progress on the SW&S line, including the hoped for news that Lillieville is growing in population. With a railroad, the little town is now poised for growth.
And finally, reciprocating your best wishes for the special Christmas season, I wish for the entire Hawkins clan a wonderful and joyous celebration of this blessed event. And I am pleased to join with all of the SW&S people in saying, "Long Live the AD&N, including ADN 1513 -- Serving Southern Forests."
Sincerely,
Mr. Russell Tedder, President
Ashley Drew & Northern Railway
Live Oak, Perry & Gulf Railroad
and assorted other Fallen Flags