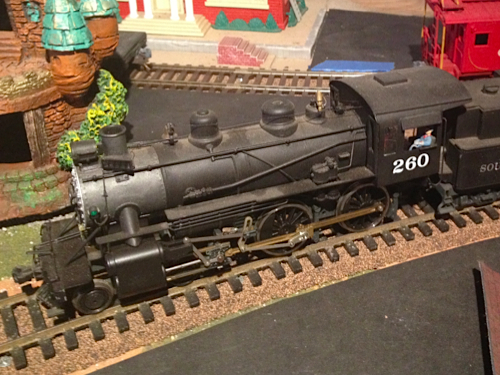 The San Antonio & Aransas Pass Railroad (SA&AP) took delivery of #60, built by Baldwin, in 1922. Southern Pacific took control of the SA&AP in 1925, and used the newly numbered #220 (renumbered 1950) until 1954. It was sold to Paulson Spence and the Louisiana Eastern in 1954 as their #2. After Spence died the loco was sold to the Stone Mountain Scenic Railroad in 1962 and named "Texas II." The SMSRR used the loco into the 1980s, with its last runs for show and only with enough steam to keep the running gear lubricated and to blow the whistle. As of this writing, the engine is still in Georgia (see Durden photo, below).
SP #260 was not the largest 4-4-0 on the system, but it is very modern for an American type. Made for light track, the locomotive was light on its feet and at home with freight or passenger trains.
I built an O scale model of SP #260 because I like its lines and its history on the Texas & New Orleans, part of the SP Lines system. I also like the fact that it still exists. Like the O scale model, the 1/8-scale #260 will have an electric tender drive. Where the O scale model transmits power from the tender-mounted motor to the drivers through a gear box, the 1/8-scale model will have motors mounted on the tender trucks for power.
Read more about the San Antonio & Aransas Pass Railroad.
Read more about recent restoration efforts on SAAP #60.