O Scale Memories
For those model railroaders who grew with their hobby in the 1950s and 1960s, names like Lobaugh, Central Locomotive Works, All Nation, Kemtron and Walthers were sources of models, kits, material, supplies and more. The Louisiana, Texas and Pacific Railroad O scale layout had its beginnings in the 1970s, when Walthers and All Nation were still around, but new names like AHM and Atlas were on the hobby shop shelves.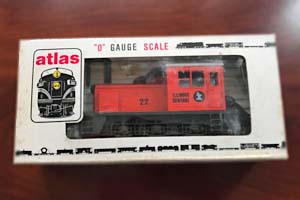 My first O scale 2-rail locomotive was an Atlas WDT six-wheel diesel switcher that I got by mail in 1973. After playing with my Lionel sets for a couple of years, the Atlas WDT was an amazing scale model, with small flanges, slow speeds (relatively speaking) and 2-rail running. Now more than 40 years old, the WDT is still part of my collection and it still runs.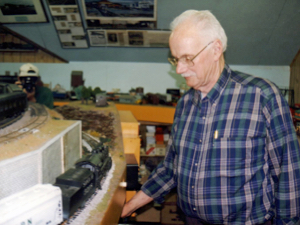 I followed up with an Atlas F9. Several Atlas plastic cars were in the mix, along with some Atlas track and switches. I was hooked by the size, smoothness, detail and sound of O scale as represented by Atlas. All the models were produced by Roco in Austria, with great quality (if not the best design - a discussion for other times) and durability. Most of the cars and even some of the track is still in use.
As these web pages on the LT&P O scale layout develop, Ralph and I will look into some of the history of O scale as it relates to our personal journeys. Ralph and I share many similar interests and perhaps the most important guide on this journey, Ralph's dad John.
John was what I always thought of as a well-rounded train fan. He liked to ride real trains, to model, to attend shows, and to host our monthly Southeast Louisiana Model Railroad Club meetings and run sessions. John's influence is all over the LT&P, in both the O scale layout and in the riding railroad. I will remind readers of this as these pages grow.
Gordon Payne, July 2017