New responsive screen layout coming soon!
Seaboard Coast Line
The SCL was a short-lived conglomerate formed by the marriage of two of the Southeast's largest and most profitable railroads, the Atlantic Coast Line and the Seaboard Air Line. Mergers, if planned and implemented correctly can save a railroad millions of dollars in the long term and this was the very reason behind the Seaboard Air Line and ACL discussing the option seriously, as early as the late 1950s. While the two companies were fierce competitors, similar to the Pennsylvania Railroad and New York Central who would also merge during the same period, the difference between the PRR/NYC and SAL/ACL partnerships was that the ACL and SAL spent many years planning their new system in an effort to ensure the marriage would go smoothly. As an independent carrier the Seaboard Coast Line Railroad would last a mere five years.
Launched in July of 1967, the Seaboard Coast Line Railroad was born of a merger between two parallel lines on the eastern seaboard: the Atlantic Coast Line and the Seaboard Air Line. Both roads had been important traffickers between Florida, the Carolinas, and points northward. The resulting merger produced a railroad nearly 10,000 miles in length. Later, under the ownership of a new holding company, the SCL became part of the "Family Lines Systems" -- railroad subsidiaries including the Louisville & Nashville, the Clinchfield, and the West Point Routes. By 1983, SCL was known as the Seaboard System Railroad, was officially merged with its fellow Family Lines partners, and together they would eventually be joined with the Chessie System to produce CSX Transportation.
Motive Power
Baldwin S-12 / Atlanta, Ga / May 1969 / collection
Seaboard Coast Line #102
builder:

Baldwin Locomotive Works

model:

S-12

type:

B-B switcher

built:

1951-56

series:

449 produced

engine:

Baldwin 606A, 6 cyls. 1200 hp

notes:

_________
EMD E7A / Atlanta, Ga / Apr 1969 / collection
Seaboard Coast Line #545
builder:

Electro Motive Division

model:

E7A

type:

A1A-A1A passenger

built:

1945-49

series:

428 produced

engine:

(2) EMD 567A, 12 cyls. 2000 hp

notes:

_________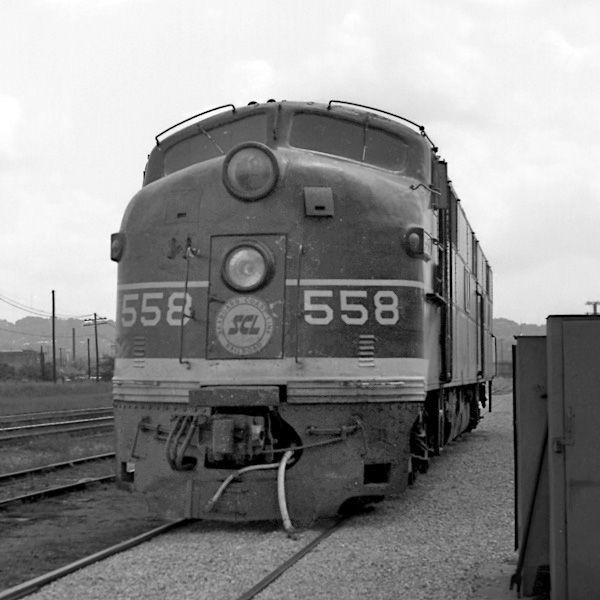 EMD E7A (1946) / Birmingham, Al / Aug 1970 / JCH
Birmingham, Al / Aug 1970 / JCH
EMD FP7 / Augusta, Ga / Apr 1969 / collection
Seaboard Coast Line #682
builder:

Electro Motive Division

model:

FP7

type:

B-B passenger

built:

1949-53

series:

301 produced

engine:

EMD 567B, 16 cyls. 1500 hp

notes:

lengthened body to accommodate steam generator
EMD GP7 / Atlanta, Ga / Mar 1969 / collection
Seaboard Coast Line #947
builder:

Electro Motive Division

model:

GP7

type:

B-B road switcher

built:

1949-54

series:

2610 produced

engine:

EMD 567B, 16 cyls. 1500 hp

notes:

equipped with steam generator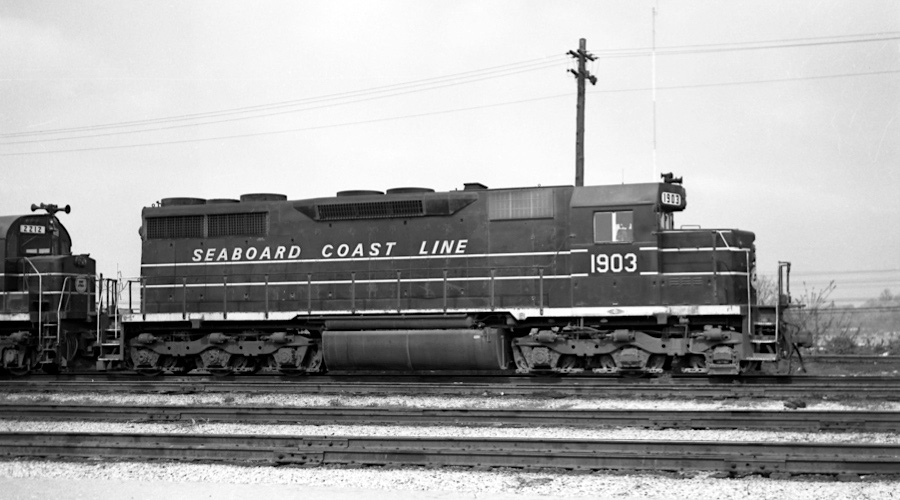 EMD SD35 / Atlanta, Ga / Apr 1969 / collection
Seaboard Coast Line #1903
builder:

Electro Motive Division

model:

SD35

type:

C-C special duty

built:

1964-66

series:

360 produced

engine:

EMD 567D3A, 16 cyls. 2500 hp

notes:

_________
EMD SD35 / Manchester, Ga / Apr 1969 / collection
Rolling Stock
business car / Jacksonville, Fl / Apr 1987 / JCH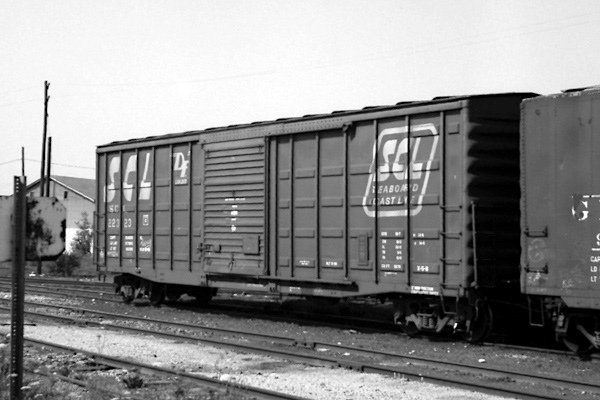 boxcar / Huntsville, Al / Jun 1973 / JCH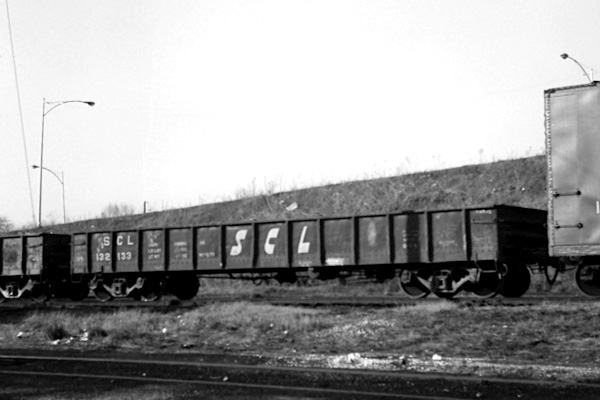 low-side gondola / Huntsville, Al / Jun 1973 / JCH
boxcar / Huntsville, Al / Jul 1971 / JCH
watermelon car / Cottondale, Fl/ Jan 1960 / JCH
boxcar / Huntsville, Al / Jan 1975 / JCH
Lagniappe
SAL 1928 timetable
1955 ACL timetable
1967 SCL timetable
1964 ACL timetable
1964 ACL passenger ad
Links / Sources