New responsive screen layout coming soon!
Curry Rail Services
Throughout the past eight decades and three generations of owners, the business has evolved into a multi-company operation. Curry Supply has been supplying the railroad industry with service for more than 20 years. From starting out supplying hoses and fittings, to completing minor repair and then transitioning to in-house manufacturing, Curry Supply has evolved into an industry leader. The unparalleled dedication of its employees has prompted the incorporation of Curry Rail Services. It's comprised of a dedicated team of professionals raising the bar in the railroad industry to manufacture quality products on time. Located in the heart of Central PA in a community with roots dug deep into the railroad industry, CRS respects and takes pride in supplying products and services to the railroad industry every day.
Curry Rail Services is a multi-faceted railroad parts supplier and equipment builder located in Hollidaysburg, Pennsylvania. As of 2014, the company occupies the 1950s era Pennsylvania Railroad "Sam Rea Shops", used by Conrail until 2002 as their largest system-wide railcar repair facility. Curry produces locomotive cabs, fuel tanks, underframes, hoods, and other motive power parts, as well as offering freight car construction and repair. In 2015, the company entered the industrial switcher market with Tractive Power Corporation.
Motive Power
Data sheets from the
Altoona Works
railroad website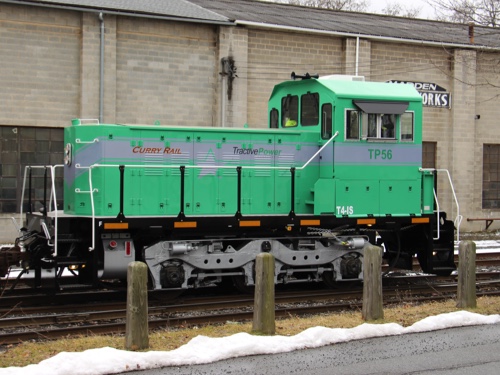 Hollidaysburg, Pa / 2016 / RWH
Curry Rail Services TP56
builder:

Curry Rail Serv, Tractive Power

model:

TP56

type:

3 axle industrial switcher

built:

Jan 2016

weight:

160,000 lbs

engine:

CAT C9.3, 400 hp, Tier 4 compliant

notes:

56,000 lbs. tractive effort
Donor unit: PWSX (CP) #785, an SD40-2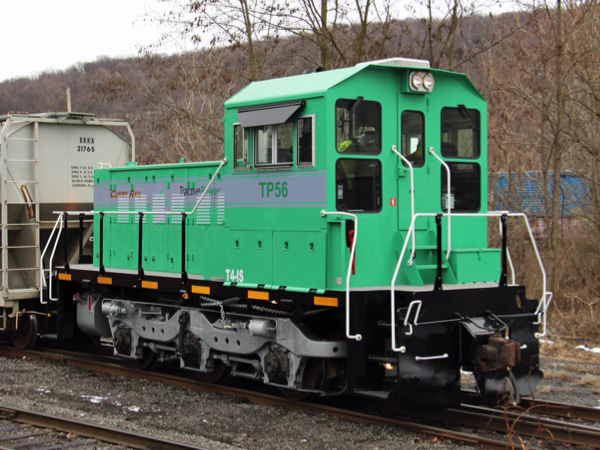 Hollidaysburg, Pa / 2016 / RWH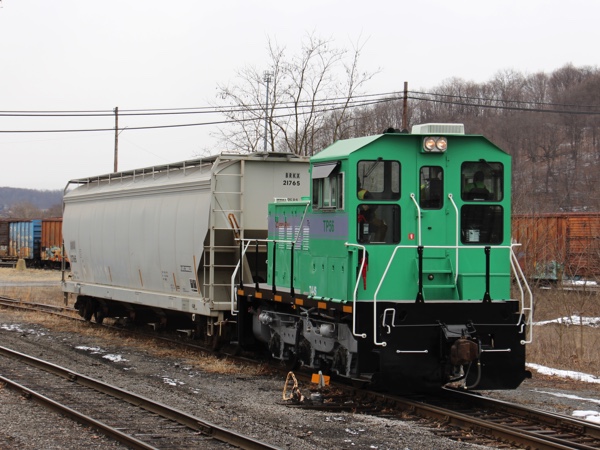 Hollidaysburg, Pa / 2016 / RWH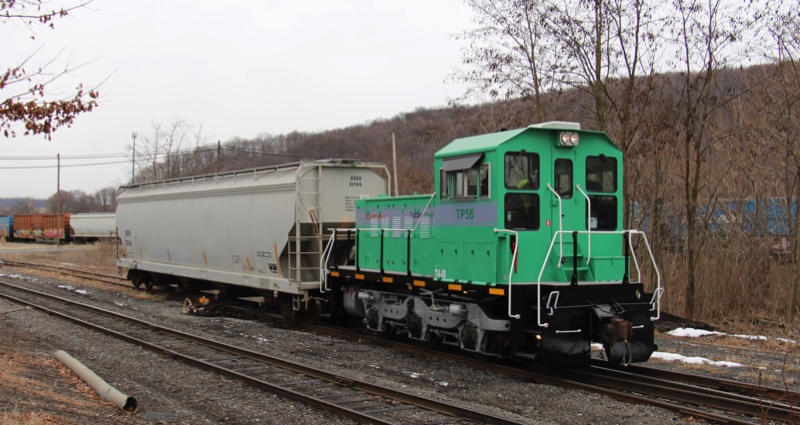 Hollidaysburg, Pa / 2016 / RWH
February 2016
I was lucky enough to stumble on the brand new TP56 switcher during my first visit to the Hollidaysburg area. I had an afternoon free after a regional meeting in State College and I wanted to get to know the Everett shortline in advance of a return this summer to ride their steam trains. Following their line (Norfolk Southern) east I stumbled on the massive Curry rail yard and shop facility, and found the little TP56 shunting a covered hopper back and forth in the yard. By the looks of the operation, and by the number of men in the cab, I'm betting it was a test drive for a potential customer. She is a neat looking little machine, and hopefully orders will ensue.
After I posted these pics, my railfan friend in Virginia Charlie Long sent the following note:
Thanks for forwarding this! Amazing piece of work. And, nice looking. Please notice the awning above the window. These are sold by Graham-White over in Salem. At one time, they were made here in Lynchburg under contract at Allen-Morrison, and was designed by me. The shape was taken from a cumbersome Pyle-National design long supplied to the locomotive manufacturers. I don't know who in making them now for GW. Not bad for a design approaching 40 years old. Charlie
Links / Sources
This page was updated on 2016-02-09