February 2010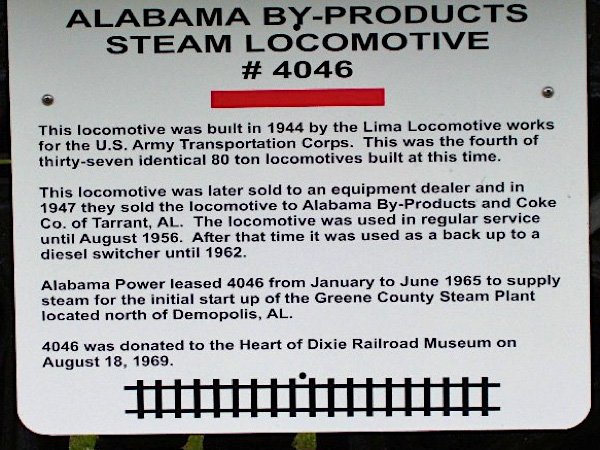 I was pleased to receive some correspondance from a Mr. Ralph Gibson, who found our Alabama By-Products page and wrote to share some more information about their sole surviving steamer, and more:
The picture seems to be the same locomotive. We know it as 4046, an 80 ton engine, fourth of 37 identical locomotives buuilt for the US Army. It was purchased by Alabama By-Products and Coke Company of Tarrant, Alabama and was donated to the museum on 8-18-69. I have tried to attach a file of a picture of a sign giving info on the engine. A couple of other notes related to other pictures on your site, #97 is in French Lick, Indiana at the museum there. Alger-Sullivan #100 is still in Century, Florida and has been disassembled to be cosmetically restored. The person doing the restoration is slow about completing projects so I don't know a timeline to complete the work.
An odd un-railroad-related note is that my doctor from birth until he retired was Dr. William Hawkins.